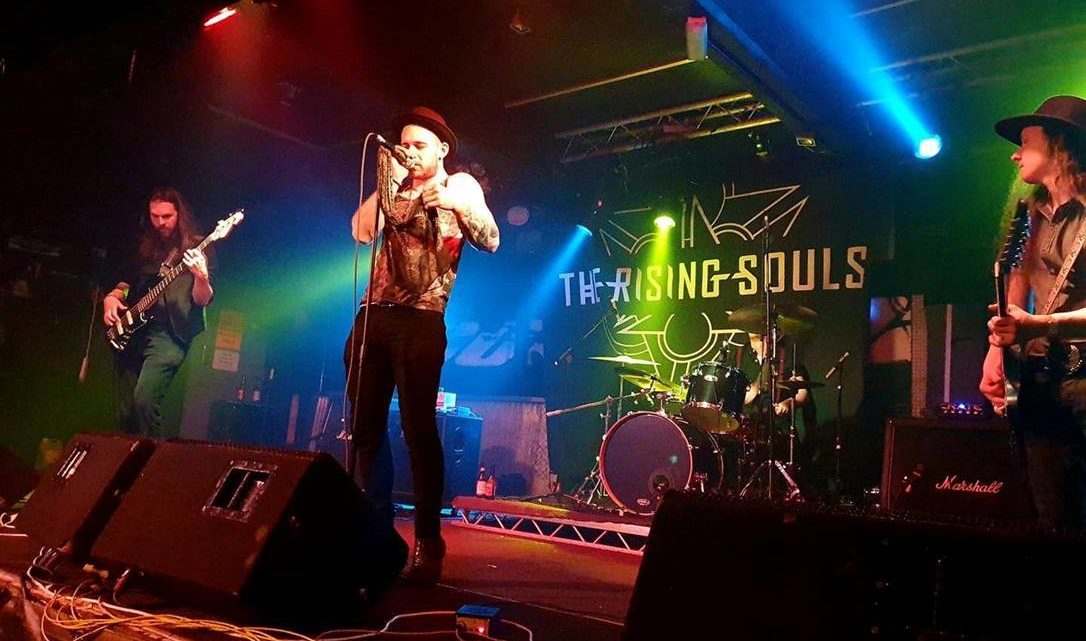 THE RISING SOULS UNVEIL NEW GUITARIST AND LOOK FORWARD TO HOMETOWN BONANZA
29th April 2019
Edinburgh based Rockers, THE RISING SOULS, have unveiled their new guitarist with a barnstorming performance at the first ever Road Rage Festival in Sheffield.
Glasgow born guitarist, Ciaran Hanratty, has joined the band after an extensive search, and weeks of auditions, and it seems he is the perfect fit.
"For the last couple years, we've had a few stand-in players to help us out when we played live", says singer Dave Archibald. "They've all be great guys, and done a fantastic job, but we knew we needed to find a permanent guitarist to really move the band forward."
And it seems that it was meant to be. "I'd been aware of the band for a while, and had actually seen them a few times", says Hanratty. "I thought they had a great sound, and a great vibe, so when the opportunity to audition came along, it just seemed like everything was falling into place."
"Yeah, he came in to the auditions, and had everything nailed", continues Archibald. "He knew the songs inside out, and he had all the tones bang on. Plus, he's such an easy guy to get on with. Then, when we played in Sheffield, that was the final audition, so to speak. He absolutely smashed it."
THE RISING SOULS will unveil new guitarist Ciaran Hanratty to their Scottish fans at their upcoming headline show at La Belle Angele in Edinburgh on 31 May. "This is our first hometown headline show in a year," Archibald explains,  "and pretty much the only Edinburgh show we have planned for 2019. So it would amazing to see everyone that's supported the band from the start come down for a great night, and to welcome wee Ciaran properly to THE RISING SOULS."
The last remaining tickets for La Belle Angele are still on sale via www.gigsinscotland.com,  however, as with previous shows, are expected to sell out shortly. After this, the band will undertake a few select summer festivals, whilst writing and recording material for their, soon to be announced, new album.
How do you describe The Rising Souls?
Equal parts Soundgarden, Rival Sons, Black Crowes, Queens Of The Stone Age? Well, it's a start, but probably doesn't do the band justice. Vintage Rock? Soul? Yes, probably getting closer.
The simple truth is that The Rising Souls are a combination of all of this, and so much more.
Led by the vocal powerhouse of Dave Archibald, The Rising Souls are one of Scotland's exciting new bands! Their sound is an intoxicating mix of vintage rock and soul with a contemporary twist; Strong and meaty riffs, with intricate flowing grooves, and powerful, soaring vocals!
In the space of 12 short months, The Rising Souls have stamped their authority on the music scene by ensuring that they deliver killer songs, tight musicianship, and with dominating stage presence. With several high-profile festival and support slots already under their belts, and sold out headline shows along the way, now is the right time for The Rising Souls to spread their message further afield.
THE RISING SOULS Live:
31 May: La Belle Angele, Edinburgh
26 July: Steelhouse Festival, Ebbe Vale, South Wales
25 August: Zephfest, Bournemouth
30 November: Winterstorm Festival, Troon