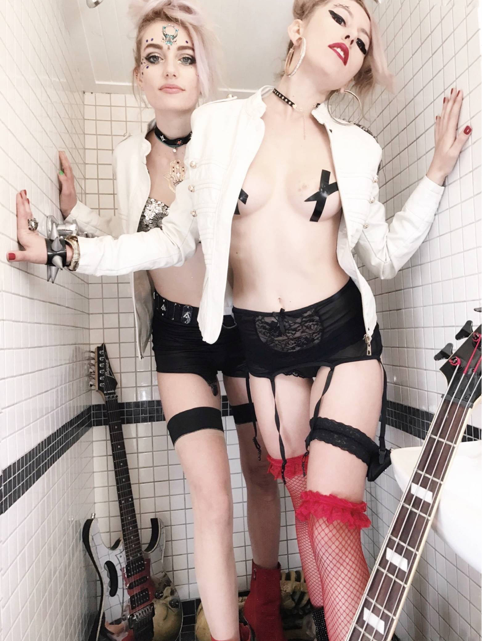 The SoapGirls announce 7 UK shows – Stink Likes Punk Tour
15th October 2018
The SoapGirls are on their biggest tour to date over 8 months between Europe and UK. Following a month of European shows, the next leg of The Stink Like Punk tour involves 7 more UK shows,  including two shows in London.
Armed with unforgettable melodies and catchy choruses, The SoapGirls energy, rawness and authenticity live, has earned them a formidable reputation. They promise "pure freedom" and a show that is "unhinged, dramatic, energetic, manically fun and will remind you to live in each moment without fear of judgement.  As an audience member you are as much a part of our show as our instruments, you will never be the same"
The SoapGirls write outsider anthems and their latest single Johnny Rotten is written from the perspective of Marli Van Breda, who survived an axe attack from her brother Henri, who brutally murdered his parents and brother, as they slept.
Henri claimed "it was a random man that broke into their home after finding an the axe.
Alluring, hypnotic and nonchalant The SoapGirls remind us that music can still be straight to the point, efficient, honest and exciting, so brace yourself for The SoapGirls's next chapter.
Stink Like Punk UK Tour dates 
October
25th Fest Camden, Camden London with The Fascinators, Scarlet
& Mongrel Dogs
26th The Fenton Leeds   with Hospital Food & Guttersluts
November
3rd The Dragonffli Pontypool,  with Tarion
7th Arches Venue Coventry with Sick of the Riot
8th The Palladium Club, Bideford
13th The Monarch , Camden  Angerland, Youth Illusion, Muffin Heads
17th The Trades, Rotherham
How useful was this post?
Click on a thumb to rate it!
Average rating / 5. Vote count: