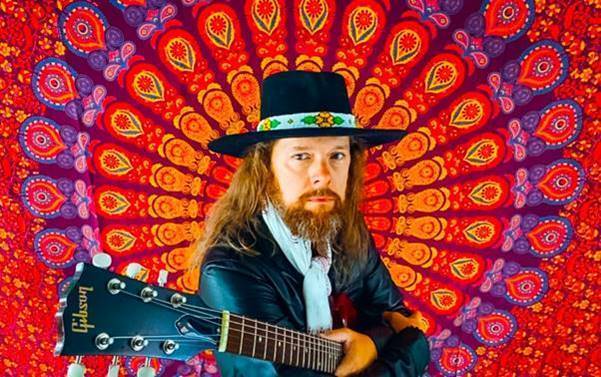 The Tale of Taller Than — Mike Ross' Legendary 'Lost' Album
11th January 2021
It's no wonder Classic Rock Magazine insists that "You need to know Mike Ross."  His outstanding work with long-haired southern rock badasses RHR (Redfern, Hutchinson & Ross) will be well known to many. What's more, Ross's current solo album release 'The Clovis Limit Pt.2' has just been awarded an 8/10 review in the current issue and has earned huge praise from press and fans alike since its release in October last year.
You'd expect that after a storming success like that, Mike Ross would want to take a well-deserved rest, but oh no!  His followers have come to expect nothing less than the very best creative output and quality from this consummate musician, composer and producer, and the first days of 2021 have lived up to that benchmark, bringing with them news of a really exciting new project.
Back in 1998, Mike's band Taller Than recorded a 12-track album which, for various reasons, was never mixed or properly finished. For over twenty years, the original 2″master tapes were hidden away and all hope of finding either the time or finances to complete the project had long since been abandoned.  
Enter COVID and the extreme disruption the pandemic has brought to touring (and most other aspects of 'normal' life).  Attention turned from the road to the tape vault and a decision was made to reach out to the public to help restore, remix and release the forgotten Taller Than classic.
As is often now the way in these days of grassroots support, a crowdfunding project was duly set up in the early January of the New Year and in just the first week, it had reached over 50% of the £4000 target! 
This triggered the next phase of the campaign, namely having the tapes restored and transferred to digital format so that editing and mixing could begin.
The first track to emerge, rescued from the oubliette, is Mike's freshman treatise on addiction, the thundering 'Nicotine Placebo', featuring machine-gun drum flurries from Mike Kelly (latterly of The Mission) and the razor-slice bass work of Mike's brother Graeme.

 "Even from a young age," Mike writes, "I was very aware of the effect that substances had on my psyche and 'Nicotine Placebo' was my first successful attempt to capture how being a slave to an addiction felt.
"Listening now, I'm surprised and proud of just how 'wise' my 23-year-old self was. The backing track really is something else, with a monster groove hammered out by my brother on bass and the '1000-piece orchestra' that was Mike Kelly's drumming in those days! Powerful stuff: as fresh and relevant today as it was back in the last days of the old millennium!'
This track, indicative of the quality of material to be found on the finished album, has today been released as a single to raise public awareness of the crowdfunding campaign.
The final goal is to produce a deluxe package, which will include a vinyl album with accompanying CD as well as a unique collection of items such as photographs, reproductions of the original tape track sheets, studio invoices etc.    
Pre-order packages, along with a selection of other merch and memorabilia items, are available from https://www.crowdfunder.co.uk/taller-than 
Along with much of the rest of the world, the music industry has been plunged into crises due to the global pandemic.  It's not just musicians who have been affected— everyone that works with or in music have had their livelihoods put in jeopardy. This project will support grassroots creative professionals such as producers, engineers and graphic artists, as well as deliver a unique artefact to fans and supporters