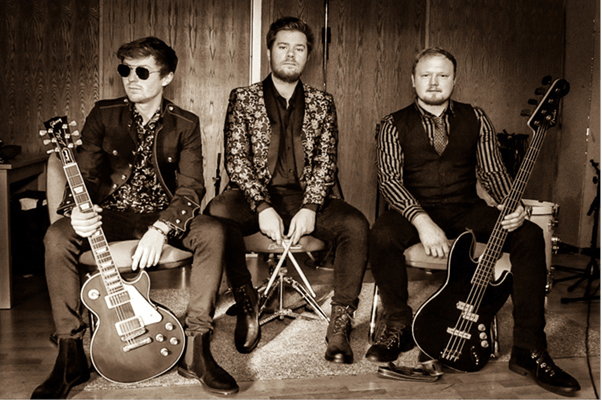 THEIA – New EYES LIKE FIRE Single out March 20th / Special Guest act on entire Magnum UK/Irish tour
3rd March 2020
0
By
John Deaux
Rapidly rising new young hard rock trio Theia, who hail from Burton-On-Trent in the heart of England, have confirmed the release of their new 'Eyes Like Fire' single, written by Magnum mastermind Tony Clarkin (the first time he has EVER permitted another artist to record ANY of his songs) on March 20th on WDFD Records. A video is set to be unveiled on the day of release.
Theia so impressed Tony when they supported Magnum several times in 2019 that he not only offered his song to them, but also invited them to play as special guest act on Magnum's entire upcoming UK tour, which kicks off on March 19th at Glasgow's Garage and concludes at London's Islington Assembly Hall on 4th April.
Tony states that ""Theia supported us on a short tour and we thought they were a real good band. My daughter asked me if I had any songs lying around; I told her I didn't but then she said what about 'Eyes Like Fire' a song I had forgotten about and never really finished off properly. So the guys recorded it and they made a great job of it."
Raised on his father's record collection of Marc Bolan, Alice Cooper and AC/DC, main man Kyle Lamley, (guitar / lead vocals) teamed up with lifelong friend Paul Edwards (bass / vocals) to form the spine of Theia in 2014, with drummer Ash Lamley recruited in 2019 to complete the current line-up.
After two early well received EP's, Theia released their debut album, 'Take The Pill', in September 2015, followed by a storming set at Hard Rock Hell X. Their second album, 'Back In Line', released in Spring 2017, received highly favourable reviews as the band set off on a short headline tour and various prestige support slots, before pulling off a storming set at Planet Rock's Winter's End Festival in February 2018.
'The Ghost Light', Theia's third album, released in July 2018 via a fully-funded Pledge Campaign, spawned a host of superb reviews and a 13 date November UK tour supporting SKAM. 'The Ghost Light' was awarded 'August Album Of The Month' by greatmusicstories.com editor Guy Bellamy, who raved "Following the footsteps of 2017's 'Back In Line' the new album represents another step forward. For me though it's not more of the same, it's not what I expected as a follow up. Whereas 'Back In Line' easily flowed, in an exciting, catchy but unchallenging kind of way, 'The Ghost Light' has a bit more edge and attitude. It needed a few listens, but that's good. The bands I listened to 20 years ago that surprised – sometimes challenged – me with each successive album are bands I still listen to today. With 'The Ghost Light,' the sounds, the mood, the production – they all feel different to the last album. The edge is sharper, the feel more instinctive and the canvas broader. There is more experimentation, greater eclecticism, more purpose and less politeness in the rock that's delivered…. Theia is a band that will constantly evolve and at a time when many young bands can sound like a tribute to rock's past glories, Theia will emerge as one of a handful of new rock bands whose music has the power to endure, to live through fashions and to appeal to new audiences. 'The Ghost Light' is a milestone for the band's achievements to date and a calling card on the evolution that's yet to come."
Moshville.co.uk stated "It's everything which makes THEIA great turned up to the proverbial eleven. Wearing their influences on their sleeves but without making the band a tribute to them, it's modern hard rock in the truest sense. You can hear late-era Bon Scott AC/DC bravado mixed with the punchy grooves of Thin Lizzy whilst adding in a healthy dose of Heaven's Basement's snarling, crunching riffs… More self-assured and mature, they've sanded off the rough edges from Back in Line to give the world their true, final form."
How useful was this post?
Click on a thumb to rate it!
Average rating 0 / 5. Vote count: 0
No votes so far! Be the first to rate this post.
Related
About the author
Some say Yank My Doodle, It's A Dandy! is a biographical movie based on John. Some have even said that his favorite artist is Chesney Hawke! All we really know is he sleeps inside out and his hair tastes like candy floss.