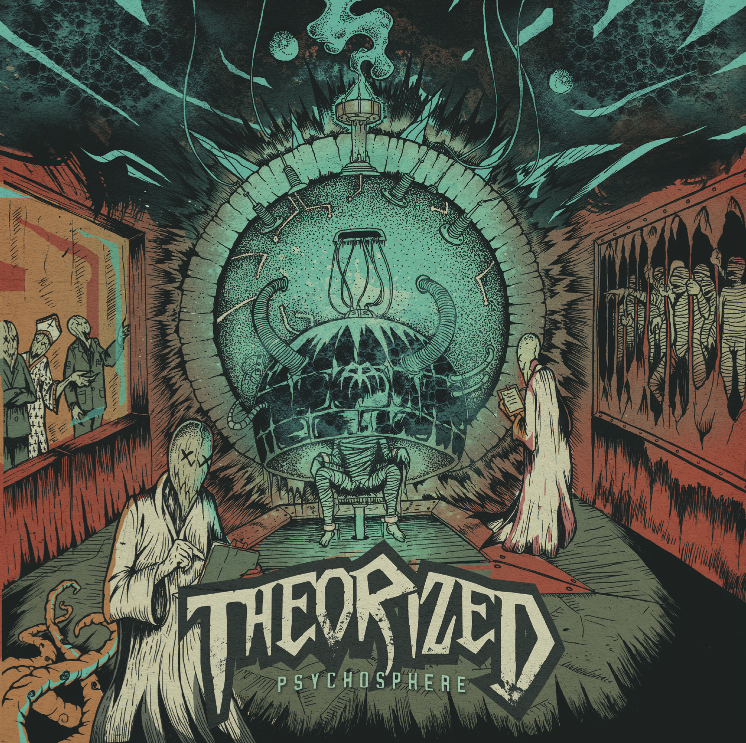 Theorized – Psychosphere
14th April 2014
Formed in 2005, Bangalore based thrash metallers Theorized released their debut EP False Hope of Tyranny in January 2009 to critical acclaim.  In the time since then, the band has changed from a five piece to a four piece, and have expanded their sound from straight out thrash to incorporate some progressive influences.
The album opens with 'Bound' – an atmospherically eerie soundscape of acoustic guitar and hard hitting drums, with the distant sounds of shouting, shooting, and repeating sirens.  This blends seamlessly into 'Unbound'… and all hell breaks loose with some incredibly catchy guitar riffs, shouted vocals, and punishing beats.  After hearing this you just know that is going to be an awesome album!
'Symbiote' is as hard hitting, but even faster and guaranteed to give you serious neck ache.  But Theorized aren't afraid to mix it up, and at the 3:30 mark the thrash attack takes a momentary back seat for a minute or so of impressive prog-rockery that wouldn't sound out of place on a Porcupine Tree album – before returing the listener to the more thrashy sound.
'Genetic Variants' is another track of quality thrash that provides a real sonic assault, before mutating beautifully into an inspired jazz-metal vibe, very much in the vein of some of Atheist's most experimental work.  It works brilliantly and, because the band keep things aggressive throughout, it never loses its momentum.
The first single from the album, 'Riptide', is more straightforward in nature – but still has some calmer moments of guitar wizardary.  Title track, 'Psychosphere' is another incredible track of  melodic thrash, and the band really show what they are capable of – with each of the four band members demonstrating real musical skill and prowess.
'Venomous Tormentia' is less experiemental, but a decent enough track that sets things up nicely for the contrast of the next track, 'Engines of Creation 1' – which starts with a very mellow vibe… before becoming very thrashy.
'Engines of Creation 2' continues where part 1 left off, but again manages to perfectly blend hard hitting thrash metal with more experimental songwriting.  Final track, 'Psychoacoustic', is a  melancholic and gentle piece – and the perfect finish to the album.
Here's the official album teaser –
https://soundcloud.com/theorized/psychosphere-teaser
Theorized have created an absolute masterpiece of Indian thrash with Pyschosphere.  It's fast, angry, and technically accomplished, and it's great to hear a band who are not afraid to experiment – yet manage to retain the overall thrash sound.
If you're a fan of thrash metal, or of experimental / melodic thrash or death metal, this is an album that you simply have to purchase!
Score: 9 out of 10
ALBUM INFO
Tracklist
01.  Bound
02.  Unbound
03.  Symbiote
04.  Genetic Variants
05.  Riptide
06.  Psychosphere
07.  Venomous Tormentia
08.  Engines of Creation I
09.  Engines of Creation II
10.  Psychoacoustic
Release Date
February 16th 2014
Record Label
Self Released
Links
http://www.oklisten.com/album/psychosphere   (to purchase digital copy)
www.facebook.com/theorized   (contact the band to purchase physical CD)
www.soundcloud.com/theorized
Theorized is:
Madhav Ayachit – Vocals / Guitars
Ankit Suryakanth – Guitars
Sankalp Narayanan – Bass
Yash Kumar – Drums
Additional album info:
Genre: Thrash Metal
Duration: 53 mins
Produced by Ankit Suryakanth & Madhav Ayachit
Lyrics – Sankalp Narayanan
Artwork & Design – Gaurav Basu (Acid Toad)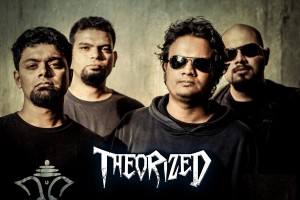 Band photo courtesy: Munz Photography