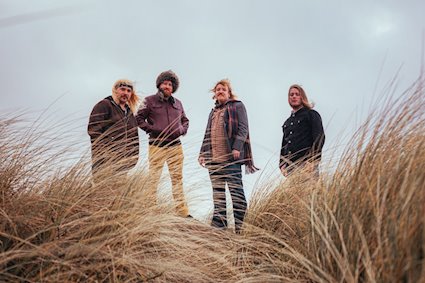 Thirteen Stars celebrate the release of new album with premiere of 'Keep Calm and Carry On' fan feature video
26th June 2020
0
By
John Deaux
Following the release of their acclaimed studio album 'Finest Ramshackle Jam', Thirteen Stars have premiered a fan featured music video for their new single.
Featuring the band, fans, friends and family; 'Keep Calm and Carry On's video delivers a high spirited call to action made for right now; wrapped up in an expressive, emotive, and highly catchy track.
"'Keep Calm' is one of those songs that's taken on a life all its own", explains Thirteen Stars frontman, Hoss Thompson. "In some ways it has the capacity to be an emotional Rorschach test, and you can take many meanings from it. Fundamentally I think it's two most powerful and pertinent messages are to carry on, to endure times of great tumult and in the face of hurt, insecurity and uncertainty take a deep breath and try not let them cast you adrift in the torrent. The second message "I quit trying to look so strong", is almost paradoxical to the first (though they are not mutually exclusive), that it's alright to be struggling. That's it's okay to not be okay. That vulnerability and melancholy are innately human emotions and, Whilst it's easier to "brave face" and bury those emotions, it's better by far to accept them, to live with them and, when seeing others struggle, to empathize with those struggles and show compassion born of experience and understanding", concludes Thompson.
Thirteen Stars new album 'Finest Ramshackle Jam' is out now via RPM Records.
Get it here: https://thirteenstars.bigcartel.com/
CONNECT WITH THIRTEEN STARS
. Facebook:
https://www.facebook.com/ThirteenStars
. Instagram: https://www.instagram.com/13_starsuk 
. YouTube: https://www.youtube.com/channel/UCt3pEsMdP6CYVtwbLKBx0xw
. Twitter: https://twitter.com/13_Stars1
How useful was this post?
Click on a thumb to rate it!
Average rating 0 / 5. Vote count: 0
No votes so far! Be the first to rate this post.
Related
About the author
Some say Yank My Doodle, It's A Dandy! is a biographical movie based on John. Some have even said that his favorite artist is Chesney Hawke! All we really know is he sleeps inside out and his hair tastes like candy floss.