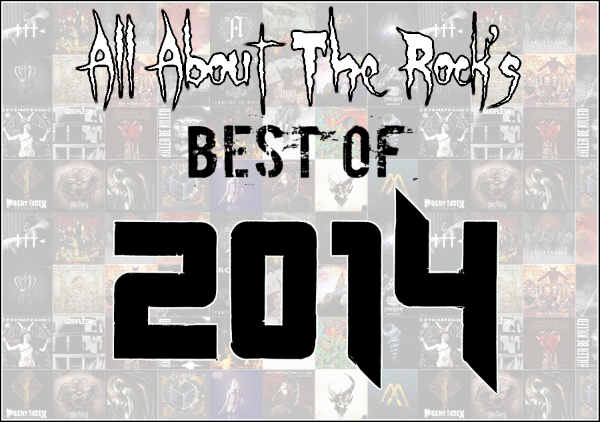 Thomas Haywood's Best of 2014
6th January 2015
THOMAS HAYWOOD'S BEST OF 2014
1. Lord Mantis – Death Mask
While not an easy listen by any means, Death Mask is by far the most extreme, boundary pushing, forward thinking, prime evil, wicked, and deviant record of the year. First off, I know a lot of people that won't get this record or will go over their heads completely. For those people, I recommend to stay safe in the comfort of their security blankets that mild bands like Machine Head and Arch Enemy provide and take cover. I listen to metal because I typically don't respond well to music that is, pun-intended, easy-listening ( not like George Michael but rather easy or pleasant to listen to without much thought or emotion involved.) I want a challenge to my ears and brain alike, especially when the artists work manages to transport you. In the case of Death Mask, Lord Mantis acts as a tour guide through a world of depravity, perversion, and disgust. On a musical front, they combine such a unique blend of styles that create a earth crushing experience that is jaw-dropping. I'll stop my blabbering about the Grade A quality of this release (read my review), but I'll end by saying that this is by far the most interesting & intriguing release of the year and i can't wait to see how they navigate their sound in the future.
2. Triptykon – Melena Chasmata
Tom G. Warrior, need I say anything else. Ever since Celtic Frost's Monotheist, Tom G. Warrior was really able to capture his own style and run with it. Continuing where the last two efforts left off ,Melena Chasmata is an experience. Triptykon create a unique atmosphere and punishing heaviness that are unparalleled. Truly a unique band and one that I will be following as long as the continue to make records.
3. Vallenfyre – Splinters
Another Kurt Ballou masterpiece… I have to hand it to the Coverge guitarist, he really knows how to bring the raw energy and aggression of a band and translate it into two speakers. Always a fan of Gregor Mac and Paradise Lost as a whole, he and the boys did an outstanding job one-upping themselves on this record from their previous effort, Fragile Kings. If you have yet to listen, you need to – one of the best of the year.
4. SepticFlesh – Titan
While not a big fan of Logan Mader's contribution to the production (super clean and tidy with less balls and grit), the gentleman from Greece returned on the scene with a collection of stronger songs and the bombastic quality of a full orchestra & choir they've become known for. I have to applaud Septicflesh for really knowing how to get the best result while utilizing so much instrumentation – the key being letting everything breathe and giving space to all voices. Many other bands using similar stylings could take a lesson from them.
5. Trap Them – Blissfucker
Armed with a Swedish chainsaw guitar tone and once again with Kurt Ballou behind the 1's and 2's, Trap Them's newest offering is a pummeling experience that will leave listener's with broken eardrums and bruises in places there should never be.
Honorable mentions:
Atriarch – An Unending Pathway
Godflesh – A World Lit Only By Fire