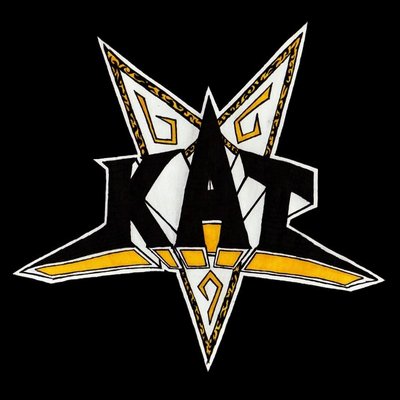 Thrash Under Pressure: KAT
18th November 2016
0
By
Tim Jones
This week's Thrash Under Pressure is brought to you in association with Google Translate as we take a look at Polish band, KAT.
KAT were formed in Katowice – probably how they got their name, at a guess, although it apparently also means "executioner" in Polish – in 1979.
Accusations of promoting Satanism have dogged them throughout their career although this is nothing new within metal at all. The band are cited as the main influences behind thrash and black metal in Poland and therefore have a huge worldwide importance too.
After playing mostly classic rock for a few years, KAT released the single Noce szatana / Ostatni tabor (yes, a lot of their material is in Polish). Apparently this roughly translates as The Nights of Satan / The Last Train so it's easy to see why the accusations started.
In 1986 KAT were ready to release their first long-player, the clichéd Metal and Hell. This album was in English, although it was released as a Polish version at the same time called 666. The pentagram on the cover was very Slayer and it sounds like a typical early 80s thrash album in that it's not especially well produced. It also becomes apparent very quickly that it doesn't matter whether the vocals are in Polish or English as they are largely unintelligible. That being said there is some frankly jaw-dropping guitar work on this album and the sound they were aiming towards was a bit doomy. It's just a shame it sounds like it was recorded on a C90 cassette in somebody's garage. It was definitely an indication of good things to come though.
KAT had clearly impressed someone with their debut and they ended up supporting Metallica on two Polish dates in 1987, as well as Helloween and Overkill. One of their Metallica support shows was released as the album 38 Minutes of Life.
The catchily-named Oddech wymarłych światów (Breath of extinct worlds) followed in 1987. Right from the off it's apparent that a bit more time and money had been spent on production. If they were going to be taken seriously it was essential. This album is full of aggression, chunky riffs and fast solos. It doesn't matter that the lyrics are incomprehensible to non-Polish speakers as it's the attitude and sound that count. A special mention is deserved for the "monks in severe pain" backing vocals that are present on many songs – a stroke of metal genius.
Now that KAT were garnering praise from other parts of the globe it seemed only right to take a break for four years. In 1992 they resurfaced with Bastard (don't be fooled, it's mostly in Polish). This sounds like a thrash album should. Clearly eastern Europe hadn't got the memo that thrash bands were supposed to sound like shit in the early 90s. The vocals are a bit more growly, but the band sound the same – like a metal as fuck kielbasa sausage.
https://www.youtube.com/watch?v=lCo3NkzKkwY
And then things went a bit awry. In 1994 KAT released Ballady, a collection of ballads. We aren't talking Extreme's More Than Words or anything here because it's much doomier and there is still a bit of distortion in use, but it wasn't the KAT we knew from earlier offerings. It proves to a lot of doubters that metal musicians can be multi-faceted if nothing else. And in any case, is it maybe the logical conclusion from some bands starting with medieval-sounding guitar bits for another band to make an album jammed full of them?
In 1996 KAT were back on track with Róże miłości najchętniej przyjmują się na grobach (something about roses and graves – Google Translate says "roses love most take on graves" which is reasonably nonsensical). This album was well heavy. Probably KAT's heaviest to this point. It's certainly where their sound was best. It sounds like a very well-produced thrash metal record. If Slayer were Polish they would definitely have made this album.
Szydercze zwierciadło (Mocking mirror) followed in 1997. It is as heavy as its predecessor, but not as good. What's Polish for "leftovers from the previous record that we're trying to palm off as new material"?
In 1999 tragedy struck when long-time guitarist, Jacek Regulski, was killed in a motorbike accident. KAT took an understandable three-year break following this.
KAT returned in 2002 and started touring again. Wholesale lineup changes were made and they decided to release an album in English for only the second time. 2005's Mind Cannibals was the result. Unfortunately it isn't very good. The vocals are too melodic and musically they weren't firing on all cylinders either. KAT seemed to have inadvertently produced an easy listening thrash album.
KAT never officially split up and new album rumours continue to do the rounds, but there is nothing concrete at the time of writing.
Put them on your playlist: Porwany Obłędem, Zawieszony sznur, Odi Profanum Vulgus
How useful was this post?
Click on a thumb to rate it!
Average rating 0 / 5. Vote count: 0
No votes so far! Be the first to rate this post.
Related
About the author
I'm an East Yorkshire-based fan of thrash, hardcore and punk who likes to write about it as much as he likes to talk about it.