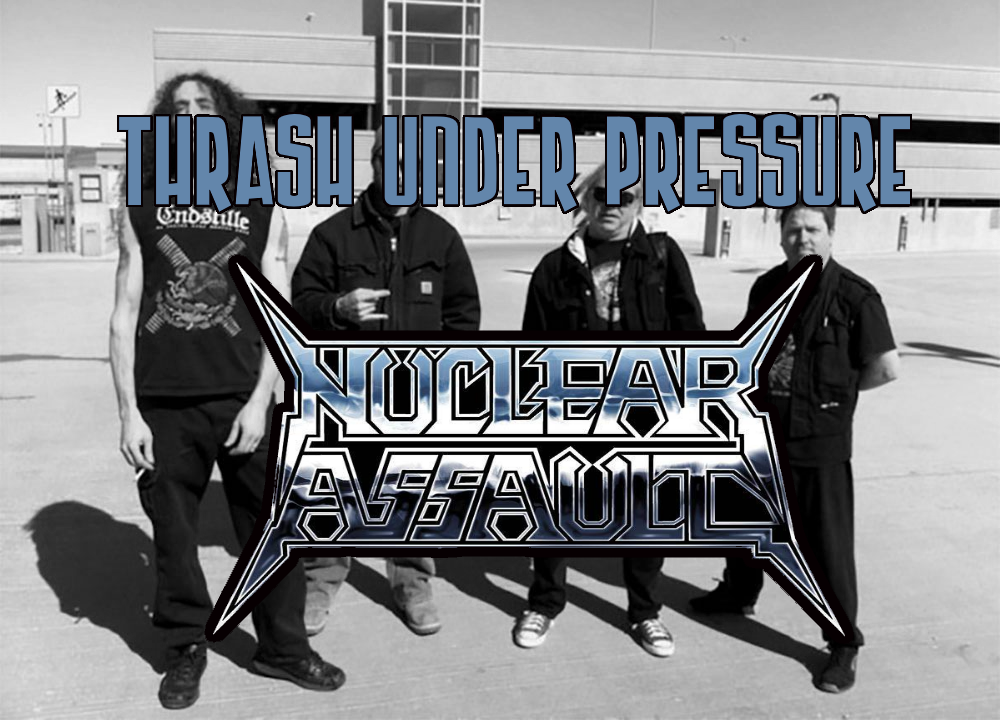 Thrash Under Pressure: Nuclear Assault
22nd December 2015
0
By
Tim Jones
Nuclear Assault. The Salties. Another band from New York.
They were formed when bass player Dan Lilker, who was a founding member of Anthrax, was kicked out of the band following the release of Fistful of Metal. He enlisted John Connelly, who had roadied for Anthrax and briefly been their vocalist in 1981.
Lilker's new thrash band incorporated harder elements than most other bands at the time. New York hardcore sounds were evident and Nuclear Assault had the sound of a crossover band before the term was even coined.
After playing a stack of shows and recording a demo, the band settled on what would be their most solid line-up, adding guitarist Anthony Bramante and drummer Glenn Evans to the fold.
In 1986, Nuclear Assault released Game Over. It was a no-nonsense album, jammed full of quick and catchy songs. They were taking thrash to a whole new level with an almost endless stream of speedy riffs and solos. There was no time to slow down. The hardcore song, Hang The Pope, was an instant classic and remains a fan-favourite to this day.
The Plague EP followed, which continued in much the same style. When Survive arrived in 1988, they were making huge strides towards the Champions League places of the big 4. The title track of Survive deserves a mention for its sheer awesomeness.
Nuclear Assault's finest offering arrived in 1989 though. Handle With Care contained their greatest material to date and there were more poignant lyrics about green issues, making them the world's first "environmetallers". It was a riff-fest and there was even the obligatory quick song in the form of Mother's Day. It's as close to a perfect album as Nuclear Assault will ever get.
Sadly, they'd painted themselves into a corner with Handle With Care. The release of a live album served only to show that, like BB King, John Connelly really couldn't sing and play guitar at the same time.
Out of Order wasn't necessarily bad – Kerrang! Magazine actually described it as being "well in order" – but Connelly was distancing himself from the rest of the band and only sang on five songs, playing guitar on even fewer. There was an instrumental track on there which contained a keyboard solo. A huge mark against their name for that.
Connelly went and formed the unimaginatively-titled John Connelly Theory and recorded an album of material which sounded like sweepings-up from the Nuclear Assault song factory. Quite what his theory was we may never know. Perhaps it was that he was Nuclear Assault and he could record with whoever he wished?
This was disproven with Nuclear Assault's next release, Something Wicked. Lilker and Bramante had left the band and their replacements didn't quite cut the mustard. This led to the most un-Nuclear Assault recording Nuclear Assault had ever produced.
Lilker was in fact very busy starting a grindcore band at this point.  Of the million bands he's been in, Brutal Truth were by far the most successful.
Years of inactivity followed and the band had officially split up by 1995. They reformed for a couple of shows, but new material was never in the offing.
In 2005 they finally recorded a new album. Lilker had returned and Erik Burke assumed lead guitar duties. It wasn't a pretty record. It was reportedly recorded without the band actually playing together and the attempt to relive past glories failed miserably. Long Haired Asshole – a comedic song involving a banjo – was possibly the finest moment, which tells you a lot. And the fact that the song was originally from the John Connelly Theory album tells you even more.
In 2015, the Pounder EP was released. This, the title track in particular, was a return to the good old days. Whatever the band had done in the last ten years seemed to have worked wonders for them and they were once again back to greatness.
A new album is supposed to be coming in 2016. Here's hoping they don't implode and that it doesn't sound like something they pulled from their nuclear assholes.
Put them on your playlist: Critical Mass, Search and Seizure
How useful was this post?
Click on a thumb to rate it!
Average rating 0 / 5. Vote count: 0
No votes so far! Be the first to rate this post.
Related
About the author
I'm an East Yorkshire-based fan of thrash, hardcore and punk who likes to write about it as much as he likes to talk about it.