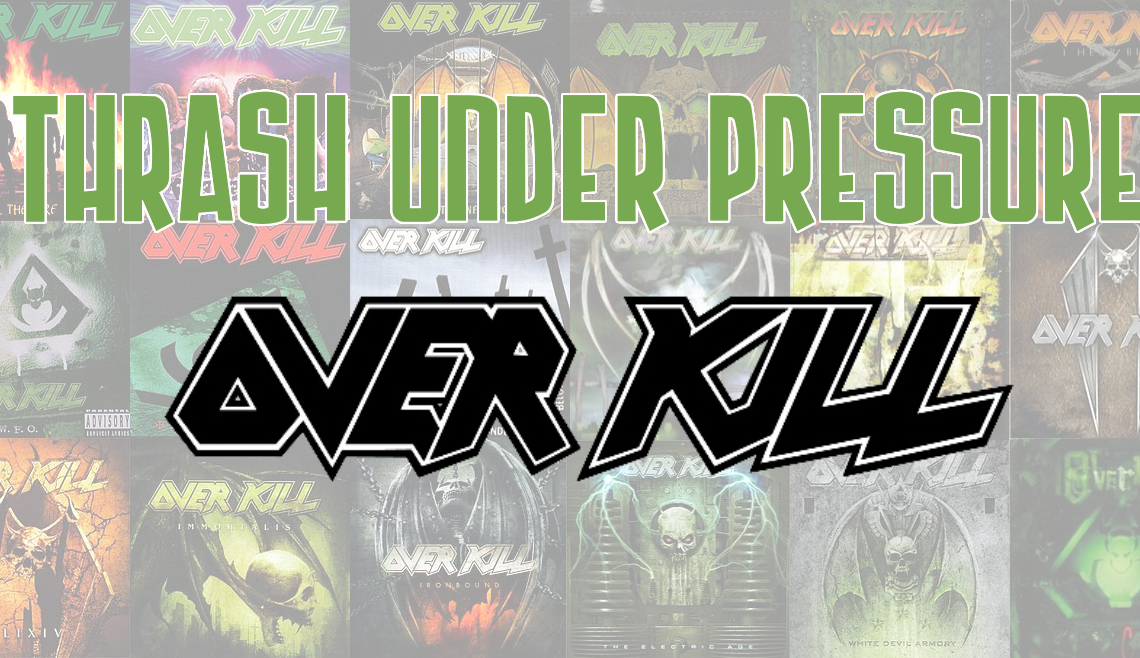 Thrash Under Pressure: Overkill
11th December 2015
A return to New York City this week. So good they named it twice, the Big Apple, formerly New Amsterdam – whichever name you use, the city that gave us Anthrax gave us so much more.
Overkill is one such thing.
Actually, they're officially from New Jersey which is right next door, but they have the unmistakable sound of New York thrash, at least on their early material. Elements of hardcore sneak in for the perfect combination.
Overkill have managed to release a staggering 18 albums in their time, shunning the popular trend of "going on hiatus" for any length of time.
In 35 years, the band has had a fair few members, but maintained both their original vocalist and bass player, Bobby "Blitz" Ellsworth and DD Verni.
Some call them "the Motorhead of thrash metal", a term which is quite baffling, but probably complimentary. It's a bit like referring to Cheddar as "the Edam of English cheese".
Feel The Fire wasn't the strongest of thrash metal debuts when held against Kill 'em All or Show No Mercy, but it was certainly the best that was happening on the Eastern Seaboard at the time.
Overkill evolved quickly and their next release, Taking Over, was much-improved. It's probably best to ignore the lame album cover which featured the band as soldiers, pointing guns at us though.
By album number three, they were really making their mark as thrash titans. Under The Influence is definitely Overkill's best 80s album, if not their best ever. Bobby Gustafson was fast becoming one of the most technically proficient thrash guitarists on the planet.
The Years of Decay followed and picked up where its predecessor left off. This would sadly be the last pure, good quality thrash Overkill album that would see daylight for a while. Gustafson left or was fired after this, depending on which version of events you read.
Horrorscope marked the start of a more experimental period for the band. Sadly they started off by experimenting with not being as good as they once were. It was 1991 and this album is certainly heavier than other thrash bands' offerings of the same time – I'm looking at you, Black Album-era Metallica. There are thrash songs on there, but they sounded almost as if they'd been phoned in. The best song Horrorscope offers is a cover of The Edgar Winter Group's Frankenstein – an incredibly bizarre choice.
I Hear Black had a more doomy sound and the band were possibly struggling with their identity at this point. Spiritual Void is a good heavy song, but has more bluesiness than thrashiness to it. Overkill were in danger of experimenting their way away from their loyal fanbase.
The critics were answered with 1994's WFO. It seemed to mark a return to proper thrash and the only way it can be described is by calling a spade a spade – it was heavy as fuck.
A colossal line-up change ensued, which led to the next record, The Killing Kind, being a little peculiar. It smacks of guys who can play their instruments but who have never heard of thrash metal being locked in a room and told to record a thrash album. It's not bad,but it just isn't Overkill enough.
From the Underground and Below doesn't honestly fare much better. For some unknown reason, Ellsworth cites it as being his favourite Overkill record. Clearly he never listened back to awful pseudo-ballad, Promises, once it was recorded.
Necroshine showed some improvement, but it still represented a band who weren't completely firing on all cylinders. An album of covers was released in the same year which if nothing else proved they could still rock – the cover of Deep Purple's Space Truckin' is particularly excellent.
The new millennium dawned and Overkill were seemingly revitalised. Bloodletting saw a return to a much heavier sound and from the start you can hear the improvement. They were actually playing amazing thrash again.
Killbox 13 followed this trend and the fans were won over once more, even though it was slightly weaker than its predecessor. ReliXIV (it's unsure if anybody actually knows how the name is meant to be pronounced – Ellsworth called it "Relics" on occasion, but that doesn't make too much sense) was better and thrashier, but having seen so many false-starts of bands returning to their former glory, it would perhaps be a little previous to get carried away.
If you want to know what Immortalis sounds like, try imaging Overkill turning up on Stars in Their Eyes and saying: "Tonight, Matthew, we're going to be Pantera". There are more than a few moments that sound like they were stolen from Dimebag's riff warchest. In fairness, despite any comparisons with the Texans, it's a pretty decent record.
They were now signed to Nuclear Blast records, who wouldn't entertain any pretenders. Ironbound continued the upward trend and Overkill were now definitely a proper thrash band once more. The Electric Age and White Devil Armory are both examples  of fantastic 21st century thrash albums.
I may have been a little harsh about some of Overkill's output, but they at least never became completely unlistenable (for an example of a thrash band that cut their own throats in an unlistenable sense, try Celtic Frost's Cold Lake if you dare). There are a few diamonds in the rough on some of the less well-received albums and in any case, how many other thrash bands can you name who have produced around 200 songs? Exactly.
Put them on your playlist: Hello from the Gutter, Shred