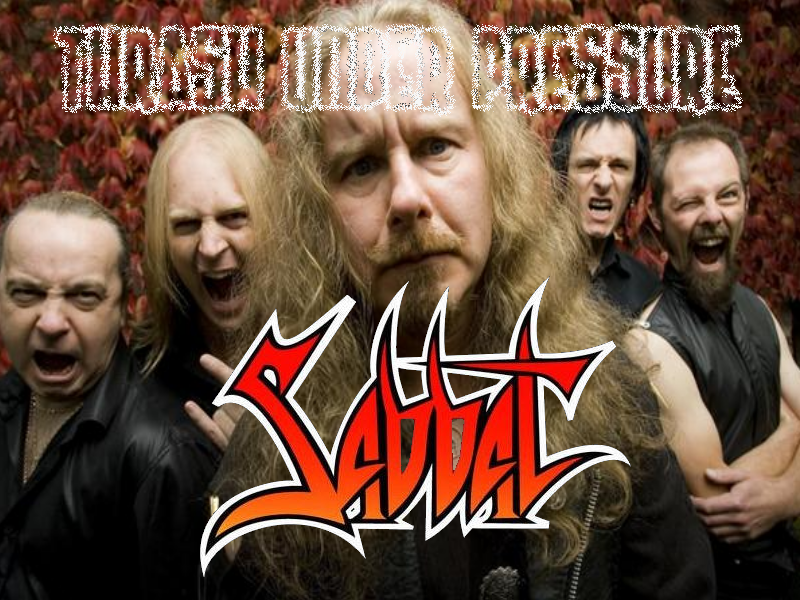 Thrash Under Pressure: Sabbat
1st July 2016
Remaining in Blighty and this week's Thrash Under Pressure focuses on another of the UK Big 4 of Thrash, Sabbat.
Sabbat hailed from one of the metallest cities in England, – Nottingham. "What?" you might well ask. Well, a city that boasts the legendary Rock City and headquarters of Earache Records is clearly metal as fuck and there can be no argument.
The band formed in 1985 and by September 1987 they were on their way to Germany to record their debut, having signed to Noise Records. History of a Time to Come was a solid debut that sounded worlds away from what was happening on the other side of the Atlantic. There is a definite German influence to the album. No, I don't mean that there were songs about wursts and there were certainly no oompah solos. I mean the sound. Sabbat were the English Kreator. And that is quite a high accolade. If you don't still get neckache after listening to this album there's clearly something wrong with you.
Dreamweaver (Reflections of Our Yesterdays) followed in 1989 as the band continued to pick up momentum. The addition of another guitarist beefed up the sound considerably. You might well facepalm when I tell you this was a concept album, but it's a pretty decent offering – nothing like the concept album atrocities of, say, Sepultura. It was based on a 1983 book by psychologist Brian Bates: The Way of Wyrd: Tales of an Anglo-Saxon Sorcerer and who hasn't read that? Musically it was heavy as anything and was a veritable riff- and solo-fest. Even the acoustic Advent of Insanity is excellent with its eerie ship creaking sounds and mournful violin.
1991 saw Sabbat's final official full length release. What is it with British thrash bands and their short careers? Mourning Has Broken (see what they did there?) is a bit different. Vocalist Martin Walkyier had left to form pagan folk-metal band, Skyclad, and was replaced by Richie Desmond. The band no longer sounded like Sabbat and while it is an excellent thrash album, fans weren't impressed. They split up not longer after its release.
The sad reality was that Sabbat had not been looked after by their record label and were struggling to make any kind of living from it. It's not a case of "selling out" if a band makes money – it is their job after all. But when your music can't even put food on the table it has to be re-evaluated.
It wasn't the end though. In 2006 the band re-united with the Dreamweaver line-up and supported Cradle of Filth on a UK tour. A few festival appearances followed and the first two albums were remastered and re-released. Mourning Has Broken was not.
Sadly for us fans this was now the end. Guitarist Andy Sneap confirmed as much in an interview in January 2014.
Never say never though, right?
Right?
Put them on your playlist: The Church Bizarre, The Best of Enemies, Dumbstruck