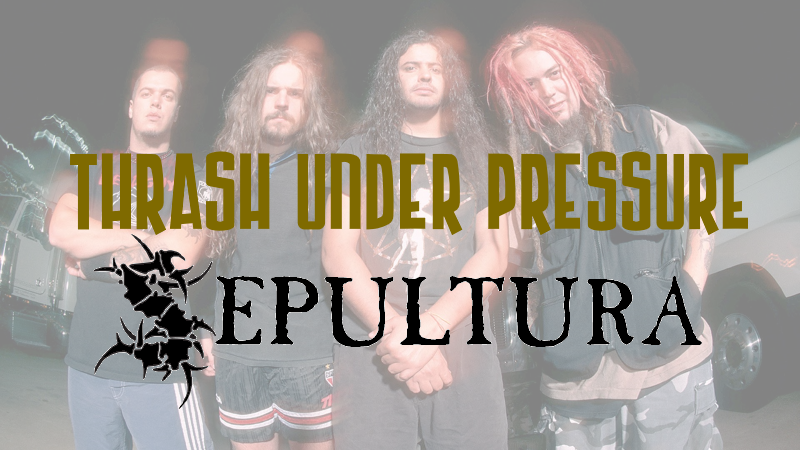 Thrash Under Pressure: Sepultura
23rd April 2016
0
By
Tim Jones
You could be mistaken for thinking thrash metal was a purely American game, but a bit further south there was a new force emerging.
It was 1984 and way down in Belo Horizonte in Brazil, two teenage brothers, Max and Igor Cavalera were assembling a band that would challenge the heavyweights for many years to come.
In what sounds like a subplot from the film Wayne's World, Max pretty much taught himself English by translating metal songs. It was Motorhead's Dancing on Your Grave that gave the band their name – Sepultura being the Portuguese word for grave.
Max sang and played guitar and Igor was the powerhouse behind the drums.
Bestial Devastation and Morbid Visions were released and they might well have the sound of something that was recorded in a garage on a budget of a tenner (and that might even be what actually happened), but they were significant albums in helping to shape their sound.
In 1987 after going through the early revolving door of band membership so common during the salad days of metal bands, lead guitarist Andreas Kisser was recruited which added some more weight to the juggernaut. Schizophrenia was released and now Sepultura were on a par with their American cousins, although it sounded like they were a few years behind. They were learning quickly and they were thrashing as well as anyone else at the time.
Beneath the Remains followed – what many believe to be Sepultura's Reign in Blood. It is in Terrorizer's top 20 thrash albums of all time and their top 40 death metal albums of all time – not many bands can boast the same amount of appeal within both genres. It's a fantastic album and it's important to remember while Sepultura were still playing fast songs, Metallica had moved on to 10-minute opuses and ballads.
Could it get any better?
Yes. They played to 100,000 people at Rock in Rio II in 1991 and then recorded Arise in Florida, the Mecca of death metal.
Arise was their strongest album yet and really catapulted Sepultura as close to the mainstream as it was possible to get them. The title track and Dead Embryonic Cells still sound just as fresh over 20 years later.
Not a band to sit around twiddling their thumbs, they recorded and released Chaos AD in 1993. This album would certainly be involved in a photo finish with Arise as to which was the absolute best. There's not a bad moment on it and even the world music-sounding Kaiowas sits well among the hardcore and groove-oriented sound they had now sculpted.
Roots followed in 1996. It was a slower album, but no less heavy. It included experimentation with indigenous Brazilian music which was also well-received. It seemed they could do no wrong.
This all changed on 16th December 1996.
After playing at the Brixton Academy, Max Cavalera announced he was quitting the band.
This could well have been the end of the band, but they continued.
Derrick Green replaced Max and a new album was released. His vocal style was definitely suited to the band, but Against sold poorly compared to other Sepultura releases and Cavalera must have grinned when his new band Soulfly's debut outsold it.
Sepultura 2.0 were less heavy and less successful. It was very clear who the creative genius had been.
This didn't stop them and they forged ahead with Nation and Roorback. It was becoming difficult to enjoy Sepultura now unless you treated them as a different band altogether.
What did their flagging fortunes need? Well, someone decided a concept album based on Dante Alighieri's The Divine Comedy would be a great idea. Dante XXI was the result and it's, well, not bad.
Igor Cavalera must have thought differently and he quit, forming Cavalera Conspiracy with his brother and giving in insight into what Sepultura could still have sounded like.
The band were now without an original member and decided that yet another concept album was the way to go. A-Lex was based on A Clockwork Orange, but it failed to recapture the sound of the previous album and it was clear the band were in trouble.
Sepultura signed to Nuclear Blast and released Kairos in 2011, but they were now so far from what they'd once been that a map and a compass couldn't help them find their way back. It sounds more like an album Ministry might have made in 1995, and not just because there's a Ministry cover on there.
The Mediator Between Head and Hands Must Be the Heart followed and was an improvement, although not much.
A new album is reportedly in the works, but you'd be better off listening to The Best of Sepultura which showcases their greatest work during the Max Cavalera years.
Put them on your playlist: Biotech Is Godzilla, Refuse/Resist
How useful was this post?
Click on a thumb to rate it!
Average rating 0 / 5. Vote count: 0
No votes so far! Be the first to rate this post.
Related
About the author
I'm an East Yorkshire-based fan of thrash, hardcore and punk who likes to write about it as much as he likes to talk about it.