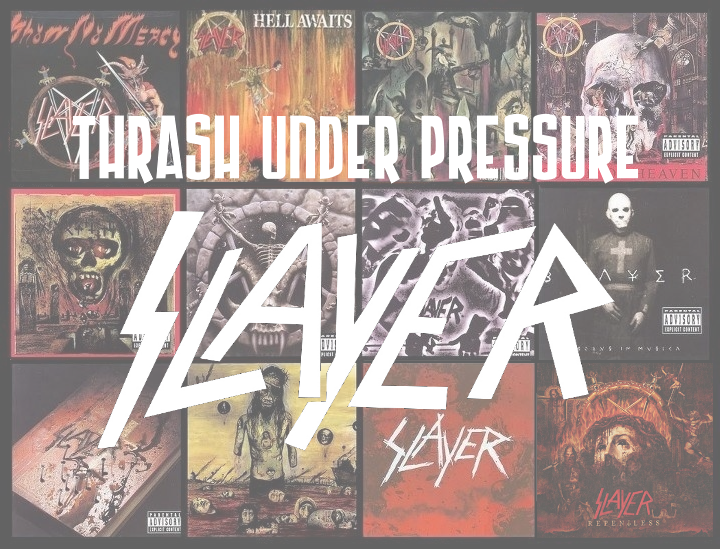 Thrash Under Pressure: Slayer
12th November 2015
Slayer, or "Fucking Slayer!" as the band's legion of fans affectionately call them, are a bit of an anomaly on the thrash scene.
Why is this?
Well, they have never really changed that much. They haven't ever ventured into prog-rock or classic rock; they have never worked with an orchestra; they've never recorded a ballad; and they've absolutely never ventured down a "concept album" route.
Arriving at a similar time to other titans of thrash in the early 80s, Slayer invested heavily in leather and studs and had no time for melodic singing. Singer and bassist, Tom Araya, elected to yell the band's message which was (and still is) a very effective form of delivery.
The band didn't change their line-up at all for the first decade and only the drumming stool was occasionally occupied by changing personnel after that. The long illness and subsequent death of long-time guitarist, Jeff Hanneman, in 2013 was the kind of tragedy that could have seen the band cease to exist, but Exodus axe-wielder, Gary Holt, ably deputised on live performances.
The consensus among fans is that Slayer aren't as good as they once were, which is probably unfair. Their songs are still fast and bulging with muscular riffs and clock in at around the 3-4 minute mark. They have remained true to thrash.
While most of their post-1991 output has been greeted with a collective "meh" by many fans, they are at least tackling a lot of social issues in their lyrics now. Gone are the dungeons and dragons lyrics of the 80s and now subjects such as war in the Middle East and everybody's favourite, the government, are popular themes.
Indeed their latest offering, Repentless, still makes mincemeat out of any of the albums the old guard of thrash have released in recent times. It's Slayer's first recording to feature Holt and it's possible to play spot the difference, but you'd struggle to find one. The album is what you'd expect from them and is laden with the kind of fretboard masturbation that makes us all wish we'd tried to play the guitar a little better and not just repeatedly play the riff from Smoke on the Water.
Slayer's problem is really of their own making and that problem is called Reign In Blood.
Widely acclaimed to be by far Slayer's best work – and possibly the most perfect thrash metal record ever made – they left themselves nowhere to go. It's like expecting Deep Purple to top Machine Head, or The Eagles to better Hotel California. They might as well have packed up their gear and gone home.
This isn't to say that they haven't produced other moments of sheer brilliance. South of Heaven, Seasons in the Abyss and Show No Mercy are all albums that other so-called "Big 4" bands would kill to have in their arsenal.
But Reign In Blood is the one. It's useless to pretend this wasn't their defining hour, or 28 minutes. It's rare the listener can play an entire record without skipping one or two tracks, but it's more than possible here.
From the amazing opening riff and blood-curdling scream of Angel of Death – which also contains the fastest ever use of double kick drums – through to the thunderclap and downpour at the end of Raining Blood, it's a tour de force of how thrash was meant to be done.
Enlisting Rick Rubin as producer was clearly a masterstroke – something Metallica would only grow wise to over two decades later. This move made them sound even better than they had previously and the album showed that Hanneman and King were the Lennon and McCartney of thrash metal.
Slayer are still one of the best live metal acts around and if you don't agree, you can tell them to their faces. The immense beard and bald, tattooed head of Kerry King are quite intimidating though. You wouldn't dare.
Put them on your playlist: Post Mortem, Criminally Insane