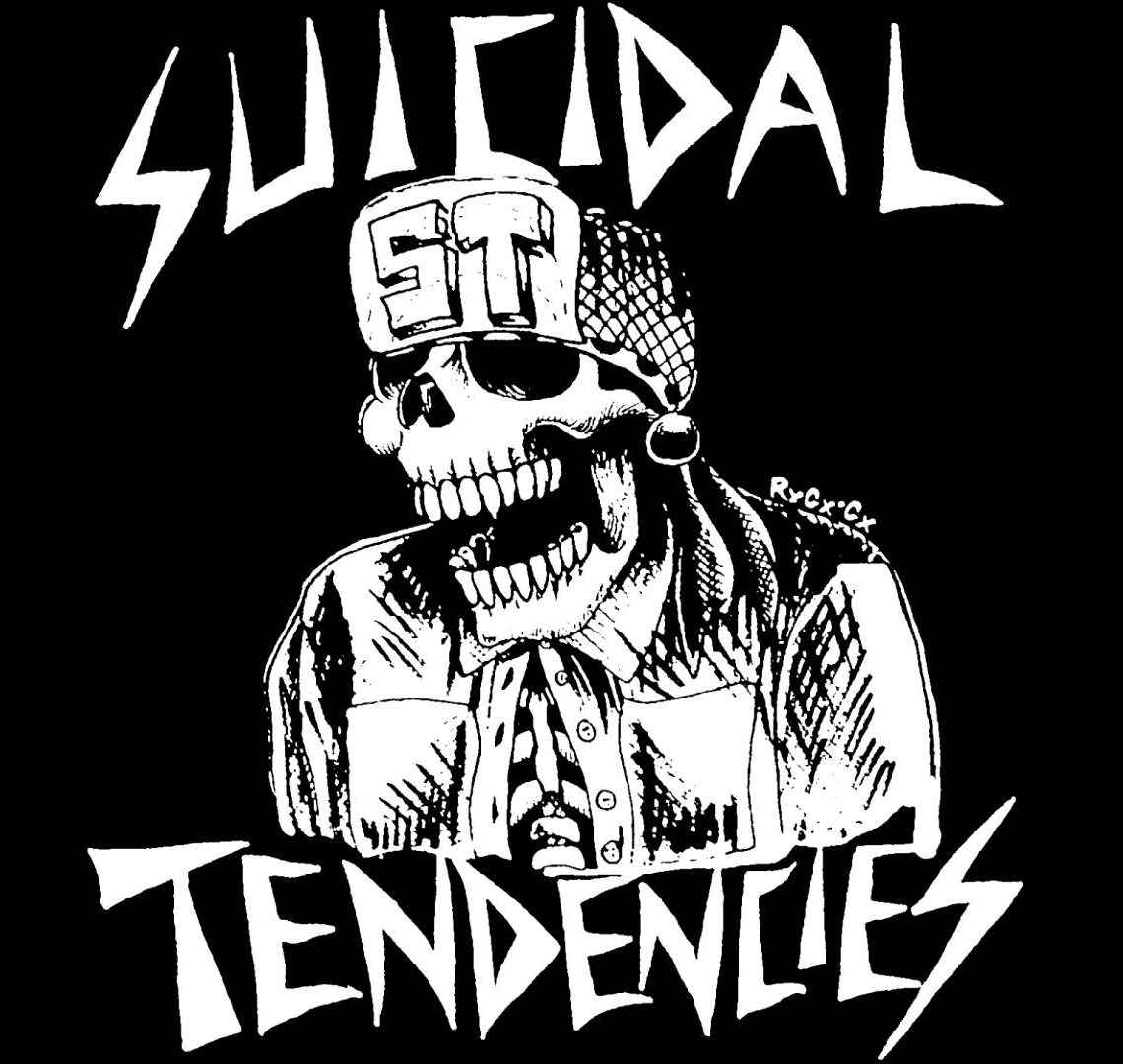 Thrash Under Pressure: Suicidal Tendencies
5th April 2016
This Thrash Under Pressure is a little bit different. It's the first one to feature a band that isn't a thrash metal band in the strictest sense. I know, crazy, right? But put down your flaming torches and read on before you judge me.
Suicidal Tendencies are a band that a lot of thrashers love – certainly one that comes up during many conversations here at AATR towers. There are definite elements of thrash in their music and I would describe them as 'crossover', a name that bridges the thin chasm between hardcore and thrash metal quite well. Wikipedia has other ideas and attempts to pigeonhole them as 'thrashcore', 'funk metal' and 'skate punk'.
Whichever genre's mast you think their musical colours should be nailed to, there's no denying that Suicidal Tendencies are highly-influential and loved by many.
ST was formed in 1981 in California by vocalist Mike Muir who is the only remaining original member of the band. The band is credited as one of "the fathers of crossover", along with D.R.I. (more on them in a later column).
Their eponymous album was released in 1983 and was more or less pure hardcore punk. The song Institutionalized had appeal to both fans of hardcore and metalheads and received heavy airplay on MTV – remember when MTV still showed music videos? Have a listen anyway; it's still a classic.
What was intended to be a 'party band' backfired and ST grew in popularity. The line-ups would change with alarming regularity and I'm sure plenty of former members have kicked themselves for deciding to quit. 1987 saw the release of Join The Army, an album that saw them beginning to dip their toes into the waters of metal whilst still maintaining hardcore elements.
They were signed by a major label (Epic) and in 1988 went more or less full metal with the snappily-titled How Will I Laugh Tomorrow When I Can't Even Smile Today? Proper musicianship was now much higher on the band's agenda and they were thrashing in quite a melodicway.
The band's next three releases all went gold and it was at this point that Rob Trujillo played bass for ST – yes, that's the same Rob Trujillo who would go on to play with Ozzy and Metallica. Lights…Camera…Revolution! is considered by many fans to be the greatest of these, containing the hits Send Me Your Money and You Can't Bring Me Down. They were establishing themselves as a real force of metal by this point and ignored allegations of having sold out from the hardcore community.
Opening for Metallica, Guns 'n' Roses, Queensryche and Armored Saint as well as being on the Clash of the Titans tour with Megadeth and Slayer increased their standing further still.
Trujillo's funkier bass-playing led to him and Muir forming the bizarre funk metal side project, Infectious Grooves, in 1991.
ST released The Art of Rebellion, Still Cyco After All These Years (a re-recording of their debut album) and Suicidal for life were all commercially successful for the band, but in 1995 the band's deal with Epic expired and the band officially folded.
They returned four years later with a new line-up – only Muir remained – and a new album, Freedumb. This was more of a return to the band's hardcore roots. Critics accused them of having dumbed down, both lyrically and musically, but fans loved it.
Free Your Soul and Save Your Mind followed the next year. This time both fans and critics agreed it was a winner. As the band were enjoying musical success once more, it seemed only right to have a 10-year hiatus.
The next Suicidal release was in 2010 and it was another album of re-recordings. Thirteenth album,13, was released in 2013 (see what they did there?) and showed that they still had it. The record is crammed full of thrash, hardcore, groove and hip-hop nuggets that all combine to form the ST sound everyone knows.
Interviews with the band since then have suggested that more new material is right around the corner, but here's nothing official yet. One thing's for sure, Suicidal Tendencies might well be cyco, but they are definitely still relevant after all these years.
Put them on your playlist: No Fuck'n Problem, Freedumb