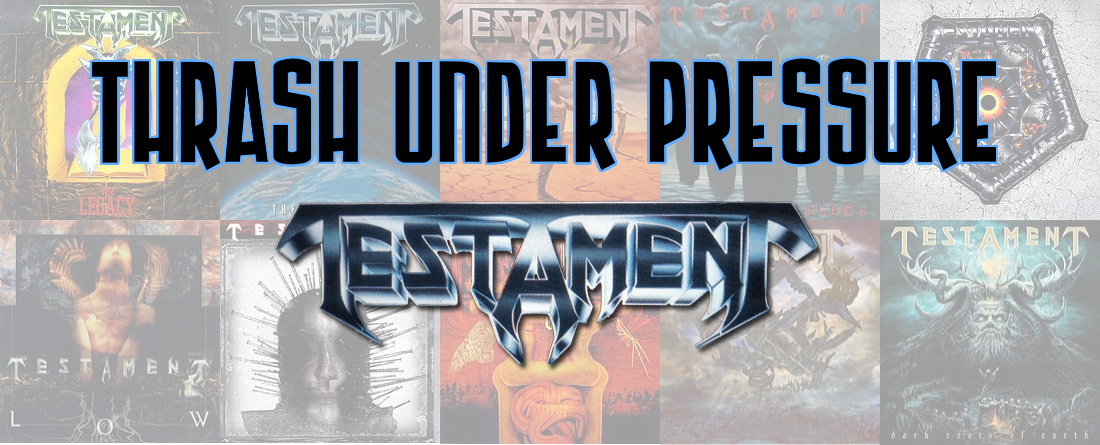 Thrash Under Pressure: Testament
4th December 2015
Staying in California, we find Testament – another band who never made it to the big-time despite an impressive output.
Thrash was a relatively close-knit community in the early 80s with several people having plied their trade in various bands during the scene's inception and it was as if thrashers turned up at a party and threw their car keys into a bowl before deciding who their partners would be. This is shown once again by the fact that Exodus singer Steve "Zetro" Souza was Testament's original vocalist (the band were called Legacy at the time) before being replaced by the scary-looking Native American Chuck Billy.
Only Billy and guitarist, Eric Peterson, have been ever-present and Testament boast an almost Megadethian list of former members.
Testament released their debut album in 1987 – fairly late in the day, considering most of the behemoths were already well on to their third releases by this point. The Legacy is a fairly decent offering, but suffers from a lack of production and Testament's distinctive heaviness wasn't yet apparent.
1988's The New Order was a lot more promising and the band were starting to establish themselves quite well, despite the progginess of some of their songs. There are moments of almost classical-sounding, fretboard-melting solos and more than enough mosh-worthy speedy riffs.
By Practice What You Preach, Testament were really hitting their stride. By 1989 some thrash bands were slowing down, but Testament were still on the up. They were still full of ideas and could have given Metallica a run for their money any day. They were in fact well ahead of Metallica with a ballad, imaginatively called The Ballad.
They kept up their album-every-year approach and by 1990 had almost caught up with other thrash bands in terms of output. Souls of Black showed that Testament had no intentions of relenting and the band joined Slayer and Megadeth on the now-legendary Clash of the Titans tour. Not everyone was trading cassettes with their mates in an attempt to stay abreast of the scene in pre-internet days and the tour expanded their fanbase significantly.
The Ritual was album number five and Testament bucked the trend by continuing to thrash in the same vein. Whilst others were going soft, counting down to extinction and contemplating what white noise sounded like, Testament stuck two fingers up to the world and maintained their heaviness. Sure, there's a couple of slow numbers on there, but that was incredibly normal by this point and possibly the reason for the invention of the skip button on a CD player.
Surely Testament would lose their edge by now? Nope. It was 1994 and Low opens up sounding like their heaviest offering yet. The guitars sound as if they're tuned down a great deal and in places the vocals were growlier. Testament weren't going to stop.
Demonic followed in the late 90s and there was a definite groove-meets-death-metal sound developing. Whilst technically not classifiable as thrash anymore, they were still producing more valid metal than many of their contemporaries.
And then they released The Gathering that took them right back to where they had been two albums previously. Not many bands can say they had an experimental phase that wasn't a disaster, but Testament can. They slipped back into thrash like it was an old, comfortable  pair of shoes they hadn't worn in a while – the kind of shoes that could easily be used for kicking other bands' arses.
There were health issues for the band after this. Guitarist James Murphy was diagnosed with a brain tumour, from which he fully recovered, as did Chuck Billy from his cancer. It would take more than this to stop them, although there was a nine-year gap between records at this point.
2008 rolled around and finally brought us The Formation of Damnation. Expectations were high, but there was a fear that a band who hadn't seen the inside of a studio for almost a decade would churn out something terrible. The fear was totally unfounded.
Even on Dark Roots of Earth in 2012, Testament were still as great as ever. Total album sales in their career of over 14 million isn't a bad effort, but they really should have shifted a lot more.
A new album is planned for next year and by now it's probably safe to assume it'll be an absolute belter. *crosses fingers*
Some bands have disappointed with alarming frequency over the last three decades. Testament haven't. You can stick any one of their records on, safe in the knowledge that thrash is in good hands.
Put them on your playlist: Into The Pit, Perilous Nation