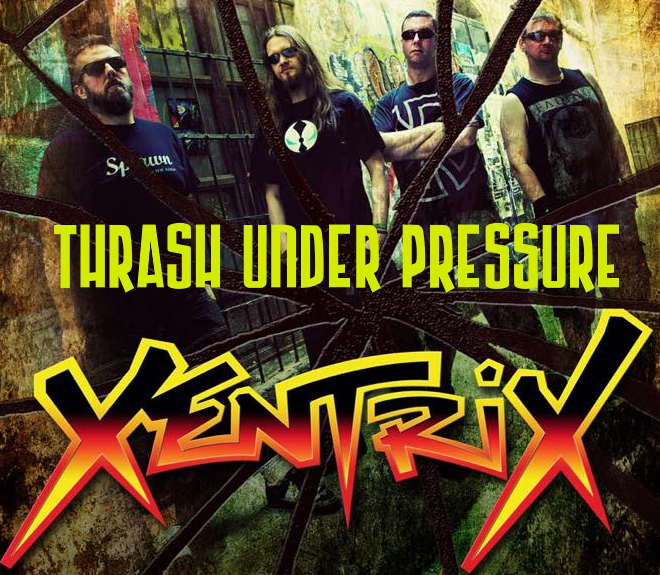 Thrash Under Pressure: Xentrix
12th July 2016
0
By
Tim Jones
If Yorkshiremen, Acid Reign, could do it then it was only fair that those on the other side of the Pennines should have a crack too. But this was no Thrash War of the Roses. Preston's Xentrix were different to their British contemporaries, partly because they sounded a little more like some American bands and that's not a bad thing.
Xentrix gained notoriety thanks to a demo which sparked interest thanks to a 5-star rating from Kerrang! Roadrunner Records wasted no time in signing the band after this. Shattered Existence came out in the summer of 1989 and Xentrix toured with Sabbat to support the album – straight into the dizzy heights of UK thrash top four-dom.
The debut is certainly strong. In places it is quite Overkill-esque. It's only the gritty Northern England vocals that give the game away. Nonetheless, this was a more than solid start and the foundations were laid for the band's future.
The comedic-yet-good single of a cover of Ghostbusters followed and there was accidental controversy when nobody had bothered to check whether it was OK to use a slightly-altered version of the logo from the film in the artwork. Oops!
Another long-player came soon after. For Whose Advantage? might have a terrible cover, but it's what's inside that counts. And this was an aural feast of thrash mastery, including a fully-approved acoustic instrumental which is like the kind of thing Metallica might have done, but 15 minutes shorter. Like their British buddies within the scene, they were getting better and better.
Xentrix opened for Testament and there was yet another tour with Sabbat.
As momentum continued to build, the Dilute to Taste EP was released. This contained two new songs and four live tracks. It was more than enough to keep fans happy while they waited a short time for the next full album.
Meanwhile they continued to leaf through the I-Spy Book of Thrash Bands to find another behemoth to perform with. This time it was supporting Sepultura (when they were good).
1992's Kin was a bit proggy and it was a sign that perhaps the wheels were beginning to fall off. As lots of other thrash bands began to experiment with different sounds this was no huge surprise, but purists were left a little disillusioned by this offering.
Line-up change, anyone? OK. In 1996, Xentrix released what would turn out to be their final album, Scourge. Right from the off it's apparent that the misdemeanour of their previous outing was well behind them and this sounds like proper thrash again. But due to thrash no longer garnering enough interest, the band chucked in the towel not long after its release.
Several reunions have followed and Xentrix have played with the likes of Onslaught, Evile, Overkill, Kreator and Lawnmower Deth.
In 2014 Xentrix played a new song, World of Mouth, live. A seriously kick-ass song, but was that it? There have been rumours of a new album, but nothing more. The band continue to tour, so there's still hope.
Put them on your playlist: No Compromise, The Human Condition, Never Be
How useful was this post?
Click on a thumb to rate it!
Average rating 5 / 5. Vote count: 1
No votes so far! Be the first to rate this post.
Related
About the author
I'm an East Yorkshire-based fan of thrash, hardcore and punk who likes to write about it as much as he likes to talk about it.