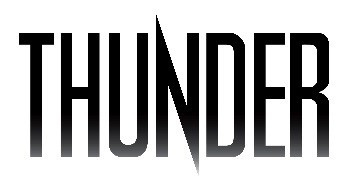 Thunder: Announce the five opening bands for the 2020 Arena Tour (one per show)
31st January 2020
Thunder are marking three incredible decades as one of Britain's finest rock acts with their first full-on electric headline rock shows in the UK since 2017.  
Special guests on all shows will be Ugly Kid Joe, with a different opening band for each arena, especially chosen by Thunder.
Those new bands can now be revealed!  They are: Those Damn Crows, Piston, Kris Barras Band, Mason Hill, and Massive Wagons [see below for specific details].
VIP packages sold out within hours back in November last year, but regular tickets are available via: 
https://www.aegpresents.co.uk/events/detail/thunder-2
www.axs.com, 
www.thunderonline.com 
Danny Bowes commented, "When we started out back in 1678, we managed to get on a couple of big supports, and we got a lot out of the opportunities. We've never forgotten it, so when we announced the shows last November, we made it known that we wanted to have a different opening band for every show. I'll be honest, we had no idea that so many really good ones would be put forward, so it was pretty hard to choose. We're very chuffed with our choices, and confident they'll all make the most of the slot, impress the Thunder Massive, and give both us and Ugly Kid Joe a run for our money. Over to you lot!".
Thunder have proved time and time again that they have the hits, the chops and the flair to blow the roof off any venue, and these 5 shows will be no exception. 
The band celebrated thirty years at the top of the tree at the end of September 2019, with the release of 'The Greatest Hits' album through BMG. 
 
At the time the tour was announced, Danny said "After Please Remain Seated and The Greatest Hits releases, work on the next studio album is already well under way. We'll get it out before these 5 shows. I'm chuffed to report that it's all new tunes, and it's all ROCK. The setlist will be a mix of the new album and fan favourites, so it's going to be a bit of a job working out which tunes we'll play.  I think I'll leave it to Luke to sort that one out!".
 
The incredible Thunder catalogue, built up over the past 30 years, boasts stone cold classics like 'Dirty Love', 'Love Walked In', 'She's So Fine', 'Low Life In High Places' and of course 'Backstreet Symphony' [the album itself will be 30 years old in 2020!]. Unlike some bands, Thunder have never sounded better, so these massive shows will be the perfect chance for fans to witness Danny, Luke, Ben, Chris and Harry doing what they do best – live and loud. 
Don't miss them – or indeed Ugly Kid Joe and the newly announced openers.
It's going to be a great night!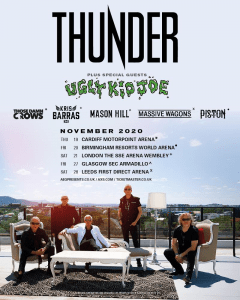 THUNDER 2020 UK ARENA TOUR
OPENING ACTS:
19/11/20 – Cardiff Motorpoint Arena – Those Damn Crows
20/11/20 – Birmingham RW Arena – Piston
21/11/20 – Wembley SSE Arena – Kris Barras Band
27/11/20 – Glasgow Armadillo – Mason Hill
28/11/20 – Leeds First Direct Arena – Massive Wagons