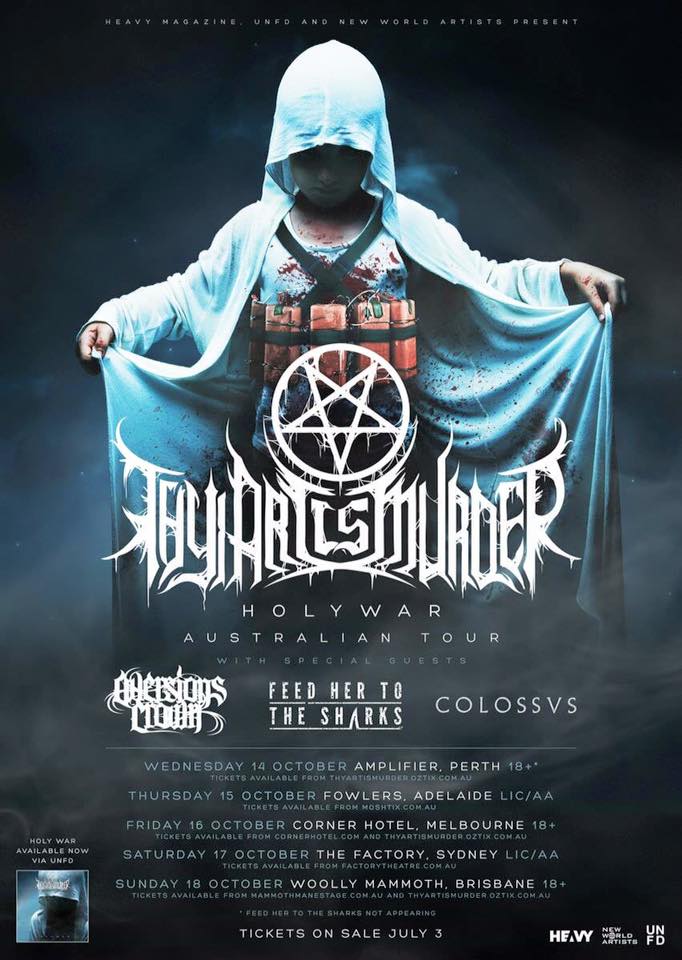 Thy Art Is Murder/Aversions Crown/Feed Her To The Sharks/Colossvs – Woolly Mammoth, Brisbane – 18/10/15
22nd October 2015
The final night of a tour is always a good show for the bands – they always want to end on a high note, and not having to worry about a gig the next day they love to party hard to celebrate what has (hopefully!) been a successful tour. Tonight is no exception. Tonight in Brisbane is the closing night of Thy Art Is Murder's Holy War tour, to promote their newest album of the same name, and there is a very good feeling in the air. A good night is set to be had by all.
Despite arriving in plenty of time, due to the line to get in moving at roughly the same pace as a creation process for a new Necrophagist album I unfortunately missed opening band Colossvs, only getting in with just enough time to grab a pint before Feed Her To The Sharks [7] began their set. I did wonder how their brand of techno infused metalcore would fit in with a line-up that would otherwise sneer at anything even remotely close to clean vocals, but I was thoroughly impressed. The clean vocals were completely on point, the techno/dubstep parts worked very well, and there was a lot of good riffs and lead passages in there. Feed Her To The Sharks tore through hits from their new album (Fortitude, which came out on Victory Records earlier this year) like Walking On Glass and Burn The Traitor with ease, and immediately built a good relationship with the crowd.
Next to take the stage was Aversions Crown [9], who have been making quite the name for themselves. Leaning more to the death metal side of deathcore, Aversions Crown absolutely levelled the stage with tracks from their newest album (Tyrant, out now on Nuclear Blast) and the new single Parasites. Tearing through fan favourites Hollow Planet, Overseer and The Glass Sentient, new vocalist Mark Poida excellently displayed his chops, showing he has absolutely nothing to prove. Far more then "just another" deathcore band, Aversions Crown rely far more on excellent atmospheric guitars and interesting, well-written lyrics than simplistic breakdowns and chugging – they are a breath of fresh air in a scene that has grown stagnant and boring in recent years.
After a quick changeover, headliners Thy Art Is Murder [8] begin their set and leave absolutely no doubt as to why they are one of the fastest rising bands in the scene. With the majority of their setlist being composed of songs from their newest album, Holy War, (also out now on Nuclear Blast), they showcase a series of incredibly fun guitar solos and earth-shattering breakdowns, and old fan-favourite Whore To A Chainsaw makes a well-received appearance. After a truly chaotic and excellent Reign of Darkness (the near sold out Woolly Mammoth bellowing "You will see the true face of panic!" was truly something to behold!) Thy Art… finish their set with singles from the new album; Light Bearer and the title track, which go down an absolute storm. Another successful tour under their belts, every band playing has earned the right to party hard tonight.