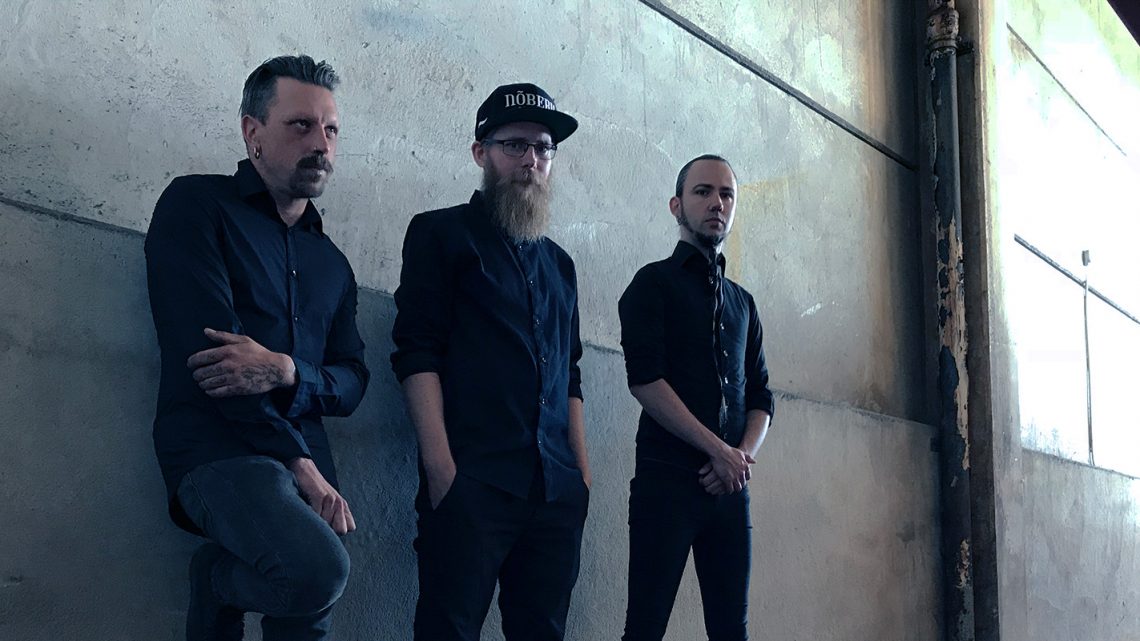 Tommy Carlson of Frankie Everlong Introduces His Mini Zoo.
7th February 2021
Frankley Everlong are a fun loving disco pop punk band from Sweden and Tommy is the multi instrumentalist of the band (vocals, guitar and keys). He very kindly gave us a socially distanced interview to discuss pets and music. 
Thanks for taking the time during lockdown 3.0 for this chat about your pets Tommy. What have you got?
Well, in this house there are five bosses, or you can call them pets haha. Two cats, one turtle and two chinchillas.
Holy crap, that's a few.
The first cat is called Lipton, he is 10 years old and he acts like a grumpy old man. He got his name after a tea called Lipton, just because when someone picks him up, he's just hanging around like a bag of tea.
The second cat is called Shiva, she's 11 years old and she got her name after the Hindu god Shiva. She is a pretty shy cat so it fits perfect with the same name as a might god haha.
The turtle is five years old and her name is Thundercats, named after the super cool cartoon series with the same name. I was watching way to much Thundercats at the same time that I adopted her so it was just a perfect name haha.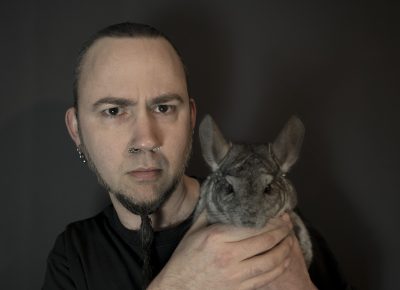 Nothing wrong with Thundercats. It's still a favorite in the office. 
Over to the chinchillas, the oldest chinchilla is called Mona, she is 13 years old and a super power mom. Unfortunately her two kids passed away a couple of years ago. I adopted her 12 years ago from a home that had a way to small cage and exercise space for a chinchilla. She is just a super cool chinchilla with so much personality. Everything has to be done her way or she'll get angry haha. She was to go out from her cage at the same time every evening, so she stands by the gate waiting so she can go for a walk.
The second chinchilla is called Knottran and she is two years old, she got adopted shortly after Mona lost her kids. I don't know how Knottran got her name, she just looks like her name is Knottran haha.  
What is the weirdest thing they've done?
 I've had chinchillas for over 19 years now and all of them has a pretty funny personality. I know that Mona ones chewed one the finish of one of my Ibanez guitar that cost almost 2000 Euros/Dollars. Of course she had to go for the most expensive guitar that I got, but I love the guitar even more after she expressed her artistic side with her teeth on the finish. HAHA.
Another thing that was pretty wired was that I had several chinchillas at one point, so they all exercised in a big room at the same time. The cat that I had at the time was called Trubbel (Trouble in English) and the chinchillas and the cat was super good friends, even though the chinchillas are rodent you would think that the cat should see them as food. But one time, a chinchilla I had called Spike had escaped his cage when I wasn't home and I found the cat and Spike sitting next to each other when I got home. It was just like a cartoon haha. They were just hanging out. But other than that the chinchillas always rips the wallpaper in every apartment or house that i lived in. So it's always expensive to move because of that haha.
The Chinchillas are going to be a constant source of amusement. Have either of them developed any tricks?
Well, I think Monas best trick is to escape her exercise enclosure. The chinchillas has a large enclosure outside their cage with high fences so they can run around and play. But every single day when they are outside running around, and I look away I can see her climb over the fence like a little monkey. But she is so tame and super friendly that I just pick her up and put her on the other side of the fence. It is just a part of the daily routine to get caught when she escapes. 
During this global pandemic like the rest of us, you've been stuck at home. Have your pets helped you cope?
The pets always helps me to calm down or relax. I like to work a lot and I'm not a fan of laying around doing nothing, so I'm always on the move. My pets keeps me from working myself to death I think haha. Time stand still when I'm around them you know, the hours just pass in a second and it´s worth so much. They bring so much joy and I'm forever grateful to have the privilege to live in the same house as them.
Have you always been an animal lover?
Yeah, I've always loved animals and I have been vegan for over 20 years now. I just can't stand people treating animals bad in any way. If we are the superior species on earth as often told, then I think along with that comes the responsibility to take care of the ones that are "smaller" than us, in this case the animals. There is nothing more important in my life than the wellbeing and health of the animals that lives here.
Have you ever owned any exotic or different pets?
Hmm, I've had several different types of animals, often rescue animal: cats, degus, dwarf hamsters, guinea pigs. And of course chinchillas and the turtle
 Are you one of those people that puts your pets into costumes to embarrass them?
haha well Lipton, the grumpy old cat has a Christmas tie. He doesn't act like he's hating it, he looks super funny when wearing it. Nothing more other than that.
Do the animals like it when you practise at home and have they had any influence on your songwriting? 
Well, the cat Shiva leaves the room when I play on my acoustic guitars haha. Maybe I have to practice the more calmer kind of music and not just punk and metal HAHA. Animals and pets has always inspired me. Some of our songs even has the topic of animal rights so they inspire me a lot. 
Do they seem to prefer any particular genre of music more than another?
I don't think they prefer any type of music, the turtle acts like she loves brutal Death Metal as she's always super angry haha.
A death metal loving Turtle! Once gigs start happening again I hope to see a photo of Thundercats surfing haha

Who has the unenviable task of looking after your mini Zoo while you're away?
My partner and my dad always helps me out, they got my back every time and I'm super thankful for that.
Speaking of practising, any new music in the pipeline? IF so when is it due and what can your audience expect?
Oh yes! Our new album is recorded, mixed and mastered. We just shot the album cover so the layout is the only thing left then the album is done. We have no release date at the moment but it might take a couple of months before release.
We have to record a couple of music videos also for some singles. Our latest album "Till the dance do us part" was flirting a lot with keyboards and synth, the disco new wave sound. I think in comparison to that album our new will have more new wave feeling over it, more keyboards but still punk music as a foundation. I think that the new album has that synth feeling and punk attitude more integrated and it feels more like a unit or genre instead of two different genres.
I said that last album but I think it's even clearer now. It doesn't feel like there is a big difference between the synth parts and the punk parts, they have the same attitude. It is without a doubt the best album and songs we've ever put out. I'm really happy with every single song and I've spent a crazy amount of hours mixing and tweaking the sound till I was happy with everything. There is always something when you release an album that you weren't happy with, but as if we doesn't have a deadline then I wanted to take the time to perfect everything the way I wanted it. So I am super exited to release this next album. Just hope that anyone else than we like it haha.
We look forward to the new album. If it's half as good as your last, it's going to be a good one.
Have you anything you'd like to say to your fans/followers?
As always, thank you so much for everything. I'm so grateful every time someone message us/me talking about our music, sharing our music or commenting. I still can't believe the numbers of people listening to our music and following us on social medias. I always get super happy every time someone order a t-shirt or a vinyl from us, so thank you everyone. We owe you everything and we love you!
Thank you for your time Tommy, this has been fun.
And thank you!
For all things Frankley Everlong, click HERE and to purchase product, click HERE