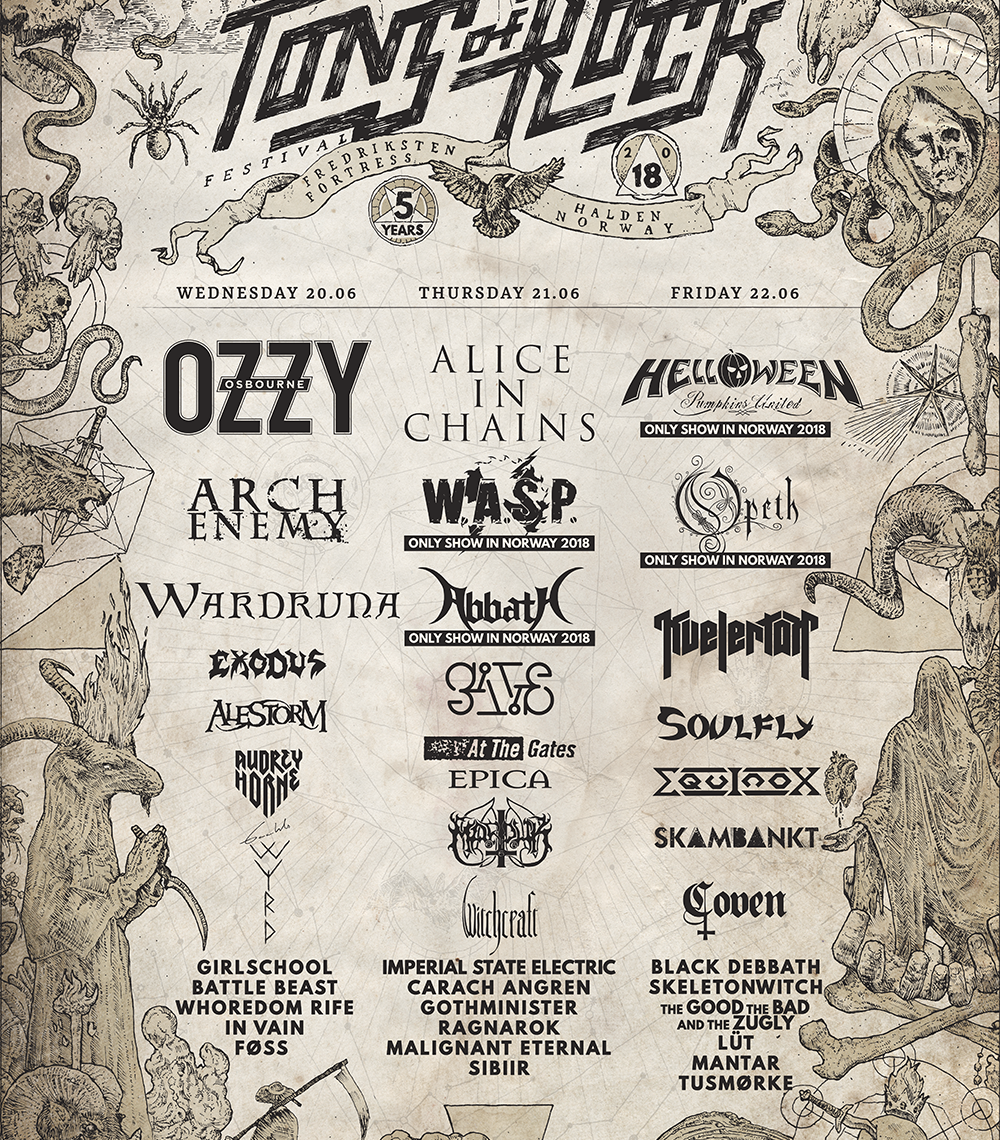 Tons of Rock Festival
5th June 2018
This years Tons of Rock Festival is set to be the greatest year yet and will be held from the 20-22nd of June 2018.
Tons of Rock is fast becoming one of the most well known Norwegian Rock and Metal open Air music festivals. 120km from Oslo, towering over the humble town of Halden, sits the impressive Fredricksten fortress and this my friends is our festival venue. You'll find yourselves in a Heavy metal paradise, whether you're watching your favourite bands from within the sanctuary of the fortress walls, sipping on the best local craft brews or browsing through the many metal markets. When you're not feasting on the local delicacies in the food market, (last year's winners were the Elk burgers) you'll be feasting your eyes on the incredible views of the fjords and islands below. This three day festival of madness, sees festival goers camping on the nearby grounds or staying in group sleeper cabins. You can bring your own camper van or even have them deliver a camper van to the festival for you!
This years line-up for the fifth instalment of Tons of Rock boasts some mammoth names in both the Norwegian and International scene. Ozzy Osbourne will be performing as part of his farewell tour, Wasp, Kvelertak, Alice in Chains, Opeth and Arch Enemy are head-lining just to name a few.
So take a long weekend to the North, enjoy the stunning Scandinavian summer and see some incredible bands. The festival has even organised a Viking tour of Oslo with Anders Odden of Satyricon to soak you in Nordic history. Why not even book a fjord tour while you're there. If its drinking until dawn with pirates Alestorm, that tickles your fancy, getting thrashed in the pit with Exodus or a late night ritual perhaps with Occult-doomers Coven. Whatever your thing is, you can bet you will find it at Tons of Rock this year.
Tons of Rock-
Fredricksten Fortress in Halden
June 20th-22nd
Website- www.tonsofrock.org
Tickets- www.ticketmaster.no