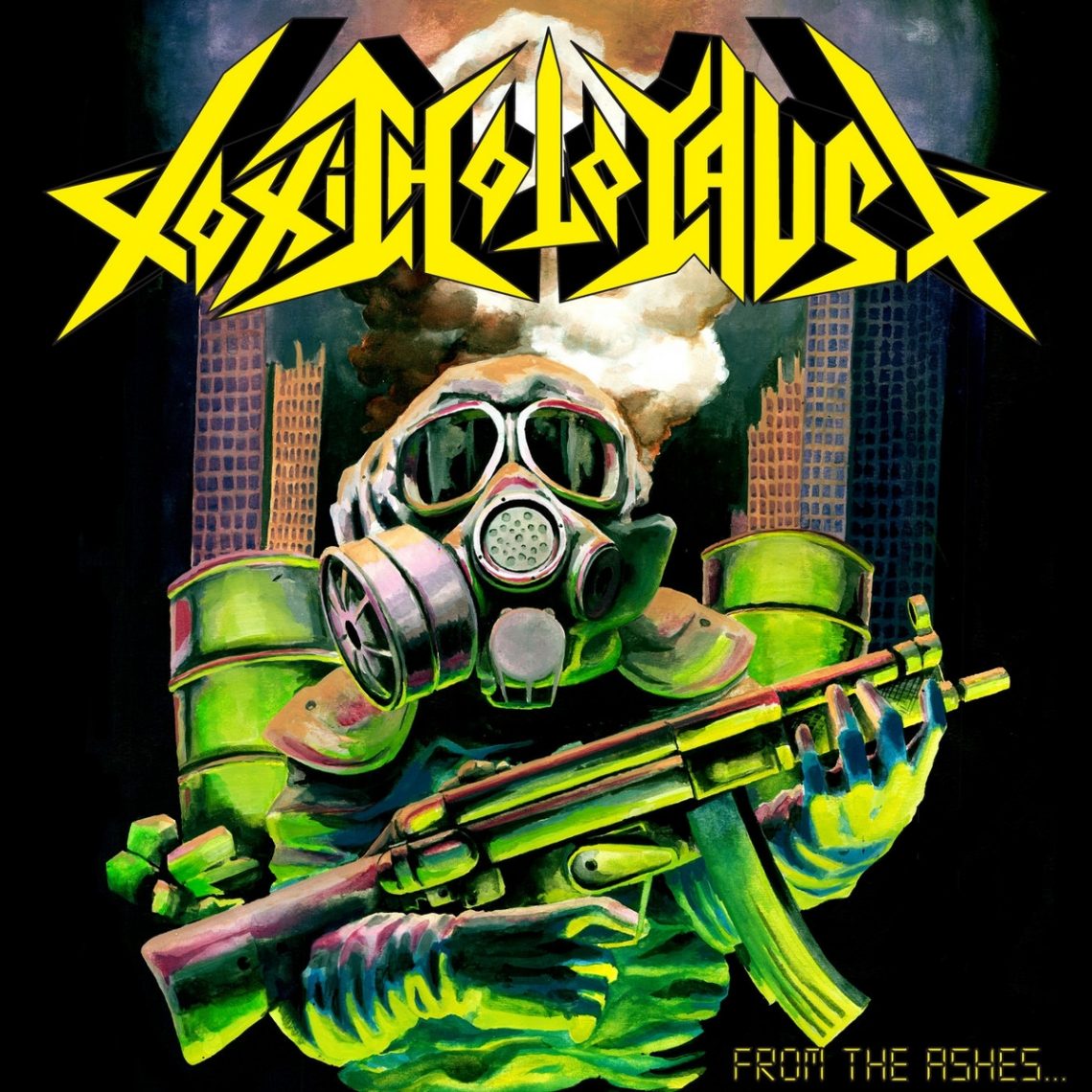 Toxic Holocaust – From The Ashes of Nuclear Destruction
22nd November 2013
We are a little delayed in doing this review and for this I blame Craig [Yeah cheers Mark – Craig], anyway luckily this isn't a new TOXIC HOLOCAUST album (however go check out my review of the new TOXIC HOLOCAUST album "Chemistry of Consciousness") – it is just a collection of EP's and Demo's onto one album. This basically throws together all the songs TOXIC HOLOCAUST contributed to the following EP's and split records: "Death Master", "Outbreak of Evil", "Don't Burn the Witch", "Reaper's Grave", "Toxic Holocaust/Midnight", "Toxic Waste" and the non album track from the "Gravelord" and demo versions of studio album songs.
Therefore the only EP this album doesn't contain is "Power From Hell" and the split albums "Toxic Holocaust/Oprichniki", "Implements of Destruction/Nuclear Apocalypse: 666", "Thrashbeast from Hell", "Speed and Spikes Vol 1" and "Toxic Holocaust/Inepsy". It probably doesn't include "Implements…" as Skull Fucking Metal Records probably wouldn't sell them the rights, "Thrashbeast from Hell" was only limited to 500 tapes, "Speed & Spikes Vol 1" was put out by Relapse so they will want you to buy it and "Toxic Holocaust/Inepsy" they probably didn't get the rights to the split.
Yes congratulations to Relapse for collecting most of TOXIC HOLOCAUST split albums and EP's together on one release, however the majority of the demo songs just sound like the studio versions and the length of the album is way to long (58 minutes). TOXIC HOLOCAUST music is short, brutal, barbaric and to the point, It doesn't really have the same impact over 58 minutes. This release retails for around £7.00 in the UK and $8.99 in America, personally I think they should have just included the Split and EP songs and released it for £5.00 and have it as a taster for new fans and a collection of rare songs for diehard fans.
The demo songs aren't actually that bad and they could have put them as either bonus tracks onto the album they relate to or even done another EP of demo songs, however on "From Ashes of Nuclear Destruction" they take away from the split/EP songs and the impact TOXIC HOLOCAUST should have on the listener. Hey maybe its me being picky and people will like this compilation and the sound of the demo tracks showcased on this release.
So basically if you are a massive fan of TOXIC HOLOCAUST then you might already have all the split albums and EP's mentioned above and this album will be of no use to you, unless you want the songs on one disc and to hear the demo versions of some TOXIC HOLOCAUST classics. Or if you are a completist then you will probably want this album to complete (obviously) your TOXIC HOLOCAUST collection, otherwise I would recommend new fans to pick up any TOXIC HOLOCAUST album and start from their as this release is mainly for the elitist TOXIC HOLOCAUST fans.
SCORE SPLIT/EP SONGS – 8
SCORE DEMO SONGS – 5
OVERALL SCORE – 6 (just for the release)
[box_dark]
ALBUM INFO
Tracklist:
1.. Intro (from Critical Mass)
2.. Metal Attack (from Death Master)
3.. Deathmaster (from Death Master)
4… Created To Kill (from Outbreak of Evil)
5… Ready To Fight (Demo) (from Hell on Earth)
6… Arise From The Cemetery (Demo) (from Hell on Earth)
7… Thrashing Death (Demo) (from Hell on Earth)
8… Send Them To Hell (Demo) (from Hell on Earth)
9… Never Stop The Massacre (Demo) (from Hell on Earth)
10… Army Of One (from Don't Burn the Witch…)
11… Death Camp (Demo) (from Hell on Earth)
12… Reaper's Grave (from Reaper's Grave EP)
13… Death Brings Death (from Reaper's Grave EP)
14… In The Name Of Science (Demo) (from An Overdose of Death…)
15… Nuke The Cross (Demo) (from An Overdose of Death…)
16… Suicide Eye (from Gravelord)
17… 666 (Demo) (from Evil Never Dies)
18… Bitch (Demo) (from Conjure and Command)
19… Agony Of The Damned (Demo) (from Conjure and Command)
20… A.T.O.M.I.C. (from Toxic Holocaust / Midnight)
21… We Bring 'Em Hell (from Toxic Waste)
22… Altar-ed States (from Toxic Waste)
LABEL – Relapse
RELEASE DATE – 1st April 2013 (Europe/World), 2nd April 2013 (USA)
STANDOUT TRACKS – Split & EP Songs (Tracks 2, 3, 4, 10, 12, 13,16, 20, 21 & 22)
[/box_dark]