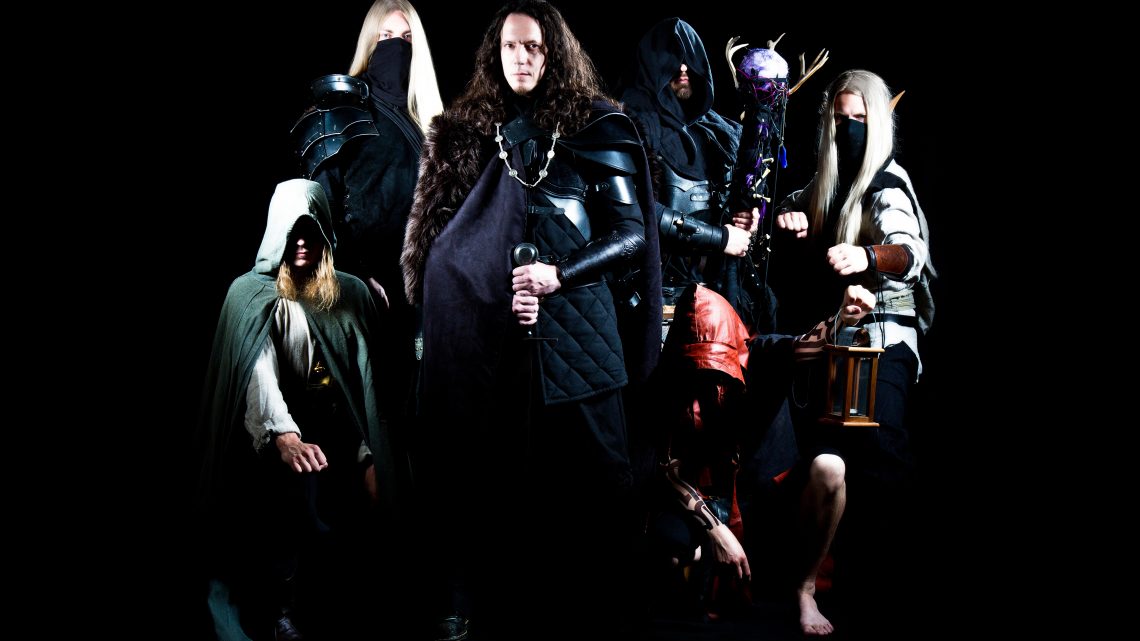 TWILIGHT FORCE | announce rescheduled 'Winter Wonder Tour 2023' with SILVER BULLET
21st October 2021
0
By
John Deaux
Having recently cancelled their Magical Mystical Tour 2021 due to the evil forces of the ongoing pandemic, the Swedish adventure metallers Twilight Force are pleased to announce the Winter Wonder Tour 2023, that will commence in January 2023. This quest will consist of 20 shows all over Europe, including three UK dates, during which the band will recount the fantastic tales from their latest album Dawn Of The Dragonstar, released in 2019 via Nuclear Blast.
The band states: "After a lot of hard work, arcane tinkering, and meticulous planning, we can finally reveal our brand new and magical WINTER WONDER TOUR! There is still quite some time before this glorious frost-veiled adventure commences. Nonetheless, it shall be a marvelous adventure indeed, and we now have something tangible and magical to look forward to again! We can not wait to finally join forces with Silver Bullet, a yet-to-be-named special guest, and all you valiant and patient knights! Your steadfastness shall be deeply rewarded!"
The tour dates are as follows: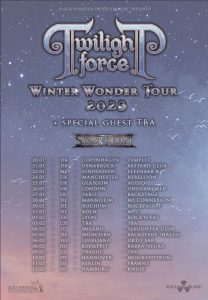 Winter Wonder Tour 2023
w/ special guest and SILVER BULLET
20.01.   DK     Copenhagen – Templet
21.01.   DE     Osnabrück – Bastard Club
22.01.   NL     Eindhoven – Effenaar KZ
24.01.   UK     Manchester – Rebellion  
25.01.   UK     Glasgow – Audio
26.01.   UK     London – Underworld
27.01.   FR     Paris – Backstage
28.01.   DE     Mannheim – MS Connexion  
30.01.   DE     Bochum – Rockpalast
31.01.   DE     Köln – MTC
01.02.   FR     Lyon – Rock'n'Eat
03.02.   CH     TBA – TBA
04.02.   IT      Milano – Legend Club
05.02.   DE     München – Backstage (halle)
06.02.   SLO   Ljubljana – Orto bar
08.02.   HU     Budapest – Barba Negra    
09.02.   CZ     Prague – Storm
10.02.   DE     Hannover – Musikzentrum
11.02.   DE     Berlin – Frannz
Order Dawn Of The Dragonstar now: http://nblast.de/TFDawnOfDragonstar
'Dawn Of The Dragonstar' official video: https://youtu.be/qmHOIDUApfA
'Night Of Winterlight' official lyric video: https://youtu.be/4Z9NPkLrK_I
'Queen Of Eternity' official lyric video: https://youtu.be/qrfxhrMuruw
Once again recorded in the group's own Twilight Forge, Dawn Of The Dragonstar not only presents ten fantastic new stories to their loyal Knights Of Twilight's Might, but also introduces the companions' new minnesinger, Allyon, who was called upon by the prophecies to join the fellowship in 2018.
TWILIGHT FORCE is:
Allyon | vocals
Lynd | electric & acoustic guitars, lute
Born | bass
Blackwald | keyboards, piano, violin, cembalo
De'Azsh | drums
Aerendir | guitars
How useful was this post?
Click on a thumb to rate it!
Average rating 0 / 5. Vote count: 0
No votes so far! Be the first to rate this post.
Related