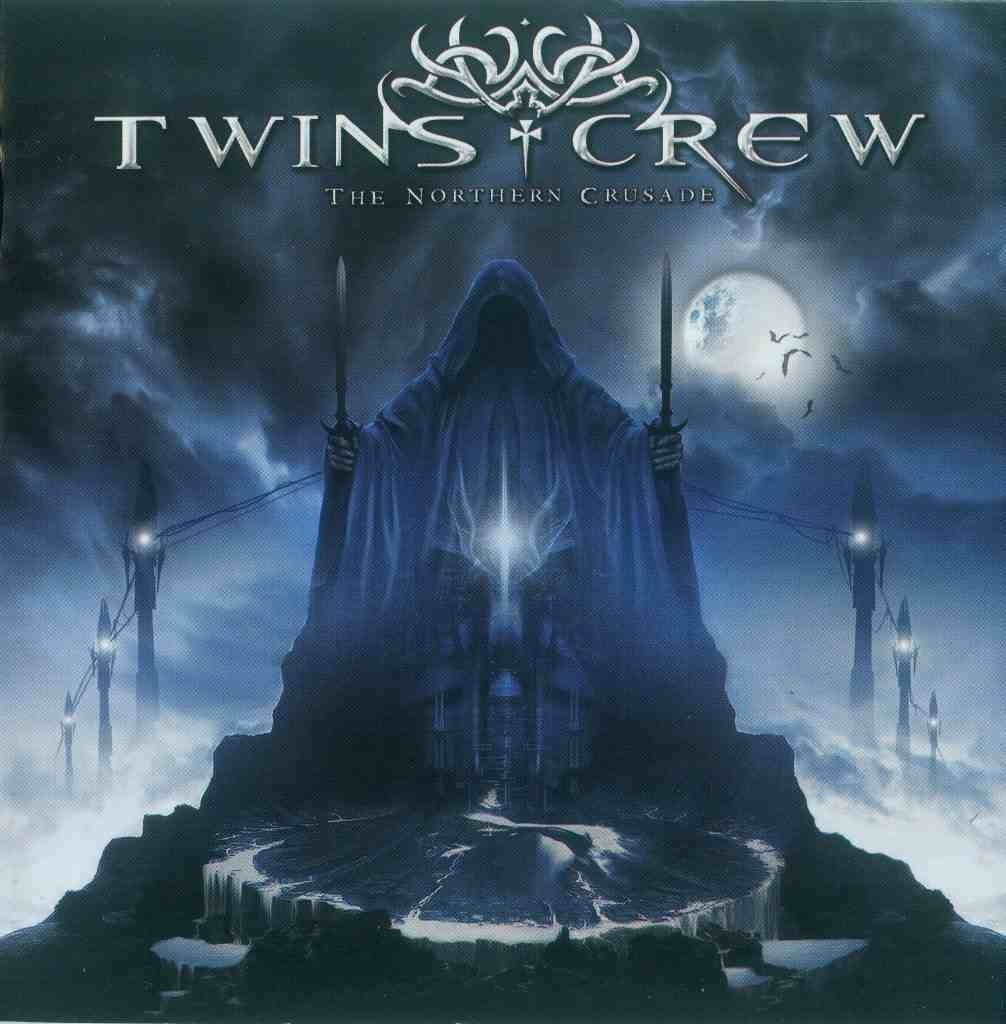 Twins Crew – The Northern Crusade
23rd August 2013
Band: Twins Crew
Album: The Northern Crusade
Record Label: Scarlet Records
Release Date: 30th July 2013
Reviewed By: Mark Booth
Track Listing:
1… Last Crusader
2… Blade
3… Unholy Grail
4… Dr Dream
5… Loud and Proud
6… Under The Morning Star
7… Kings of Yesterday
8… Heaven Awaits
9… Take This Life
10… Angels Falls
Tracks to purchase – I will narrow it down to 3, but you should just get the whole album
if I was you – "Loud and Proud", "Kings of Yesterday" & "Heaven Awaits"
Hello my lovely followers and devotees, I have taken a break from reviewing Napalm Record new releases (well they haven't sent any through since my German bombardment). I decided to pick an album at random that one of my colleagues haven't picked, so I decided on Twins Crew "The Northern Crusade". Reason I picked this album as I was thinking with an album title like that it will be some 'Power Metal'.
So who are Twins Crew? Well that is a good question as I have never heard of them as well…so, Twins Crew are a Swedish Metal band who founding members are twins and have signed to Scarlet Records and released their first album on the label (second overall) "The Northern Crusade". So what do you get when you press play on this album…well you get 45 minutes of pure METAL…!!!
I will be blunt and say this at the beginning of the review, this album is a fucking classic…no ifs and no buts this is downright Power/Heavy Metal. Its like Iron Maiden, Judas Priest, Rainbow, Helloween, Accept, Gamma Ray, Stratovarius & Saxon decided to mix everything together and release an album…well they basically have in the form of "The Northern Crusade", I cant express how much of a killer album this is! Its heavy, powerful, catchy, melodic and epic, its just pure METAL…
The whole band has a chance to shine on this album and all are exceptional players, however the stand out member of the band is vocalist Andreas Larsson who is just great. He is probably better than Bruce Dickinson and Rob Halford in their heyday and I truly mean that, my only problem would be that on one or two tracks his voice can sometimes be a little low in the mix (but still so god damn powerful). The drums carry everything along and change the pace at will and the bass rumbles and ploughs head first and when the bassist is given his chance to shine he does so. The guitarists ooze powerful, ,speedy, melodic, catchy riffs like there is no tomorrow and the keyboard adds an extra layer to the sound making everything come together.
This is a classic, I just hope more people pick this album up and listen to it as it is so much better than anything Iron Maiden has released since The Number of the Beast (with regards to every song being amazing) and I guarantee that you will be banging your head and singing along to this album for years to come. Since I have put the album on my iPod I have listened to the album at least 12 times in its entirety in 3 days (no word of a lie). Even the slow ballad song "Under the Morning Star" is amazing and you just wish it would continue for another minute, however it is followed by the amazing song "Kings of Yesterday" so all is forgiven…and I am definitely going to try and get there debut album 'Judgement Night'.
SCORE – 9/10