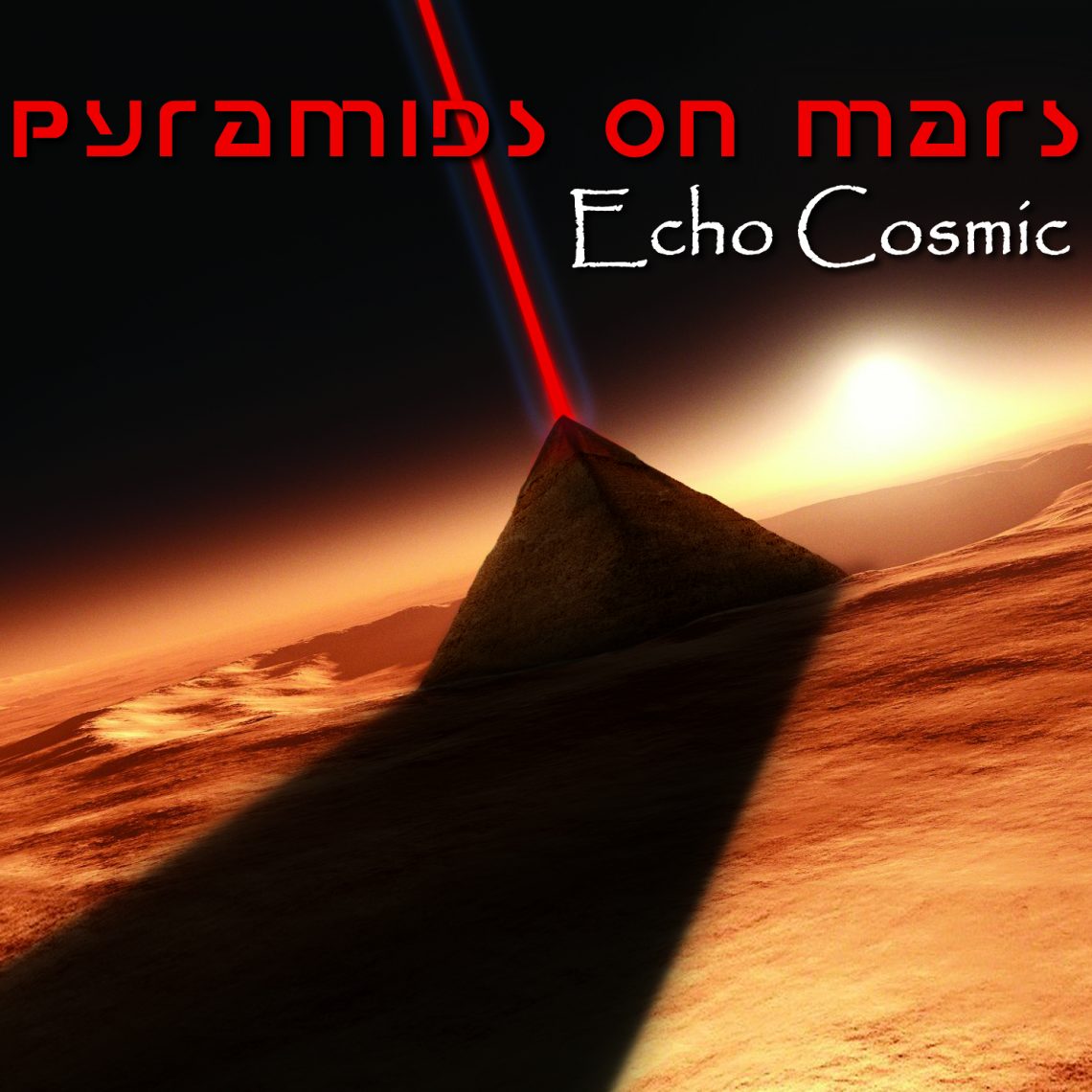 PYRAMIDS ON MARS New Album 'Echo Cosmic'
8th September 2015
0
By
John Deaux
Out Now! UFO Inspired One Man Instrumental Prog Rock/Metal PYRAMIDS ON MARS New Album 'Echo Cosmic'
Offers Free Download 'Battle For Rome'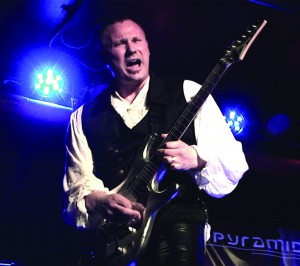 FREE DOWNLOAD – Battle For Rome – PureGrainAudio.com here.
Guitar Playthrough – Battle For Rome – Watch here.
Guitar Playthrough – Death Valley Driver – Watch here.
Neck Illusions – Kevin Estrella custon Double Helix DNA guitar neck here.
The one man instrumental prog rock/metal project by guitarist Kevin Estrella, PYRAMIDS ON MARS' new album 'Echo Cosmic' is now out and available on POM Online Store, iTunes, Bandcamp, Indie Pool and Amazon. The follow up to 2013's full length self-titled debut, the 10 track thriller is inspired by Estrella's fascination of UFO's including his own encounter (report on encounter below), plus compositions that have come to him in dreams and allow him to offer an aural palette of intense, emotional, 3-dimensional, heavy and melodic progressive rock/ metal that includes a range of influences from Baroque classical guitar, classical composers J.S Bach and Antonio Vivaldi along with today's guitar virtuosos Yngwie Malmsteen and Joe Satriani.
To hear the full album stream of 'Echo Cosmic', please visit the following links:
https://pyramidsonmars.bandcamp.com/album/echo-cosmic 
https://soundcloud.com/pyramids_on_mars/sets/echo-cosmic

Track Listing: Pyramids On Mars – Echo Cosmic
1. Dream Division (5:14)
2. Battle for Rome (5:48)
3. Death Valley Driver (5:25)
4. Tribute (2:54)
5. Heaven's Gate (6:04)
6. Sailing the Oceans of Neptune (5:05)
7. Spectre of Orion (5:36)
8. Order of the Freemasons (8:09)
9. Occam's Razor (6:08)
10. Echo Cosmic (4:56)
Album Length: 55:24
Upcoming Show Dates:
Sept 17 – Toronto, ON @ The Cage – Event info here
About:
Inspired the by the studies of UFOs, aliens and the artifacts of in our solar system plus being witness to UFO activity (full details below), PYRAMIDS ON MARS is an embodiment of spacey music that brings both worlds together as both a musical concept, and message to the world of the alien presence. Formed in 2011, PYRAMIDS ON MARS is the solo creation of guitarist Kevin Estrella who offers an aural palette of intense, emotional, 3-dimensional, heavy and melodic progressive rock/ metal that includes a range of influences such as Baroque classical guitar, classical composers J.S Bach and Antonio Vivaldi along with today's guitar virtuosos Yngwie Malmsteen and Joe Satriani.
'Echo Cosmic' Album trailer : https://youtu.be/UTJw6alDZ3A
For more info, please visit http://www.pyramidsonmars.com
Kevin Estrella UFO experience:
The facts are as follows:
– August 21, 2014 @ 10:30pm, a 2 dimensional disc approx. 40 ft in diameter, surrounded in orange/red plasma appears over the City of Hamilton. He immediately files a full report with MUFON. (full report 
here
)- 2015 Kevin Estrella attends the Alien Cosmic Exhibition (ACE) in Brantford, Ontario. He meets with MUFON investigator Stu Bundy who took his report. They are very excited to see him. They are doing a presentation at ACE that includes his sighting. They deem it to be AUTHENTIC.- What is drawing attention, is from official UFO database reports, there is no record of any UFO sighting in the city of Hamilton the night of August 21, 2014.HE IS THE ONLY ONE WHO WITNESSED IT.
– He personally meets with world respected Ufologist, Grant Cameron to discuss the matter. He says this phenomenon is not uncommon; where one person is witness to a sighting and others around do not see it. He went on to explain how the same thing happened to John Lennon, in New York City.
– Grant has done extensive research into the subject of the UFO/alien phenomenon and its particular interest with musicians. Many musicians have come forward and have had personal alien/UFO encounters, and are getting musical ideas through downloads. Estrella discussed with Grant how he too, gets songs from dreams and nearly all his music seems to come from channeling into an energy source from elsewhere. The alien rock stories Grant talks about in his presentation sounds much like Estrella's own personal experiences. That is what drew him to attend ACE in the first place.
– Grant is under the notion that the fact that no-one else saw it, this UFO sighting was meant for Estrella to see.
– Estrella is lead to believe the UFO/Musician connection Grant speaks of, He is a part of this group.
"If you're a fan of talented and virtuous guitarists, it's worth following this man. I recommend it!" – Metal Temple
"'Echo Cosmic' is a great trip through the immense and ever-expanding universe of guitar music." – Merchants of Air
"With the new release "Echo Cosmic" coming out on September 8th, 2015 they continue to blow minds and bend genre. The last I can explain by using two completely different bands in one sentence. This band accelerates from Iron maiden to Meshuggah in about 2 seconds….Overall this record is mind bending and goes beyond what is being made nowadays. Pyramids on Mars​ blows borders of metal and rock away and leaves you with a satisfied feeling." Rating 9/10. – Dutch Metal Maniac
#5 – Top 30 albums: Aug 17 – Aug 23, 2015 – CKCU 89.1 FM (Ottawa)
"If anything, it is taking the road less travelled – in this case, guitar-driven, instrumental music- that helps Pyramids on Mars stand out from the plethora of other groups vying for a piece of the prog rock pie."   –  Canadian Musician Magazine 
"Kevin Estrella, much like Vai, much like Satriani, can make his guitar truly communicate and display emotion. There's a real passion that Kevin plays with that only comes along every so often…a real magic.  There could be a complete saturation with this type of instrumentally-driven music one day. I have the feeling that even IF this was to happen, Pyramids on Mars would STILL stand out miles from the rest."  – Sleeping Bag Studios 
"The music scene is very saturated with artists and bands pretty much doing the same thing (stylistically speaking).  With the current popularity of instrumental guitarists like Joe Satriani, there is a good possibility of instrumental rock coming back.  Pyramids on Mars have a niche market with very little competition that they can control the market share in that music genre." Coalition Entertainment Management  Jesse Mitchell |Coalition Music
"And with influences like Metallica (probably post-black album), Jimi Hendrix, and Joe Satriani it is clear that Pyramids on Mars knows the kind of music they love, how to create their own version, and make us listeners enjoy it as much as they do."  Metal Addicts
"The guitarist member is impressively high-quality.  His constant and non-stop lead work is where he shines.  Smooth, melodic, adapt and soaring lead after lead on song after song speaks of good soloing.  Kevin Estrella is in the same ballpark as David Gilmour."  – Metallian
"Pyramids on Mars is a musical journey. Dizzying guitar work swiftly flying between genres and showing skill that few acts are capable of achieving in the country right now."  Two Way Monologues
How useful was this post?
Click on a thumb to rate it!
Average rating 0 / 5. Vote count: 0
No votes so far! Be the first to rate this post.
Related
About the author
Some say Yank My Doodle, It's A Dandy! is a biographical movie based on John. Some have even said that his favorite artist is Chesney Hawke! All we really know is he sleeps inside out and his hair tastes like candy floss.