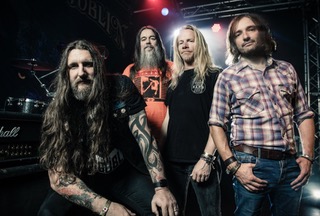 UK HEAVY METAL LEGENDS ORANGE GOBLIN SIGN TO PEACEVILLE RECORDS
26th October 2021
0
By
John Deaux
Orange Goblin have, over the last 25 years, more than earned the right to be considered among the greats of British heavy music, revered and respected by their legion of fans worldwide, the media and their musical peers, they are a band with the future firmly in their sights and Orange Goblin are now, ushering in a new era of heavy metal chaos. Following the departure of bassist Martyn Millard, the Londoners have regrouped, recruiting old comrade Harry Armstrong (ex-Hangnail/Earls Of Mars/End Of Level Boss) for their new studio opus and impending live shows, and have signed a new deal with Peaceville Records.
"25 years of showing us how it's done, how to rock this world hard .. I've never been in a band twenty five years, you guys did it you rocked hard and I hope you continue to go on and on" – Scott Reader (Kyuss, Goatsnake)
Orange Goblin's singer Ben Ward comments "When we first started the band back in 1995, Peaceville was a label we admired so much due to the number of amazing bands they were releasing and building careers for at the time. To join a roster that released albums by the likes of Autopsy, Darkthrone, Paradise Lost, Anathema, My Dying Bride, Pentagram, At The Gates, Aura Noir and many more is an absolute honour and we look forward to continuing that amazing bloodline of talent, alongside the killer bands that they currently have on their books. We spoke to a few labels when our last deal ended and the enthusiasm, vision and passion for the music that Peaceville showed made this a really easy decision for all of us. We can't wait to start work on what will be the 10th Orange Goblin studio album. With a new bass player in place we are now writing new material and expect to have this released sometime in 2022. Cheers! " 
"Great band, great guys" – Kirk Windstein (Down, Crowbar) 
Paul Groundwell Peaceville' label manager says "As trailblazers of the UK heavy metal scene for well over two decades now, and a band which has remained consistent in their attitude and with unwavering integrity towards their art, we're delighted to now welcome Orange Goblin to the Peaceville family for more top class doom-fuelled shenanigans to come".
Formed under the name Our Haunted Kingdom, way back in 1995, Orange Goblin entered the world of heavy music as wide-eyed enthusiasts, eager to channel the fire and fury of their favourite bands. Emerging amid the exhilarating melee of the mid-'90s stoner rock and doom explosion, the Londoners immediately endeared themselves to a whole generation of metal fans.
Orange Goblin's debut album Frequencies From Planet Ten was released via esteemed underground imprint Rise Above Records in October 1997. From that moment on, their rabid dedication to playing live and always rocking people to within an inch of their lives earned them a formidable reputation and numerous opportunities to tour the world. A steady stream of critically acclaimed and widely revered studio albums has also added to Orange Goblin's substantial legacy, from early classics like Time Travelling Blues and The Big Black through to more recent triumphs like 2012's universally praised A Eulogy For The Damned and 2018's equally hailed The Wolf Bites Back. 
Now, with a new deal in place, the band are planning on 2022 bringing a new studio album, more explosive, celebratory live performances that the band's ever-expanding fan base have come to expect. 
Join Orange Goblin for a Halloween Facebook live Q&A session on Thursday 28th October at 8:30pm (UK) – https://www.facebook.com/orangegoblinofficial 
Grab a pumpkin spiced beer or two, get comfy in your Squid Game costume and join Ben, Joe, Chris and Harry for an evening of banter, OG goings on and updates.
ORANGE GOBLIN LIVE
"First time I saw them they fucking kicked ass, last time I saw them they kicked ass" – Scott "Wino" Weinrich (Saint Vitus, The Obsessed, Spirit Caravan)
Orange Goblin will be taking their heavy metal mayhem on the road in November & December, to promote and celebrate the release of their new live album Rough & Ready, Live & Loud – starting with 2 headline festival sets on the 5th at Damnation Festival Leeds and the 6th at HRH XIV, Great Yarmouth, before embarking on a Scandinavian and UK headline run. For more details and tickets see https://www.orangegoblinofficial.com/
The Cold North Scandinavian Tour (headline)
November
11 – Beta, Copenhagen, DN
12 – Plan B, Malmo, SWE
13 – The Crypt, Linkoping, SWE
15 – John Dee, Oslo, NO
16 – Musikhens Hus, Gothenburg, SWE
17 – Debaser, Stockholm, SWE
18 – Pub Ettan, Mariehamn, FI (SOLD OUT)
19 – Klubi, Tampere, FI
20 – Korjaamo, Helsinki, FI
UK headline tour
December
8 – The Booking Hall, Dover
9 – Tivoli, Buckley
10 – The Joiners, Southampton
11 – The Parish, Huddersfield
13 – King Tuts, Glasgow
14 – Gorilla, Manchester
15 – Asylum, Birmingham
16 – The Globe, Cardiff
17 – The Underworld, London
18 – The Underworld, London
Plus 2022 – confirmed so far ……
Sat 30 Apr – Desertfest London, UK
Sat 28 May -Desertfest Berlin, DE
Fri 10 Jun – Sweden Rock Festival, SE
Sat 25 Jun – Uprising Festival, Leicester, UK
Fri 29 Jul – MetalDays Fest, Tolmin, SL
Sat 10 Sep – Rockin' The Bowl Fest, Sheffield, UK
Follow Orange Goblin
https://www.orangegoblinofficial.com/
https://www.facebook.com/orangegoblinofficial
https://www.instagram.com/orangegoblinofficial/
https://twitter.com/orangegoblin1
https://orangegoblinofficial.bandcamp.com/
Orange Goblin Facebook Fan Group: https://www.facebook.com/theogfcuklegion
Peaceville artist page: www.peaceville.com/bands/orangegoblin
How useful was this post?
Click on a thumb to rate it!
Average rating 0 / 5. Vote count: 0
No votes so far! Be the first to rate this post.
Related