Ultra-Violence 'Operation Misdirection'
27th July 2018
Italian thrashers, Ultra-Violence are reeling from their third full length album, entitled "Operation Misdirection". I must admit that, though the first notes of the album had a lot of promise, things got really weird for me right away. The first track, entitled "Cadaver Decomposition Island" kicks off with a riff so fast and heavy it will melt skin. As a true metaller, dedicated to the classic thrash recipe of lightening fast riffs and fist pumping melodies, I was immediately pulled in. Halfway through the track, though, everything changed.
Midway "Cadaver Composition Island" morphs its neck breaking riffage into a sort of metal core-esque, sing-songy chorus. I should have hated it, but I didn't. This was kind of the trajectory for the rest of the LP. A track like "My Fragmented Self," for example, is incredibly vocally melodic in parts but contrasts its almost poppy melody with blistering, technical solos.
Things pick up on track four, with "Acrobat." This track has an almost punk rock feel to it. Thrash does derive from punk rock, I suppose, but this song admittedly lacked the ugliness usually present in most thrash. Also, the slap bass on this track was a bit heavy handed. It had that whole, thrash funk, "Infectious Grooves" feel to it. Musicians would probably dig it because of its intricacy, but your average listener is going to be craving something heavier.
"Nomophobia" contains one of the coolest opening riffs on the album. It has that classic pummeling melody that just screams thrash metal with heavy distortion and machine gun speed. Even this track got a bit odd for moment, though, with an almost goth interlude, but it recovered quickly. "Nomophobia" was definitely the most traditional thrash song on the album, as well as my personal favorite.
The fact that "Ultra-Violence" chose to cover a song like "Money for Nothing" by "Dire Straits" is indicative of just how strange this band truly is. That's not to suggest that they didn't kill it, but it is definitely an odd choice in general.
Overall, this was a confusing listen for me. I could sense what the band was attempting to achieve, with their subversive fusing of genres and their funky vibe – I'm just not certain that it worked for me. Granted, there were moments I found myself lost in the melody and compelled to bang my head – but those moments were briskly stilted by a melody shift that left me feeling perplexed.
That said, I can't claim this album to be a total failure. Fans of Infectious Grooves and Faith No More will probably enjoy "Operation Misdirection." But the classic thrash imagery (which is incredibly reminiscent of Bay Area thrashers Vio-Lence) is definitely misleading to the true metal fans who go in expecting power and speed. Still, even they will find some interesting riffs on the album pump their fist along with. Interesting is the key idea here. If you're a metal purist, pass on this. But if you're looking for weird and subversive, "Ultra-Violence" are your guys.
Score 6/10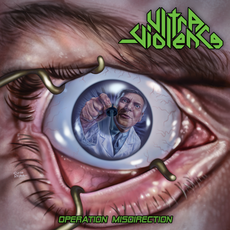 Track List

Cadaver Decomposition Island
Welcome to the Freakshow
My Fragmented Self
The Acrobat
Nomophobia
Money for Nothing (Dire Straits cover)
The Stain on My Soul Remains