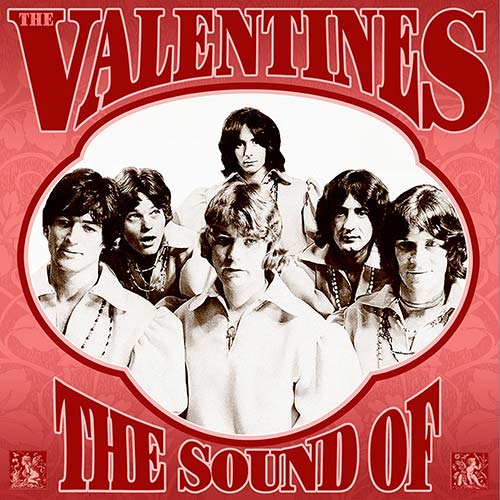 The Valentines – The Sound Of – CD Review
26th May 2016
Before his untimely death in February of 1980 & his success in AC/DC, Bon Scott started his recording career with a band called The Valentines.
For the first time The Valentines recordings have been gathered on a single CD along with bonus tracks & features both Bon Scott & Vince Lovegrove, who subsequently became a successful music journalist and manager of the Divinyls. Having a 2 pronged vocal attack gave this band the edge & with a sound somewhere between The Rolling Stones and The Easybeats. .
The music of The Valentines is firmly planted in the Mod/bubblegum pop scene of the 60's & far removed from AC/DC. But with the Brian Johnson led band of Geordie (reviewed here) these are important find for AC/DC & Mod music collectors in general.
This is the complete Valentines recordings enhancing the Clarion label years with the singles subsequently released on Philips.

To finally have these recordings in one handy package is a godsend & now makes the almost impossible to find, possible & they sound great.
Available here now
Track Listing:
1. EVERYDAY I HAVE TO CRY
2. I CAN'T DANCE WITH YOU
3. SHE SAID
4. TO KNOW YOU IS TO LOVE YOU
5. I CAN HEAR THE RAINDROPS
6. WHY ME?
7. PECULIAR HOLE IN THE SKY
8. LOVE MAKES SWEET MUSIC
9. SOOKY SOOKY
10. "DOIN' THE HEAVY" AD.
11. EBENEEZER
12. MY OLD MAN'S A GROOVY OLD MAN
13. NICK NACK PADDY WACK
14. GETTING BETTER
15. JULIETTE
16. HOOCHIE COOCHIE BILLY
BONUS TRACKS – as THE SPEKTORS
17. GLORIA (TV Broadcast)
18. IT AIN'T NECESSARILY SO (TV Broadcast)
19. ON MY MIND (TV Broadcast)
20. YESTERDAY (TV Broadcast)
Score 7.5/10