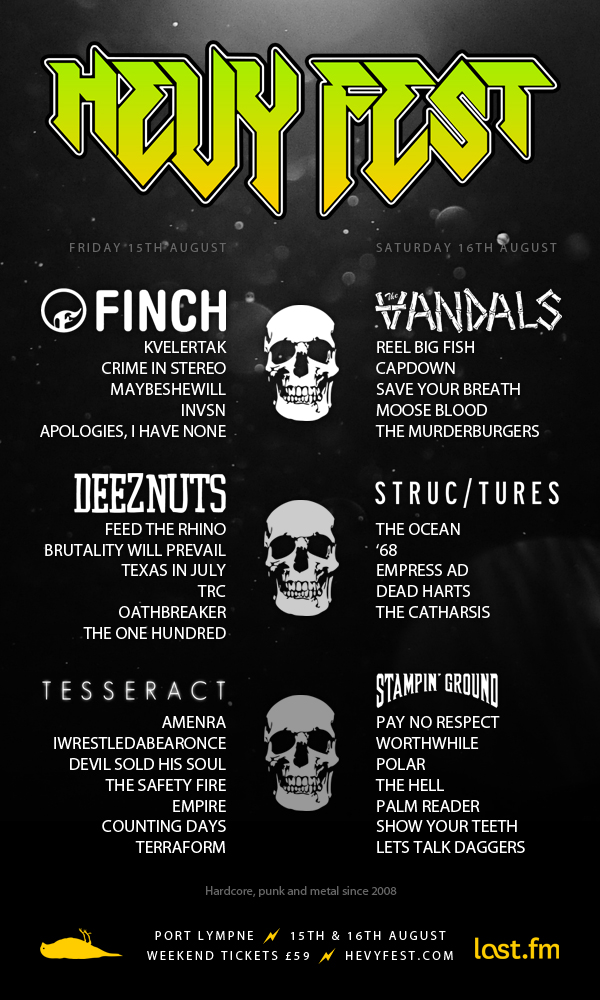 The Vandals, Crime In Stereo and Capdown for Hevy Fest!
18th June 2014
Californian punk veterans THE VANDALS will be flying over during a brief gap in their huge US tour this summer to headline our main stage on Saturday 16th August with an exclusive UK appearance for 2014. We are also delighted to reveal that Long Island melodic-hardcore heroes CRIME IN STEREO will be returning to UK shores for the first time since their 2011 hiatus for another Hevy exclusive.
The new additions are:
The Vandals (UK Exclusive)
Crime In Stereo (UK Exclusive)
Capdown
The Ocean
Amenra
Feed The Rhino
Maybeshewill
Save Your Breath
Apologies, I Have None
Moose Blood
The Murderburgers
We are also able to reveal the stage splits for each day:
Friday 15th August
MAIN STAGE
Finch
Kvelertak
Crime in Stereo
Maybeshewill
INVSN
Apologies, I Have None
2ND STAGE 
Deez Nuts
Feed The Rhino
Brutality Will Prevail
Texas in July
TRC
Oathbreaker
The One Hundred
3RD STAGE
TesseracT
Amenra
Iwrestledabearonce
Devil Sold His Soul
The Safety Fire
Empire
Counting Days
Terraform
Saturday 16th August
MAIN STAGE
The Vandals
Reel Big Fish
Capdown
Save Your Breath
Moose Blood
The Murderburgers
2ND STAGE 
Structures
The Ocean
'68
Empress AD
Dead Harts
The Catharsis
3RD STAGE 
Stampin' Ground
Pay No Respect
Worthwhile
Polar
The Hell
Palm Reader
Show Your Teeth
Lets Talk Daggers
A limited allocation of Tier 1 tickets are currently available for £59. Once these sell out, Tier 2 tickets will be introduced for £69, followed by £79 for Tier 3.
Progressive metallers Monuments are embarking on their first US tour in August, which it a huge opportunity for the band. However, this means they are having to postpose their appearance at Hevy Fest. We hope to find them a slot on next year's bill.
Nai Harvest have also had to step back due to unavoidable personal commitments which have arisen on our weekend. Moose Blood will be taking their place on the line-up.
Hevy Fest 2014 – Port Lympne Wild Animal Park
Friday 15th & Saturday 16th August
www.hevyfest.com – www.facebook.com/hevyfest – www.twitter.com/hevyfest