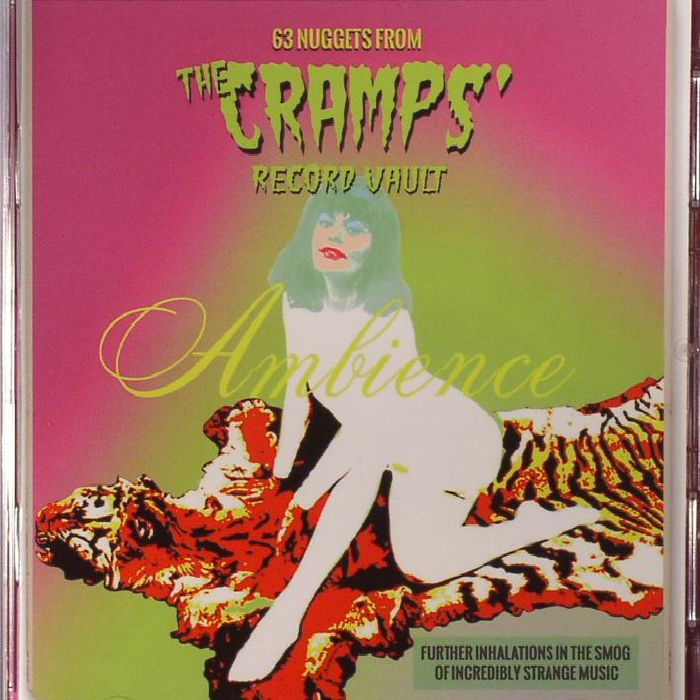 Various Artists – Ambience: 63 Nuggets From The Cramps' Record Vault
18th May 2017
The Cramps record vault is renowned for housing so many antique 45s. A lot of these tunes have long since been deleted & command a high price among collectors.  Every track has been remastered from original sound sources with an essay by MOJO magazine's Dave Henderson.
There are 63 gems on this double CD set. From tracks such as the instrumental classic Destruction by The Catalinas through to Willie Maybons I'm Mad, there is not a track on this album that's not rebel rousing in one form or another. 

Thanks to the current music climate, rock n roll & psychobilly such as these have become long forgotten. Lyrically there are tonnes of creepy stories (The Gravestone Four – Rigor Mortis) & tracks that make you wonder (Jack Hammer – Wiggling Fool).
Just the sheer musicianship on these recordings is incredible. From strong sax to surf guitars, swing drums & crooning vocals. Every tune will have your toes tapping & you cant help but get your groove on.
It's so hard to pick a standout track from these 63 bangers as they're all superb & there's a truck load of really cool music. 
If you want to know where bands such as Black Sabbath, Deep Purple, Motorhead etc cut their teeth, then this is a perfect start & it's also a perfect accompaniment to Magnificent: 62 Classics From The Cramps' Insane Collection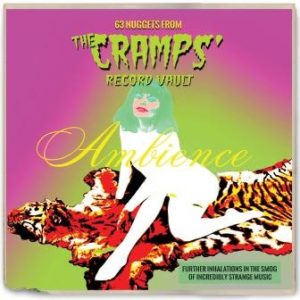 TRACK LIST
DISC ONE:
1. SHAME ON YOU MISS LINDY – Benn Joe Zeppa
2. MY HOT MAMA – The Sabres
3. RIDING BY – The Majestics
4. DESTRUCTION – The Catalinas
5. RUMBLE ROCK – Kip Tyler
6. LITTLE ANGEL (COME AND ROCK ME TO SLEEP) – Ted Self
7. DEEP RIVER BLUES – Gene Maltais
8. DEVIL TRAIN – The Ramblers
9. PANIC – The Noisemakers
10. HOUSE PARTY – The Party Rockers
11. (I WAS A) TEENAGE CREATURE – Lord Luther with The Kingsmen
12. MIDNIGHT BUS – Betty McQuade
13. MOONGLOW – Mississippi Mud Mashers
14. WATUSI APB – Harry Coons & Richard Campbell
15. BEHIND THE DOOR – The Medallions
16. CAFE BOHEMIAN – The Enchanters
17. CHILL BUMPS – Jackie Cannon
18. MOASIN' – The Vice-Roys
19. WOWSVILLE – Bob Taylor
20. A LA CARTE – James 'Red' Holloway
21. DJ BLUES – Red Hewitt And The Buccaneers
22. LEOPARD MAN – Joe Wallace
23. IT'S LOVE – Jay Fanning
24. HOY HOY – Clyde Stacey
25. WIGGLING FOOL – Jack Hammer
26. TEEN TWIST – Buddy Miller
27. LITTLE BIT – Bobby Lonero
28. KILLIN' JIVE – The Cats & The Fiddle
29. I'M PACKIN' – Billy Devroe And The Devilaires
30. MOVE ALONG – Johnny & The Baa-Baas
31. SEXY WAYS – The Midnighters
32. AH SO! – The Highlights
DISC TWO:
1. ROCKIN' ROCHESTER USA – The Tempests
2. DATELESS NIGHT – Allen Page and the Deltones
3. ROCKIN BILLY – Johnny Stark
4. KEE RO RYIN' – Johnnie & Jonie
5. ALL NIGHT LONG – Bob Luman
6. REAL COOL – Duane de Santo
7. LONELY SATURDAY NIGHT – Don French
8. CHEROKEE – Jo Ann Castle
9. INTOXICA – The Revels
10. THE MESSAGE – The Four Plaid Throats
11. THE HEADLESS HORSEMAN – Kay Starr
12. ZODIAC BLUES – Bell Book And Candle
13. PETER GUNN – Frankie Capp Percussion Group
14. I'M MAD – Willie Mabon
15. SONG OF THE NAIROBI TRIO – The Fortune Tellers
16. DRAGONFLY – Tommy Dee & The Mellotones
17. TARZAN – Bobby Williams
18. BALLIN' KEEN – Bob & Terry Caraway
19. ONE AND ONLY – David Houston
20. I CAN'T SIT STILL – Misty Bonner
21. BOP BOY – Bill Hayes
22. BABY PLEASE DON'T LEAVE ME – Sweetie Jones
23. YOU HURT ME SO – Leon Mach
24. THERE'S GONNA BE ROCKIN' TONIGHT – Gar Bacon
25. RIGOR MORTIS – The Gravestone Four
26. WHY DON'T YOU DO RIGHT – Ron Feuer
27. BLUE TANGO – Terry Snyder
28. RATTLE SHAKIN' MAMA – Mel McGonnigle
29. CHOO CHOO – The Cables
30. HOT DOG – Buck Owens
31. THE DANCING KATYDIDS – The Myrogens
Label
Righteous
Release Date
18th May 2017
Available to pre-order NOW