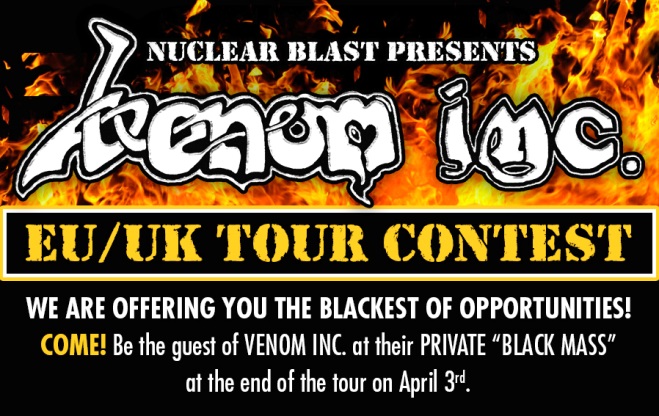 VENOM INC. launch one-of-a-kind tour competition!
6th March 2018
Before kicking off the UK/EU leg of their 'Blood Stained Earth Tour 2018' with SUFFOCATION, NERVOSA, AETERNAM and SURVIVE, VENOM INC. is excited to launch a one-off exclusive tour contest!
VENOM INC. is arranging an intimate after tour party at a yet to be announced secret location in London with selected fans and guests. The band will be participating with more surprises awaiting this hellish evening. Further details can be found below:
The Grand Prize – 1 winner +1
– Free entry to the party + 1 free drink + free travel and hotel
Other prizes:
– Free entry to the party + 1 free drink
The party:
– London @ TBA on April 3.
– Exclusive after tour party with the band (special guests and winners only!).
– Tickets can only be won!
How to enter the contest:
– Buy a ticket for one of VENOM INC.'s upcoming UK/EU shows (Mar 9 – Apr 1; all dates below).
– Share VENOM INC.'s Facebook tour post publicly (https://facebook.com/VenomIncOfficial/posts/1110482249094317)
– Send a scan of your ticket, your contact details (incl. postal address) and a link to your Facebook profile to verlosung@nuclearblast.de.
Closing date: March 20 (12pm CET)
Terms & Conditions: http://nblast.de/VenomIncTerms
All winners and the party location will be announced on March 20th.
'Blood Stained Earth Tour 2018'
w/ SUFFOCATION, NERVOSA, AETERNAM, SURVIVE

09.03. Bristol – Fiddlers *NEW VENUE*(UK)
10.03. Manchester – Rebellion (UK)
11.03. Glasgow – Audio** (UK)
12.03. Birmingham – Asylum (UK)
13.03. London – Islington Academy (UK)
14.03. Opwijk – Nosta (BE)
15.03. Paris – Petit Bain (FR)
16.03. Eindhoven – Dynamo (w/ EVIL INVADERS)* (NL)
17.03. Hamburg – Kulturpalast (DE)
18.03. Aarhus – VoxHall (DK)
19.03. Copenhagen – Pumpehuset (DK)
20.03. Mannheim – MS Connexion Complex (DE)
21.03. Ingolstadt – Eventhalle Westpark (DE)
22.03. Brescia – Circolo Colony (IT)
23.03. Bologna – Zona Roveri (IT)
24.03. Graz – Explosiv (AT)
25.03. Budapest – Barba Negra (HU)
26.03. Cluj-Napoca – Form Space (RO)
27.03. Vienna – Viper Room (AT)
28.03. Kosice – Collosseum (SK)
29.03. Prague – Futurum (CZ)
30.03. Dresden – Eventwerk (DE)
31.03. Katowice – MegaClub (PL)
01.04. Izmir – Bornova Sahne*** *NEW* (TR)

*no SUFFOCATION
**no NERVOSA
***VENOM INC. only
Festival Shows
28. – 30.06. Gardelegen – Metal Frenzy (DE)
11.08. Derby – Bloodstock Open Air (UK)
17. – 19.08. Las Vegas, NV – Psycho Las Vegas *NEW* (US)
Order VENOM INC.'s 'Avé' (Limited Edition Gold Double Vinyl), here: http://bit.ly/2jU2X5Y
Order VENOM INC.'s 'Avé' (Limited Edition Black Double Vinyl), here: http://amzn.to/2C4xq7W
Order VENOM INC.'s 'Avé' (CD), here: http://amzn.to/2krC9cM
Get it digitally, here: http://apple.co/2Amlyhd
More on 'Avé':
'Dein Fleisch' OFFICIAL MUSIC VIDEO: https://www.youtube.com/watch?v=HKBb24JaLXM
'Avé Satanas' OFFICIAL LYRIC VIDEO: https://www.youtube.com/watch?v=Xt_yGt0ET0U
More info:
www.venom-inc.com
www.facebook.com/venomincofficial
www.nuclearblast.de/venominc