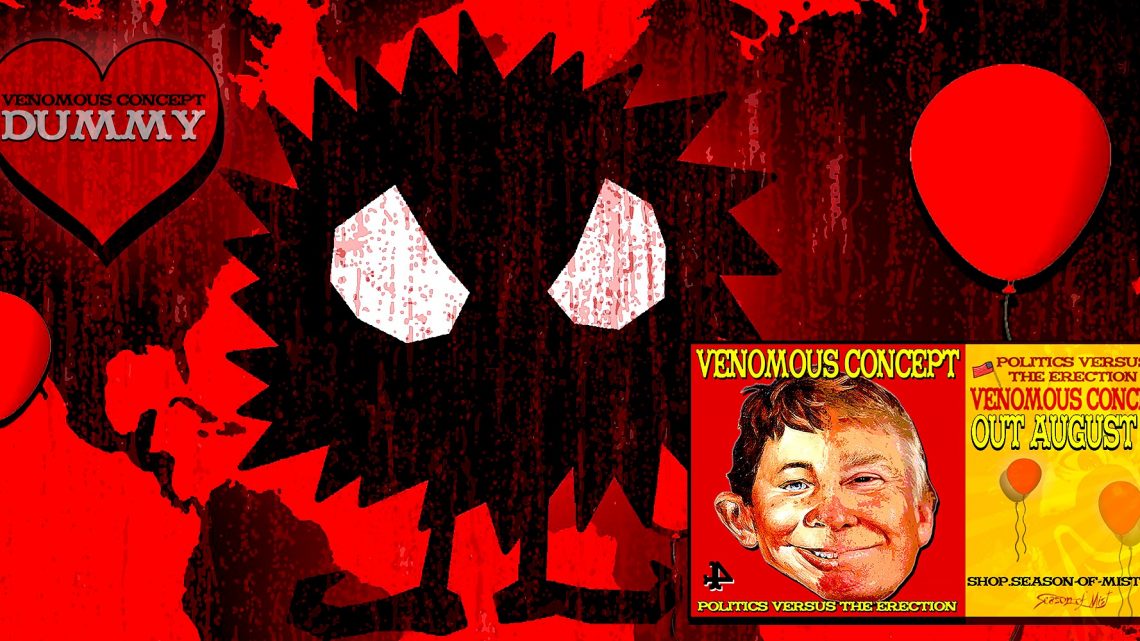 VENOMOUS CONCEPT – Politics Versus The Erection – Review and Stream
26th August 2020
Grindcore supergroup VENOMOUS CONCEPT are due to unleash their fourth opus of grind inspired hardcore punk upon the masses. If you've never had the pleasure of listening to VENOMOUS CONCEPT then 2020 will be the perfect time for you to check them out. Consisting of Grindcore legends Shane Embury & Danny Herrera (both of NAPALM DEATH fame, although Shane Embury has also been in LOCK UP, BRUJERIA, MEATHOOK SEED to name a few) and Kevin Sharp (EX-BRUTAL TRUTH and also LOCK UP) and they are joined on guitar by John Cooke (VICIOUS BASTARD and also live guitarist for NAPALM DEATH, ANAAL NATHRAKH, MALEVOLENT CREATION). So the band are well experienced in creating a sonic assault to the senses and prove this on "Politics Versus The Erection" with the blistering 13 tracks taking just over 30 minutes to relentlessly pummel the listener senseless.
At its core "Politics Versus The Erection" proudly let's the grind take centre stage, however they allow the hardcore, punk, d-beat and crust influences envelop the filthy grindcore to further magnify the political and issues they champion. The music is a perfect backdrop, with the drums never relenting the pummelling and the bass laying down some serious heavy as a bronze elephant balls groove. The riffs are razor sharp and cut through the cacophony with ease and all while Kevin Sharp vocal range from low end growls to more venomous shouts of outrage and disgust complements the grind madness unravelling before us.
From the musicians in this band we expect great things and they don't disappoint on "Politics Versus The Erection", this is a perfect sonic assualt of grind infused hardcore punk and adds to VENOMOUS CONCEPT amazing arsenal of releases. This is a collection of political charged anthems that bypass the repetitive and/or predictable nature of grindcore and comes charging to the fore in these uncertain times humankind currently find themselves in. VENOMOUS CONCEPT have set the bar extremely high for the new NAPALM DEATH release ('Throes of Joy in the Jaws of Defeatism'), but if they carry on this form then am sure it will be a great release also.
SCORE – 8.5/10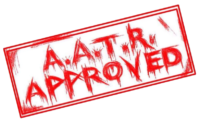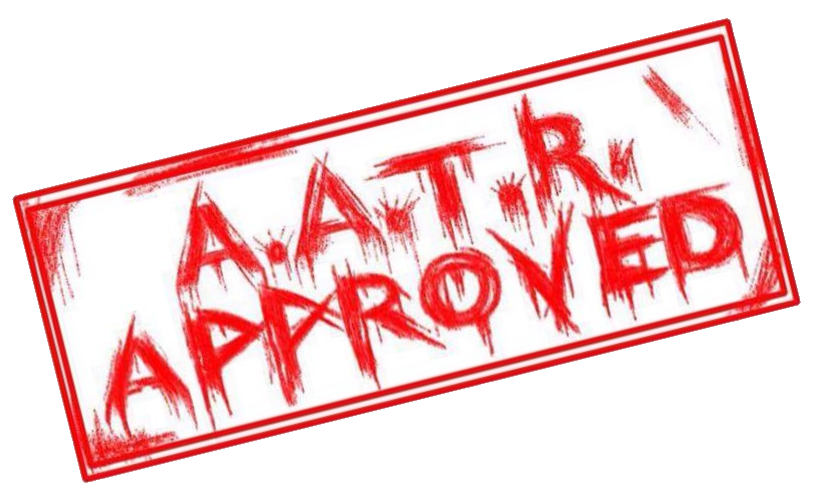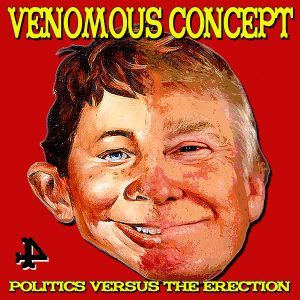 Track Listing
1. Simian Flu
2. Hole in the Ground
3. Eliminate
4. Lemonade
5. Colossal Failure
6. Promise
7. Septic Mind
8. Dementia Degeneration
9. Carrion
10. Broken Teeth
11. Shadows
12. Mantis Toboggan
13. Politics Versus the Erection
Release Date:
28th August 2020
Label:
Season Of Mist
For all things Venomous Concept, click HERE and to purchase the album, click HERE