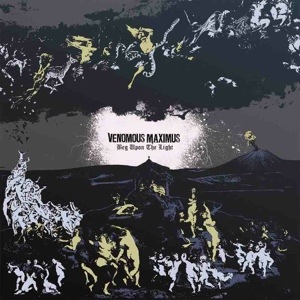 Venomous Maximus – Beg Upon The Light
20th June 2013
Band: Venomous Maximus
Album: Beg Upon The Light
Release Date: 5th July 2013
Record Label: Napalm Records
Reviewed By: Mark
Tracklist:
1) Funeral Queen
2) Path of Doom
3) Give Up The Witch
4) Father Time
5) Dream Again
6) Moon Child
7) Battle For The Cross
8) Venomous Maximus
9) Mother Milk
10) Hell's Heroes
Stand Out Tracks – "Give Up The Witch", "Moon Child", "Battle for the Cross", "Hell's Heroes"
VENOMOUS MAXIMUS is the second Texas outfit I have reviewed in as many days (PUSHMEN being the other) and they couldn't be more apart. Napalm Records are releasing this album on 5th July (so I believe) and what a treat they are releasing upon this metal community. Having never heard of VENOMOUS MAXIMUS I was curious as to what I would be getting on this release…however to put you out of your misery I can tell you it is some good old traditional METAL…!!!!
Some reviewers have called VENOMOUS MAXIMUS doom, occult metal/rock, NWOBHM and so on…now what VENOMOUS MAXIMUS play is just plain and simple metal in my view. Yes I can seewhy they have been labelled with the labels previously mentioned as they sing about witches, mystical and occult topics, old magic's, arcane lore etc.
However they melt all the traditional metal into one pot and make a beast of an album, think BLACK SABBATH Paranoid/Masters of Reality era with a heavy hint of MERCYFUL FATE and PENTAGRAM and a dash of IRON MAIDEN and BATHORY and for more newer metal fans think of CATHEDRAL, CANDLEMASS, GHOST and so on. They write such great riffs that catch the listener off guard by being galloping at one stage to solid stoner and various more, however at the core they are metal through and through.
Vocalist Gregg Higgins voice accompanies the music incredible well and rounds off VENOMOUS MAXIMUS sound, however they do fall a little flat on slower numbers 'Father Time' and 'Mother Milk', but they can be let off as this is their debut album…
This is a riff filled metal album that will hook you and is great fun to listen to and remind you when metal was metal…no of this we can play fast than you, write more brutal song, have bigger breakdown sections etc…just Balls to the Wall (ACCEPT reference again, they will trademark me soon) metal. Don't like it then you probably think KORN or SLIPKNOT invented metal and in that case need a lesson in proper metal…yes I know BLACK SABBATH have just released there new album (whoopee do, not a big fan as you can probably tell), however all them BLACK SABBATH fans should get "Beg Upon The Light" and be shown that metal is still alive. I see a bright future for VENOMOUS MAXIMUS and I hope they don't disappoint…
SCORE – 8.5/10