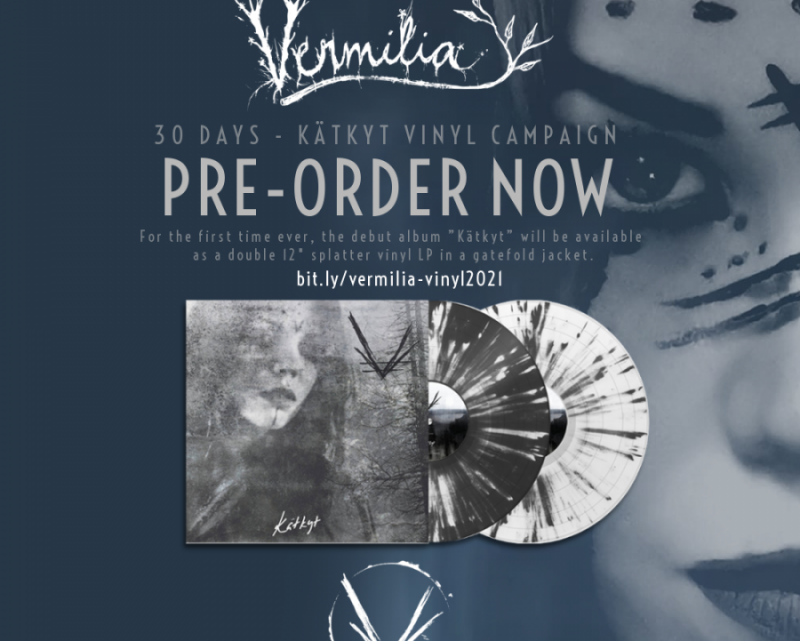 Vermilia Launches 30-Day Pre-Order Campaign For "Kätkyt" Vinyl Release
12th March 2021
0
By
John Deaux
Finnish pagan metaller Vermilia has launched pre-order campaign for the long-awaited vinyl press of her debut album "kätkyt", originally self-released in June 29th 2018 CD/Digital/Cassette.
30-day vinyl campaign has made in the cooperation with the bandcamp and will run until april 3rd, 2021. Vinyl will be out as double splatter vinyl with a gatefold jacket with the option to have your name printed in a gatefold jacket.
Vermilia has also "Vedestä Vieraantunut " giveaway contest among all Vinyl buyers. 
5 randomly chosen Vinyl buyers will get signed "Vedestä Vieraantunut" single release as physical (professional jacket/CD wallet) format specially duplicated for this purpose.
Also every monday 6pm starts a new giveaway contest on my facebook and instagram channels for the random merchandise. Winners will be announced every Sunday at 6pm (UTC/GMT+2).
Since the launch of campaign in march 5th she has reached 48% of total fundings and one of the tiers are sold out.
Vermilia comments about the campaign:
"
For the first time ever, the debut album "Kätkyt" will be available as a double 12″ splatter vinyl LP in a gatefold jacket.
Vinyl release has been one of my dreams and since the debut release there's been people asking Vinyl release.
As I am an independent artist without huge companies or labels behind me, I've been trying to look all different options trying to figure out how to make this happen.
Since I haven't been able to make a vinyl release before I am super excited to finally have the opportunity with the help of awesome people from Bandcamp!
This will be the only chance to have Kätkyt released as this limited edition double splatter vinyl and as a bonus you can have your name printed in a gatefold jacket.
I hope we can all together make this dream come true. "
Vermilia – Kätkyt
Original Release date: June 29th, 2018
Tracklist:
Äiti Maa
Vedestä Vieraantunut
Haudoille
Poissa
Saattaja
Maisema
Sanattomat Laulut
Mustan Taivaan Morsian
Live
* Past shows
Feb 22, 2020 – CERNUNNOS PAGAN FEST (France)*
Aug 7-9,2020 – ZOBENS UN LEMESS OPEN AIR (Latvia) *
May 13-15, 2021 – DARK TROLL FESTIVAL (Germany)
Feb 11-13,2022 – FROSTFEUERNÄCHTE (Germany)
Feb 11-13,2022 – HEATHEN ASSAULT OVER BRNO III (Czech)
Official links:
How useful was this post?
Click on a thumb to rate it!
Average rating 0 / 5. Vote count: 0
No votes so far! Be the first to rate this post.
Related