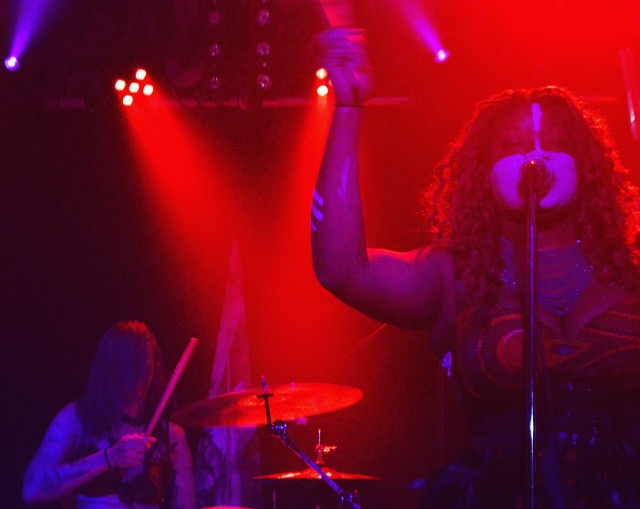 Vodun – The Parish, Huddersfield – 18.04.17
20th April 2017
Very few bands these days have the ability to bring something completely new and fresh to the table. Even categorically niche genres (we're looking at you, goblin metal) have an abundance of bands nestled within their own carefully constructed scenes. Yet very rarely do these bands break through the mould. Vodun, however, are a group who's seamless genre-blending and energetic stage show hints at a new dawn for heavy music – and the recruitment of a whole new legion of fans.
It was at Huddersfield metal haunt The Parish that Vodun's 'ritual' was about to begin. Fresh from touring with 70's-tinged psych group Church of the Cosmic Skull, they were now embarking on a few headline shows of their own – this one being no exception. Having already seen them supporting Uncle Acid and the Deadbeats last year I had an inkling of what to expect, but one thing is for sure: if you've never seen or heard of Vodun before, you may want to prepare yourself. The three piece make a striking picture on stage before a single note has even been played, as part of Vodun's act involves tribal-influenced costumes and body paint. The theme of African spirituality (Vodun, for those who don't know, is the name of an ancient West African religion) runs through both the group's appearance and their music, and it's virtually impossible to not feel hyped up by it – as this Tuesday night audience were about to find out.
The band kick off without a word into their signature fusion of heavy, doom-style riffs meeting passionate, soulful vocals. Lead singer Oya is a captivating performer, nailing every note and moving around the stage like some kind of voodoo princess. It is little wonder that Vodun chose to call their latest release 'Possession' – the entire show feels like a spiritual initiation of some kind, and all three band members remain in impeccable character throughout.
Guitarist The Marassa is one incredibly gifted musician, looping the second guitar parts as he plays, laying down the bass and shredding out some serious riffs. For a genre of music that usually relies so heavily on a dark, sludgy bassline you would think that a lack of bass guitar would be disastrous for this band – but this is certainly not the case for Vodun. Drummer Ogoun smashes through the setlist with a fiery passion, never missing a beat. This is where the tribal influence really starts to come into its own, as so much of the performance is based around heavy, rhythmic drum beats. So much so, in fact, that mid-way through one of the songs Oya and The Marassa leap down from the stage to distribute drums, cowbells and tambourines among the audience (side note: I got the drum). Allowing their audience to join in gives Vodun's stage show a whole new dynamic, and proves that they are a band who clearly understands their niche. Still not convinced that Afro-doom can work? You are very much mistaken: Vodun will possess you, and you'll go back begging for more.