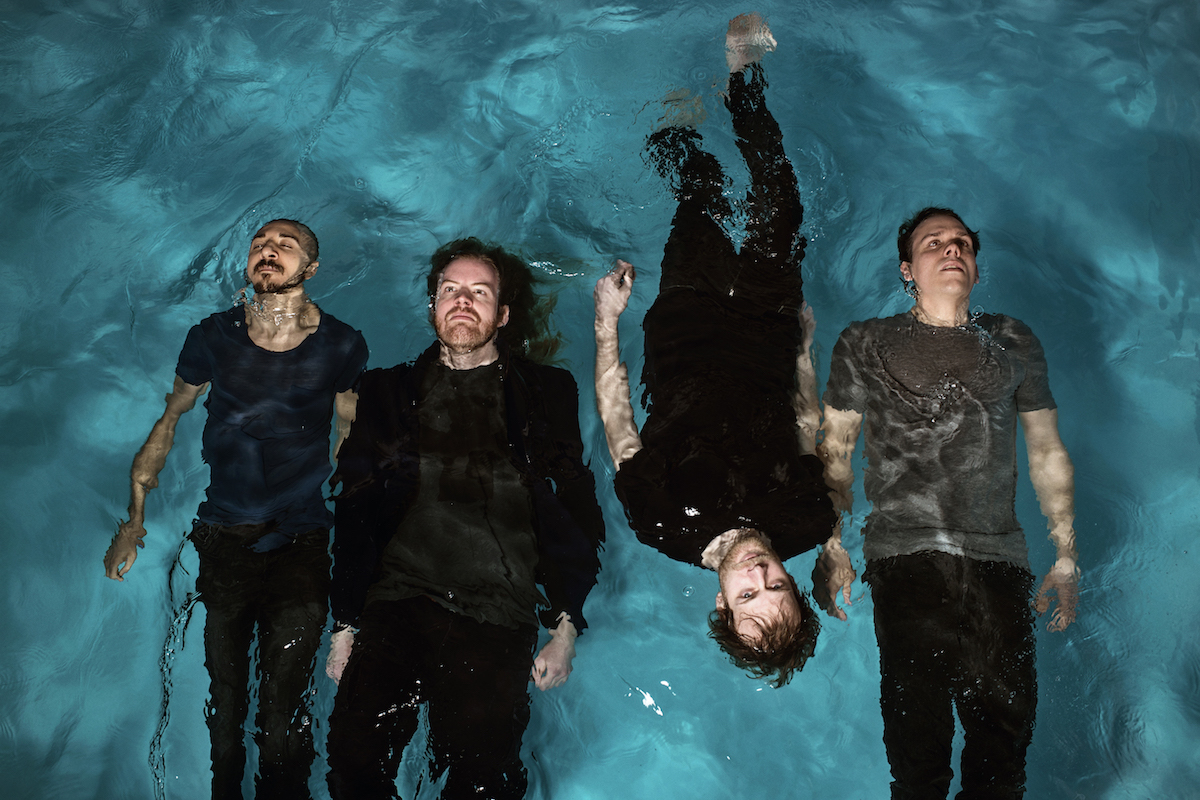 VOLA announce September 2019 UK Tour
29th May 2019
Copenhagen's VOLA have announced their September 2019 European Tour with includes 4 shows in the UK in London, Manchester, Glasgow, Nottingham as well as slots at Ramblin' Man Fair and Radar Festival. To celebrate this they have revealed the brand new video for 'Ruby Pool'.
 
The tour is hot on the heels of their triumphant tours with MONUMENTS and Haken and the release of 'Applause Of A Distant Crowd,' which came out in October on Mascot Records, which has led Prog Magazine to declare them "one of prog's hottest prospects," Metal Hammer to revel in their "shimmering tech metal" and pick up fans in the shape of Trivium's Matt Heafy and Paulo Gregoletto . The band will also be supporting Dream Theater on two shows in Germany in July.
Talking about the video for 'Ruby Pool', Asger Mygind says; "Whether the screen is a window to happiness or a barrier for happiness is subjective, but I imagine that a lot of people have experienced a sense of lost opportunity after having been absorbed in the screen at the wrong time and place. I surely have. It was with this image in mind that I began working on a video for Ruby Pool. It was shot at 9 different outdoor locations on Zealand, Denmark, during April and May 2019."
Talking about the tour Nicolai Mogensen says; "We're over the moon to be going on our first ever headline tour! It's something we've been dreaming of doing for a very long time, and we are amazed to see it finally happening. As special guests we are bringing the mind-blowing acts Arch Echo and Rendezvous Point, who we are very proud to be sharing the stage with. We'll be playing a longer set than on previous tours, so there will be time for playing some funky tunes – both old and new ones. If there's a VOLA show you don't want to miss, it's this one! See you on the road."
 
On the new album, Asger Mygind (vocals/guitar), Martin Werner (keys), Nicolai Mogensen (bass) and Adam Janzi (drums) probe society's distractions from thoughtfulness and examine the way human relationships have evolved whilst touching upon fear and anxiety. Where their debut 'Inmazes' dealt with the struggle that came with being trapped in mental mazes, the themes are now focused on the outside world rather than internal conflict. The album title is a metaphor derived from our relationship with social media, how we can appear close but be miles apart. Mygind elaborates: "We spend a lot of time trying to present ourselves in a flattering light in the pursuit of continuous applause, even if it's a distant applause from those you may not connect with away from the screens."
 
Check out more about VOLA here:
 
volaband.com/
facebook.com/volaband/ 
twitter.com/volaband  
For tickets: www.volaband.com/tour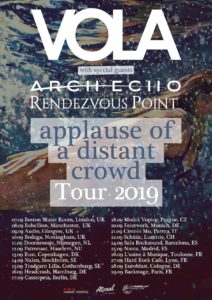 Full  Tour Dates
 
26.06.2019      Dresden / Junge Garde, Germany w/Dream Theater
27.06.2019      Berlin / Tempodrom, Germany w/Dream Theater
20.07.2019      Maidestone / Ramblin' Man Fair, UK
03.08.2019      Guildford / Radar Festival, UK
07.09.2019      London / Boston Music Room, UK
08.09.2019      Manchester / Rebellion, UK
09.09.2019      Glasgow / Audio, UK
10.09.2019      Nottingham / Bodega, UK
11.09.2019      Nijmegen / Doornroosje, Netherlands
12.09.2019      Haarlem / Patronaat, Netherlands
13.09.2019      Copenhagen / Rust, Denmark
14.09.2019      Stockholm / Nalen, Sweden
15.09.2019      Gothenburg / Trädgårn Lilla, Sweden
16.09.2019      Hamburg / Headcrash, Germany
17.09.2019      Berlin / Cassiopeia, Germany
18.09.2019      Prague / Morda Vopice, Czech Republic 
20.09.2019      Munich / Feierwerk, Germany
21.09.2019      Parma / Circolo Mu, Itay
22.09.2019      Lucerne / Schüür, Switzerland
24.09.2019      Barcelona / Sala Rocksound, Spain
25.09.2019      Madrid / Nazca, Spain
26.09.2019      Toulouse / L'usine à Musique, France
27.09.2019       Lyon / Hard Rock Cafe. France
28.09.2019      Cologne / Euroblast Festival, Germany
29.09.2019      Paris /Backstage, France
 
Videos: 'Smartfriend', 'Ghosts', Whaler and 'Alien Shivers'
How useful was this post?
Click on a thumb to rate it!
Average rating / 5. Vote count: