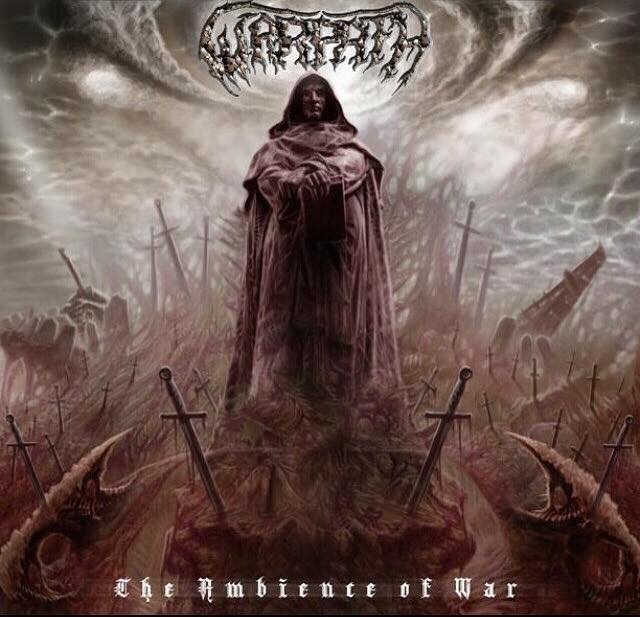 Interview With Warpath
27th July 2017
Warpath are a 5 piece metal band based in Dublin Ireland.
They combine influences of various genres including grind core, death metal  and hardcore bringing you extreme carnage in the form of this brutal band.
Their mission in life to "dominate the global metal scene".
The band took time out of their busy schedule to have a chat with us at AATR HQ, read on to see what the guys had to say…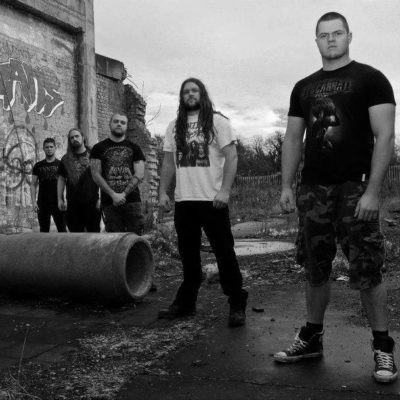 Your new EP 'The Ambience of War' became available via Bandcamp on the 20th April, which could be digitally downloaded and streamed via the site. How do you feel now it's out there in the public eye?


We honestly couldn't be happier to finally have this release out there for people to hear and hopefully enjoy. The response and feedback we have got from people so far has been amazing. We have had orders for every corner of the globe too which is a really nice way to see the name getting out there. I had no idea we had fans in some of the countries we have sent packages to. To anyone who did purchase it from us we extend our gratitude and keep spreading the word, Hopefully we will see you all in the crowd some day
Do you want to tell us a little about your EP, the production, and an insight into the songs?


The EP as much as we are delighted to have it done has been a thorn in our side for a long time now. 
We had major problems in the studio with regarding it's recording and mixing and mastering process. I don't want to shine too much negative light on that because it's in the past but we had some major set backs which were out of our hands. 
The songs on the EP are all a lot more mature sound to our ears in comparison to our older releases while we are still very proud of those releases.
 The songs range in themes.. Upon his Return is a story told about Giordano Bruno , A heretic from Ancient Roman times who stood up against the Vatican and got burned at the Stake for it. That's the short version, when I learned of his character I had to write a song about him. 
The statue that features on the front cover work is actually the stature of him that stands in Rome today. The songs range from track to track in Theme really each one telling its own story.
You guys have just done a UK tour with Misery Index, how did that go?
It was an Amazing experience. Those guys have been our friends for many years now as we have played multiple shows together. We actually had the honour of having Mark Kloeppel do guest vocals on our new EP on the closing track, "Hunted like the Prey that You Are.." This was a big deal for us because for myself personally they are probably my favourite band. So back to your original question, The tour was amazing, we learned a lot, took away some great memories and made plenty of new friends and fans. We played one gig in Bristol in this old small pub, The place was quite small to see misery index tear that place apart was one of those you had to be there moments. Had such an old school feeling to it, Small pub rammed, stage big enough for a Drum kit while the other band members stood at crowd level and they destroyed the place. We also had great fun playing in there, we always get a great welcome when we visit Bristol so it's always a town we look forward to going back to. Big Shout out to Crepitation and Misery Index for being such cool fuckers on that tour and making us feel as welcome as they all did.

Also Much love to  our brothers in Unfathomable Ruination, We saw them while on this tour and that's never a bad time, We love those fuckers xoxox
What was your favorite song to play while out on this tour?

For me Personally I would have to say "Extreme Rendition" One of the older songs off our second release purely because we hadn't blown the dust of that for a live show in quite some time so it was nice to throw it back in the mix, Always a good pit and party song with vocal patterns that are catchy and I get to play with my range on it which is always a plus for me.



What song did the fans react most to?
I'd say either "Upon his Return" as we had released a Lyric video for the track right before the tour or "Hunted like the Prey that you are" as it was our closing song of the set. People would be well warmed up by then and you'd always get a sea of hair swinging in the crowd if not a nice little pit going in front of you.
You also got to play alongside the almighty Napalm Death in March on a few dates, did they give you any words of wisdom to go by?


The Napalm Death lads are honestly some of the most down to earth, nicest, hospitable bands going. With regard words of wisdom, I would say they more so lead by example with regards how they carry themselves. When you watch them you see what years of touring, writing, playing together looks like in the most professional manner possible. 
They treat you as a complete equal whereas you can find with some bigger bands they can look down their nose at you sometimes. 
Napalm Invited us to their backstage area to help ourselves to their catering and showers and everything, Might not sound like a big deal to a lot of people but when on tour and low on funds and you need a shower as you've been sweating on stage, a shower and a bit of grub without having to leave the venue is a god send, We rented a nightliner to mark the occasion and to celebrate Chris of Black Skies Burns wedding with a bit of a Napalm Death stag weekend. The Napalm Lads came on and partied with us and Black Skies Burn making it a tour we wont forget. So what that tour amplified for me was the concept of it's nice to be important but more important to be nice cause the Napalm Lads couldn't have been nicer to be honest. And their energy on stage is unmatched.
Do you remember the first time you saw Napalm Death? Are they a big influence for you and your music?
Huge Influence to our music and always have been since the day we started. First time I saw them was back when we first started and we supported them for a Sold out Show in Dublin's Voodoo Lounge. Didn't know then we would get to share festival bills and tour with them in years to come which is always a bit surreal. We have had some great times with the Napalm lads during Warpath's existence. Any of the kind of grind elements you might hear in a Warpath track can usually be tracked back to A Napalm Influence.
Whats the secret to staying grounded while out on tour?
Hahaha I'll tell you if I ever find out. We always say, know the time and place. There is a time and place for everything. If you are getting too drunk to play before your set to the best of your ability then you are not being as professional as you should be, People are paying good money to come see your band so you need to respect them enough to put on the best show you possibly can. Even after you play, We need all hands on Deck for Load out of the gear and clearing the venue for the promoter and staff etc.. especially if the tour package has to travel that night and you are on a strict schedule. Usually once load out is done you can de-stress and go get gurgled somewhere. Don't get me wrong we all have a few beers before playing and while on stage, it's all about having a good time, just knowing the time and place is important. 



Before we wrap things up here is there anything you would like to say to your fans/followers?


Cheers to everyone who have paid any money towards anything we have done be it a gig ticket or a merch sale, Greatly appreciate all the support. 

Cheers to anyone who has shared the stage with us, put us up on the road, fed us, with food or alcohol… if you're ever in our neck of the woods, hit us up and the favour will be returned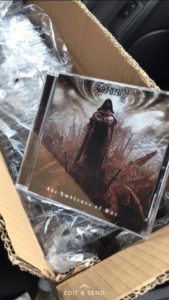 Go check out our new release "The Ambience of War" you can purchase via our Bandcamp page!
Thanks for taking time out to speaking to us today!
No worries!