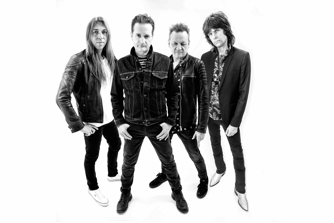 Wayward Sons – UK Tour Dates This November
20th October 2021
0
By
John Deaux
UK rockers Wayward Sons release a new single (and stunning video) today. "Bloody Typical" is taken from their forthcoming new third studio album, "Even Up The Score", which is released on the October 8, 2021. 
 
"Bloody Typical" is another stunning single taken from the forthcoming album and follows previous tracks "Even Up the Score", "Big Day" and "Faith In Fools". 
 
Toby Jepson says, "'With 'Bloody Typical' I'm continuing my personal analysis of how modernity treats expectation. How and why do we feel we have a 'right' to stuff? Where does that come from? Dreams and aspiration seem to me to have been overtaken by greed fed demands of 'I want it all and I want it now' – whether that 'all' has been worked for or deserved as a result. Something for nothing?  – the answer seems to be 'Yeah I'll have that' – no matter what and that attitude doesn't rest exclusively in the arena of financial or career achievement. Perhaps more damaging are the demands we heap on each other. Life has become a razor sharp line many walk with relationships also.
The tag line 'Bloody Typical' is perhaps throw away but, for me, it's a very English reaction to being denied…"

Fronted by vocalist/guitarist Toby Jepson, who is joined by Nic Wastell (bass), Phil Martini (drums), and Sam Wood (guitar), plus Dave Kemp (keyboards) for the recording of the album, Wayward Sons continue to deal in energetic rock 'n roll coupled with thoughtful, insightful lyrics. Passionate, honest music made by passionate honest musicians who have come together to create rock music that reflects their heroes from the '70s and '80s, while also touching on the present – modernity through homage, if you will.   
Pre-order/save "Even Up The Score" on CD/LP/Digital HERE: 
https://orcd.co/waywardsons
Wayward Sons have played an outstanding number of shows in and outside the UK, either as a supporting act for Saxon, Inglorious, Steel Panther, Living Color and UFO or at such festivals as Download and Ramblin Man Fair and of course their own run of headlining dates. 
The band has also announced tour dates for 2021 and 2022. See the complete list of dates and available ticket links HERE: 
https://www.waywardsonsband.com/site/live-dates/
The return of former Little Angels singer Toby Jepson to the UK rock scene with Wayward Sons was a welcome event in the British hard rock music scene when it transpired some five years ago. After the overwhelming success of Little Angels, including a number one album, millions of records sold, massive sell out shows and numerous hit singles, Toby had been busy in the prior years in movie work as well as performing with Fastway, Gun, and Dio's Disciples and producing albums for numerous bands (Saxon, Fastway, The Virginmarys, Toseland, and more).  
Bloody Typical is released today. Even Up The Score" follows on the 8
th
October 2021. Both are released through Frontiers Music.  
LINE-UP:
Toby Jepson – Vocals, Guitars
Sam Wood – Guitars
Nic Wastell – Bass
Philip Martini – Drums and Percussion  
https://www.waywardsonsband.com/site/
https://www.facebook.com/waywardsonsbanduk/
https://www.instagram.com/waywardsonsbanduk
https://twitter.com/WaywardSonsBand
How useful was this post?
Click on a thumb to rate it!
Average rating 0 / 5. Vote count: 0
No votes so far! Be the first to rate this post.
Related
About the author
Some say Yank My Doodle, It's A Dandy! is a biographical movie based on John. Some have even said that his favorite artist is Chesney Hawke! All we really know is he sleeps inside out and his hair tastes like candy floss.