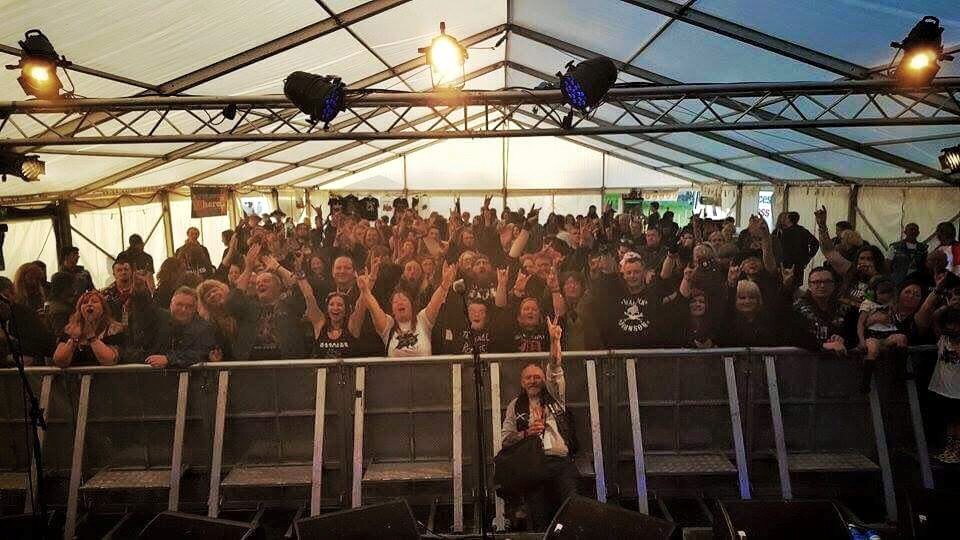 Wildfire Festival 2015
29th June 2015
All About the Rock had been looking forward to the Wildfire Festival 2015 for months, and after stopping off en route for supplies, we arrived at Wiston Lodge in glorious sunshine, pitched our tent, and dashed across to the main site to start our weekend of metal madness!  With over 50 bands playing it would be impossible to review each and every performance, but our personal highlights from the weekend included:
The Burning Crows – These guys put on a blinding show of rock n' roll, doing a great job of getting the crowd going, and making sure everyone was having a good time.  We're really looking forward to getting our hands on a copy of their new soon-to-be-released album, 'Murder At The Gin House'.
Holocaust – Playing an awesome mix of metal, thrash and punk, this threesome were aggressive as hell and with frontman John Mortimer doing a stirling job on vocals they had the crowd eating out of their hand.
Tygers Of Pan Tang – The NWOBHM giants finished off the Friday night with an incredible set that included a mixture of older and newer material, and did a brilliant job of continuing the Wildfire party-like atmosphere that had been developing during the day.
Pteroglyph – The one-man project of musician Jimmy MacGregor (ably assisted live by Ansley Prothero on guitars, Craig Gordon on bass, and Stephen Wilkinson on drums) did an amazing job of blowing away the Friday night hangovers with a first class performance of metal core / tech metal / progressive metal that really got the crowd going.  We were fortunate enough to chat to Jimmy after the set – and will be publishing the interview here on  All About The Rock soon.
Mason Hill – With their impressive heavy rock tunes, these guys soon had the crowd rocking out to their set, which included their catchy-as-hell 2014 debut single 'Now You See Me.'  Very cool!
Die No More – We were seriously impressed by these guys who played a killer set of metal that in places sounded a little like early (pre-sellout) Metallica, but with it's own unique sound, perfectly combining thrashy riffs and technical guitar work.
Bigfoot – Playing their own style of hard rock, the band did a fantastic job of entertaining the crowd, with well crafted tunes and a real sense of attitude… not to mention some nicely tongue in cheek banter with the crowd.
I.C.O.N – We'd seen the official video to new single 'Welcome To My War' so were totally hyped for seeing these guys playing their own brand of aggressive metal as they headlined the second stage.  We weren't disappointed.  The show they put on was first class, and it was great to see a band playing heavy metal the way it's meant to be done with songs like 'Grindin' Wheel', 'Deconverted', and of course 'Welcome To My War' !   An interview with the band and a review of their new album, 'The Blacklist', will be published on All About The Rock soon – watch this space !
Salem – Their 2013 album 'Forgotten Dreams' is one of the best metal albums in recent years, so this was another band we were eagerly waiting to see hit the stage.  And, right from the off, we knew we weren't going to be disappointed.  Their set was faultless, with great tunes (including personal favourites 'The Answer' and 'Forgotten Dreams'), some great interaction with the crowd, and a really refreshing feeling of positivity.  Awesome stuff!  We're thrilled to reveal that we've an interview with guitarist Paul Macnamara later this week, and will be publishing it here on All About The Rock soon !
EMPIRE – This hard rock band were probably the most mainstream sounding band we saw at the festival, being almost poppy in places.  But that's no bad thing, and the audience clearly approved of what they were hearing, really getting into it and enjoying the music.
Lawnmower Deth – Coming on stage to the theme tune from 'The Muppet Show' these guys showed why they are such legends on the UK thrash scene.  From start to finish their set was one of amazing energy, with perfectly combined hilarity and full-on thrash metal.  Playing classics such as 'Flying Killer Cobs from the Planet Bob', 'Did You Spill My Pint?', 'Sumo Rabbit and His Inescapable Trap of Doom', 'Icky Ficky', and 'Satan's Trampoline' they did an awesome job of getting the crowd going, resulting in the biggest mosh pit of the festival.  Absolutely fantastic.
Ten – Another NWOBHM giant, and amazing end to the second day.  Playing classics such as 'March Of The Argonauts/Fear The Force', 'Apparition', and 'Battlefield', the band put on a first class show, delighting the audience with their melodic hard rock and helping everyone stagger back to their tents with smiles on their faces.
Unfortunately, the All About The Rock team had to head home on the Sunday morning – missing some great bands, including personal favourites Disposable, Dog Tired, and of course Diamond Head.  We were absolutely gutted that we weren't able able to stay for the final day, but we all went home having had an incredible time and all adamant that we would be back next year to do it all again.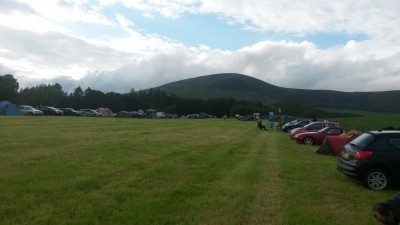 (Photo: View from the campsite)
It's also worth mentioning that not only were the bands fantastic at Wildfire Festival 2015, but the venue was incredible too.  We were able to pitch our tent right next to the car, there were free hot showers, plenty of well maintained toilets, Wiston Lodge provided decent food at a decent price, the on site vendors were excellent and again reasonably priced, the choice of lagers and ales from the bar was excellent and refreshingly different from any other festival I've ever been too, there was plenty of space for those who needed a bit of time to chill out away from it all, and the whole weekend had an amazingly friendly vibe to it – again, unlike any other festival I've ever been too.  A massive thanks to Dave Ritchie and the rest of the Wildfire team for creating such a fantastic festival experience !
If you're a fan of rock and metal then you really need to check out next year's Wildfire Festival – because on the basis of Wildfire Festival 2015, there will be no better metal festival experience in the UK, guaranteed !!   All About The Rock will be there again next year… and so should you !!
Score: 10 out of 10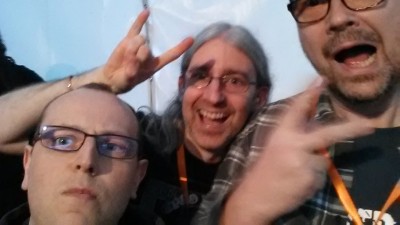 (Photo: the All About The Rock team at Wildfire Festival 2015)