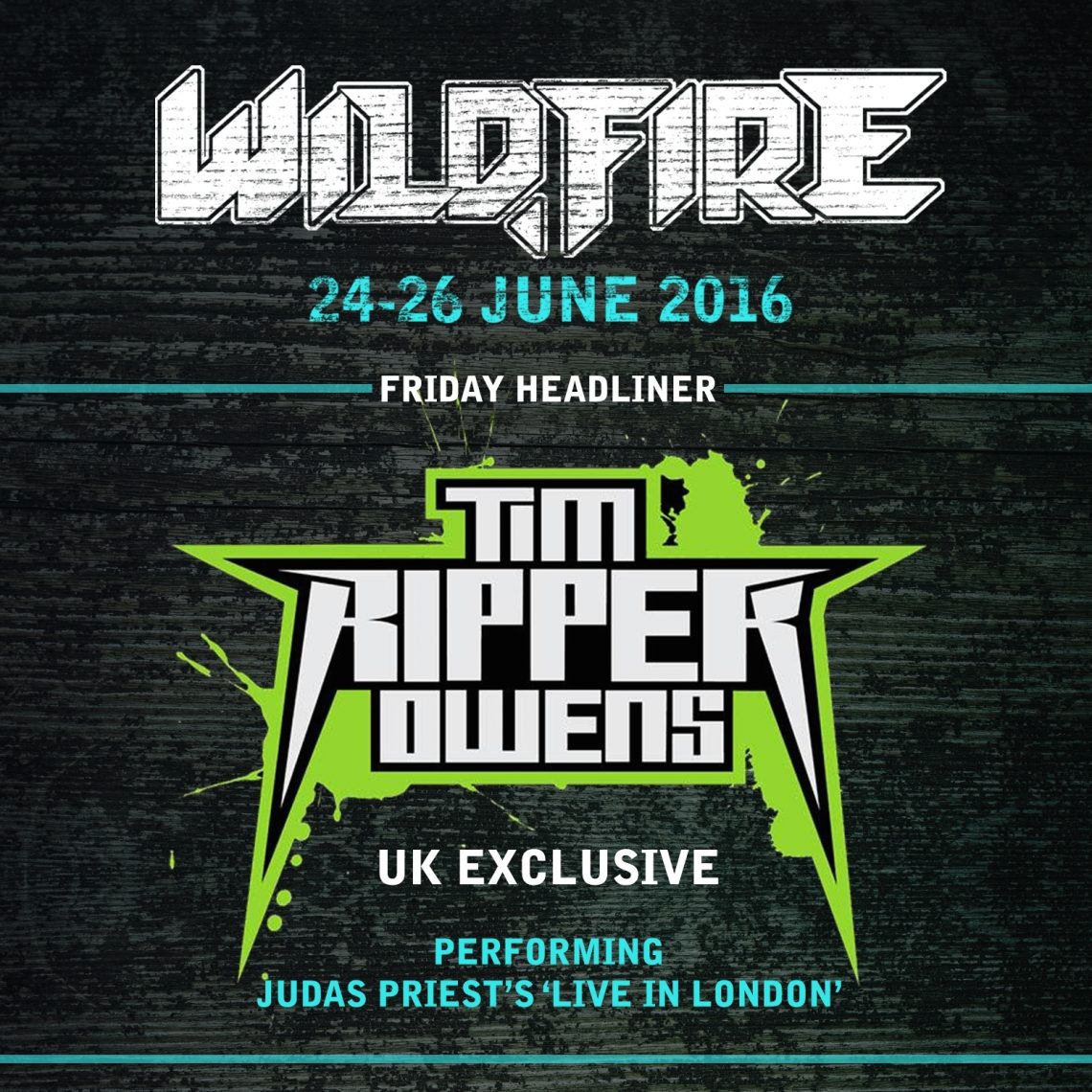 Wildfire Festival 2016 – Tim "Ripper" Owens exclusive UK performance !!
14th October 2015
Wildfire Festival, Scotland's only 3 day rock and metal festival returns in 2016 to celebrate its 5th anniversary. The now well established and highly acclaimed event returns to Wiston Lodge, with 3 stages over 3 days and, with over 60 acts, bigger and better than ever before!
Friday night's headline act has now been confirmed as an exclusive one off UK performance from Grammy Nominated Tim "Ripper" Owens (Judas Priest, Iced Earth, Beyond Fear, Yngwie Malmsteen's Rising Force, Charred Walls of the Damned).
Festival Director Dave Ritchie states "This is a bit of a coup for us in 2016 as Tim – who is very passionate about supporting grass roots events – will fly in from the US, to perform tracks from the Judas Priest Live in London album… and for die hard fans you will get to hear tracks from both Demolition and Jugulator!"
"But we have a whole host of other great bands confirmed too" he says, "including, the highly acclaimed rockers, Colour of Noise, Hellbound Hearts featuring Danny Lambert (ex-Terrorvision) the hardcore metal of RSJ and Ireland's Screaming Eagles, to name a few."
The announcement continues with the confirmation of, Irish rockers Maverick, power metallers Avenford, recent winners at H2H Stone Broken and the outstanding Chasing Dragons.
"We had a strong contingent of NWOBHM followers last year" continues Ritchie, "So in addition to Soldier, already recently announced, we add the might of The Deep and Spartan Warrior to the 2016 line up and we still have our eye on a few more!"
"With our minds very much focused on the 5th anniversary element we have also invited back some of our favourites from the previous 4 events including groove metallers, Mad Hatter 2.0 and another Northern Irish metal act, Sinocence, both previously very well received.  The final act in this our second announcement are All Consumed who make the journey north for their first ever Wildfire and impressed our scouting network recently, in Dundee."
Full line up to date: All Consumed, Apriori, Avenford, Chasing Dragons, Colour of Noise, Halo Tora, Hellbound Hearts, Mad Hatter 2.0, Maverick, RSJ, Screaming Eagles, Serpentine, Sinocence, Sky Valley Mistress, Soldier, Spartan Warrior, Stone Broken, The Deep, Winter Storm.
Tickets are currently held at 2015 prices are still available for a short time as are a very limited number of day tickets for Friday's very special performance.
Further details from www.wildfirefestival.co.uk