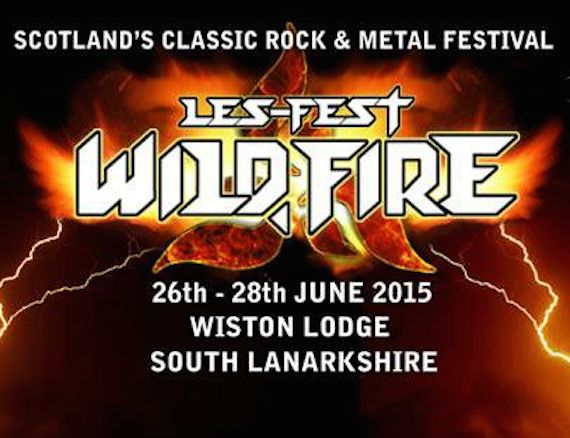 Wildfire Festival announce 50 band line up !!
26th January 2015
Now in its fourth year, Scotland's only 3 day annual, outdoor & indoor Classic Rock and Heavy Metal Festival has announced its 50 band line up !
Les-Fest 4, Wildfire, will take place on Friday the 26th until Sunday 28th June 2015 at Wiston Lodge, South Lanarkshire and has an impressive line up that includes legends such as TEN, Tygers of Pan Tang, and Lawnmower Deth, as well a number of up and coming bands including Dog Tired and Disposable.
Recently award the best musical event of the year at the Scottish New Music Awards, the organisers of Wildfire say "In troubled times with many festivals falling by the wayside, we are delighted to expand the event, build on previous success and bring you some of the best rock and metal ever seen north of the border."
The full line up is: Acoda, Anihilated, Animator, Bad Touch, Balls Deep, Bigfoot, ColdSpell, Corrupt The System, Crimes of Passion, Dakesis, Dog Tired, Death Valley Knights, Disposable, Emperor Chung, Empire, Estrella, Exile The Traitor, Fahran, Fallen Mafia, Hellion Rising, Holocaust, I.C.O.N., Kaine, Lawless, Lawnmower Deth, Liberty Lies, Line of Fire, Lord Volture, Mason Hill, Max Raptor, Night by Night, Press To Meco, Promethium, Pteroglyph, Rank Berry, Re-Animator, Ronin, Salem, Scordatura, Silverjet, Solitary, Soul Remover, Spirytus, The Amorettes, The Idol Dead, The Mercy House, The Parallax Method, Ten, Tygers of Pan Tang, Tysondog, Uncle Rust.
Tickets are available now from www.wildfirefestival.co.uk, and Wildfire has launched a deposit scheme where you can pay part now and the balance in May.