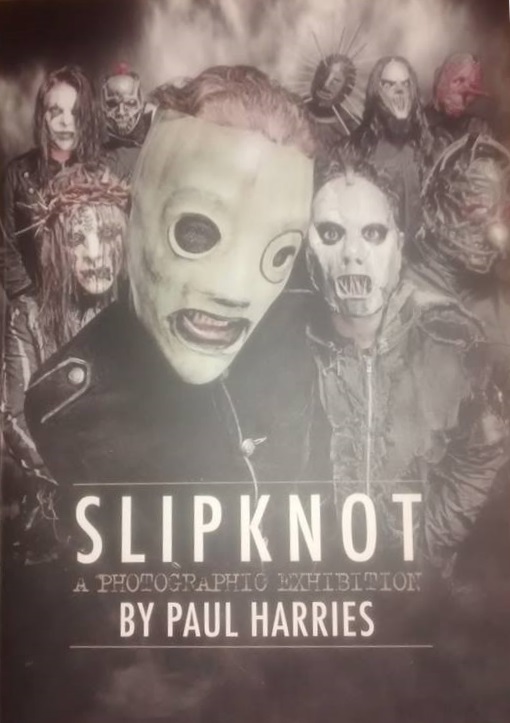 Win a signed Slipknot Book
3rd March 2014
PAUL HARRIES
is Britain's pre-eminent photographer of rock bands who play their music at volume. Over the course of more than two decades, if a group has emerged that are loud and proud of it chances are its members have stood in the frame of this man's lens.Armed with a valid passport, a working camera and a keen eye for detail,
Paul Harries
has amassed a portfolio that amounts to nothing less than a rock fan's dream. From an apprenticeship served in the photo pit at London's legendary
Marquee Club
, Paul has risen to occupy the position of leading lensman for
Kerrang
! magazine, the world's best-selling music weekly. Paul has closed his shutter on such groups as
Nirvana
,
Muse
,
Green Day
,
Metallica
,
AC/DC
,
Biffy Clyro
,
Ozzy Osbourne
,
Red Hot Chili Peppers
and, of course, the mighty
Slipknot
.
Last year, The Strand Gallery hosted Paul's first solo exhibition, dedicated to the Des Moines group Slipknot. The event was a critical and commercial success. Previous to this, his work could be seen as part of the Six Shooters collaboration, displayed at Proud Gallery.
* The above wording taken directly from Pauls website www.paulharries.com
We have a copy of the book signed by Paul Harries. To be in with a chance of winning the book just listen to Episode 2 of our podcast because the instructions are contained within it. The podcast is available at

https://allabouttherock.co.uk/podcast-epsiode-2/

 and is also on iTunes (just search for Talking Bollocks)