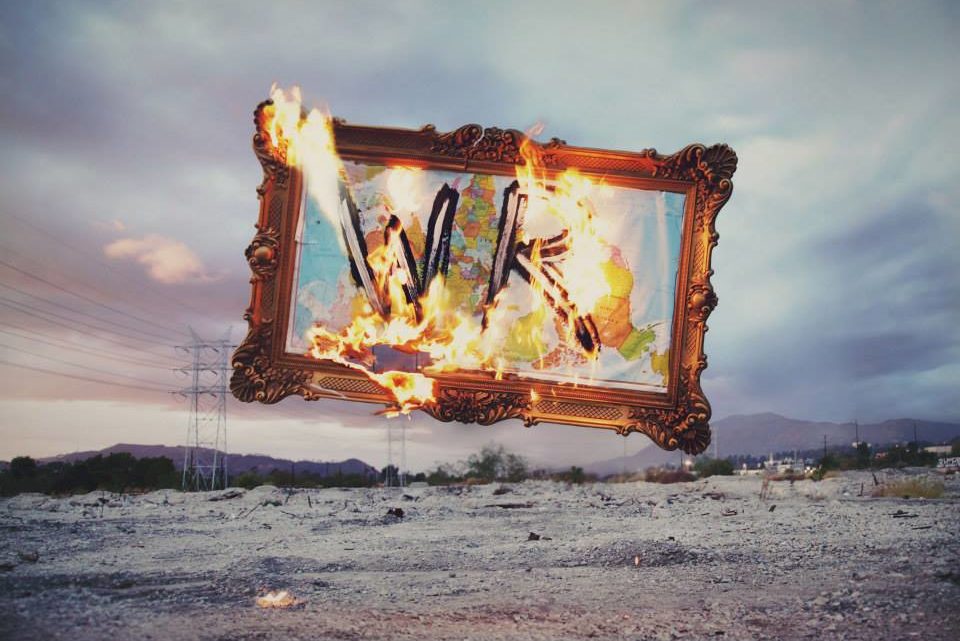 WIZARD RIFLE RELEASE NEW SONG 'V'
1st August 2019
Portland, OR noisy metal duo 
Wizard Rifle who will release their 3rd album on 30th August through Svart Records h
ave shared their new single "V". 
Emerging from the metal groundswell of Portland Oregon in 2009, Wizard Rifle were set on annihilating the complacency of genre pigeonholes and throwback tropes. Their elusive sound contorts and leaps from sludgy and psychedelic, to thrash, noise and beyond, accented by vocal harmonies and shouts. On first listen, many scoff at the possibility that such a cacophony could be produced by just two band members, but seeing is believing the force that is Wizard Rifle, and skeptics become Kool-Aid guzzling disciples before the altar. Are you next?
Teaming with Nanotear Booking, Guitarist/Vocalist Max Dameron and Drummer/Vocalist Sam Ford have delivered frenzied live shows extensively across the US and Canada including appearances at SXSW, Psycho Las Vegas, Sabertooth, Hopscotch, Crucial Fest, and Musicfest NW. They have shared bills with the likes of The Melvins, High On Fire, YOB, Lightning Bolt, Nick Turner's Hawkwind, Danava, and SubRosa, and hit the road with Bongzilla, Buzzov*en, Black Cobra and Church of Misery to name a few. Their two full length releases, 2014's "Here in the Deadlights" and 2012's "Speak Loud Say Nothing" have drawn great praise and kept critics and fans on their toes. Their upcoming self-titled LP, due out this summer via Svart, pushes the boundaries even further with the aid of metal mix guru Billy Anderson at the helm of the studio. 
Wizard Rifle are preparing to join seminal psych metal band 
Acid King
 and rising nightmare grungers 
Warish
 for the 
Busse Woods 20th Anniversary Tour
 this summer in the U.S. Leading into this tour the band will set out on their own run of shows.
9/11 — Detroit, MI @ Sanctuary  
9/12 — Milwaukee, MN @ Club Garibaldi
9/13  — Fargo, ND @ Aquarium   
9/14 — Winnipeg, MB @ Windsor Hotel  
9/15 —  Regina, SK @ The Exchange w/Cancer Bats, Single Mothers
9/16 — Edmonton, AB @ Temple 
9/17 — Calgary, AB @ Palomino 
9/18 — Missoula, MT @ VFW 
9/19 — Boise, ID @ Neurolux  
Acid King Busse Woods 20th Anniversary Tour Dates with Wizard Rifle and Warish
09/20 Portland, OR @ Star Theater – Hesh Fest 
09/21 Seattle, WA @ Highline
09/23 Denver, CO @ Marquis Theater  
09/24 Omaha, NE @ Slowdown
09/25 Chicago, IL @ Reggies
09/26 Indianapolis, IN @ Black Circle
09/27 Cleveland, OH @ Grog Shop
09/28 Buffalo, NY @ Mohawk Place
09/29 Boston, MA @ Sonia
09/30 New York, NY @ Knitting Factory  
10/01 Philadelphia, PA @ Johnny Brenda's
10/02 Richmond, VA @ Richmond Music Hall
10/03 Raleigh, NC @ Kings
10/04 Asheville, NC @ Mothlight
10/05 Atlanta, GA @ The 529
10/06 New Orleans, LA @ One Eye Jack's
10/07 Dallas, TX @ Gas Monkey
10/09 Albuquerque, NM @ Sister
10/10 Mesa, AZ @ Club Red
10/11 Los Angeles, CA @ Satellite
10/12 San Francisco, CA @ Chapel
'An album that both challenges and comforts' – Exclaim!
'If you like fun psychedelic metal like Electric Wizard and Uncle Acid and The Deadbeats, you'll probably dig this' – Louder Than War 
'Come get battered in the torrent that is Wizard Rifle, you won't regret it' – The Sludgelord
'Influence leap-frogging is a hard game to play, but Wizard Rifle play it incredibly well' – Metal Sucks