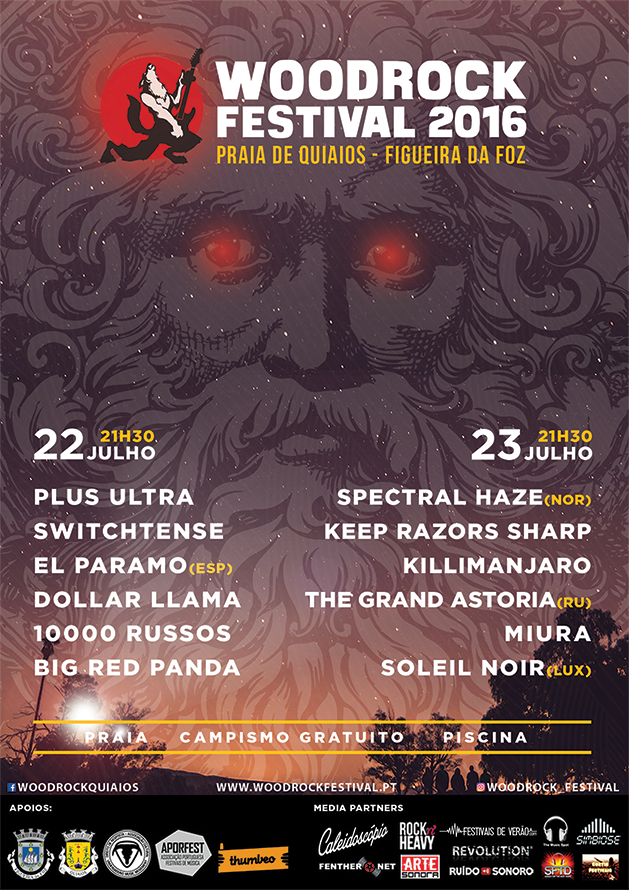 WoodRock Festival 2016
14th July 2016
There are not many days left for the Woodrock Festival in Quiaios, Figueira da Foz, Portugal. Between the 21st and 23rd of July the small village of Quiaios will present festival goers with great rock and roll right next to one of the best beaches in Portugal.
Festival goers will be able to camp in a camping site (complete with swimming pool) for free up until the 24th of July.
21st of July will feature a reception for all people travelling to Woodrock with the debut of local band Mil E Tal Pregos and the DJ set by DJesus in the Englobar.
The first day will feature 6 bands that promise to rock everyone there, especially the Portuguese thrashers Switchtense that have been making a lot of noise with their new record "Flesh and Bones" and 10000 Russos, a psychedelic/drone Portuguese ensemble that has proven to be one of the best live acts in Portugal.
Saturday will feature Russian psychedelic rock by the hands of The Grand Astoria, Portuguese rock with Keep Razors Sharp and mystical doom rockers Soleil Noir. There will be no shortage of rock and roll!!
Schedule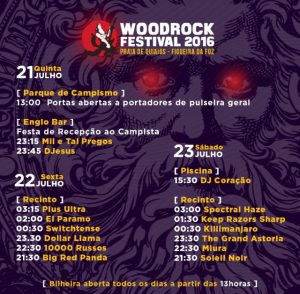 Tickets will cost:
All days pass – € 20
22nd of July – € 10
23rd of July – € 12
You can find more about the festival through their facebook page: WoodRock Festival