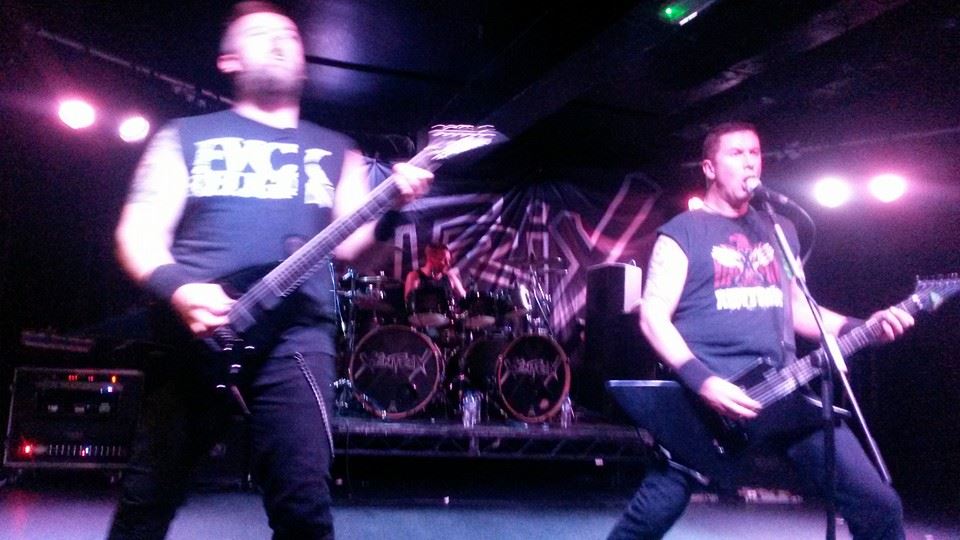 Xentrix @ The Cathouse, Glasgow, 13th December 2013
14th December 2013
Gig: Xentrix
Gig Date:  13th December 2013
Venue: The Cathouse, Glasgow
Reviewed by: Rich Dodgin
I've been a fan of Xentrix since the early 90's, and have been waiting over 20 years to see these guys.  To say that me and my mate Dave were hyped about this gig would be a massive understatement!  The Cathouse is a great intimate rock venue in the centre of Glasgow and having previously seen Death Angel play there we know the sound quality is awesome too.
We walked through the door just as support act Black Talon started their set.  This five piece from Edinburgh play old school thrash in the vein of Exodus or Vio-lence and both Dave and I were really impressed with what we heard.  We spoke to the band after the gig and were delighted to hear they have an album in the works – watch out for a review here at All About The Rock !  In the meantime, check out the band's Facebook page:  https://www.facebook.com/blacktalonthrash?fref=ts  and their youtube video for 'Incinerator':  http://www.youtube.com/watch?v=f3oZ25hcu3w.
Xentrix hit the stage with 'Black Embrace' and from that moment on I was grinning like a loon as I watched my all time favourite UK thrash band show why they are such a class act.
They played all the old classics from Shattered Existence, For Whose Advantage?, and Kin, including my personal favourites 'Questions', 'Crimes', and 'For Whose Advantage?', and the crowd were singing along and headbanging like maniacs from start to finish.
All four of the band – vocalist / guitarist Chris Astley, guitarist Kristian Havard, drummer Dennis Gasser, and new boy bassist Chris Shires – were clearly loving being back and playing live again, and it was hard to believe that they had ever been away.
Coming back on stage for the encore, Chris Astley announced that "We'd better play this for you then" and the band kicked into their thrashtastic version of 'Ghostbusters' which smoothly switched into 'Dark Enemy' at the point where Chris sang "thrashing makes me feel good!".  They then finished the set with 'No Compromise' and the biggest moshpit of the evening.
Xentrix showed that they've still got what it takes – putting on an amazing performance and ensuring that this was one of the best thrash gigs I've ever been too.
Simply amazing !