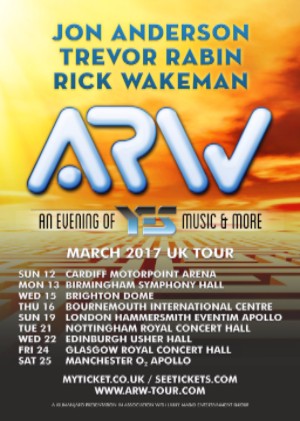 YES members reform as ARW and announce UK tour
20th June 2016
JON ANDERSON, TREVOR RABIN AND RICK WAKEMAN REUNITE TO FORM ANDERSON, RABIN & WAKEMAN (ARW)
UK TOUR DATES CONFIRMED
 
Long-time YES fans, rejoice! Jon Anderson, Trevor Rabin and Rick
 Wakeman are proud to announce that after a hiatus of 25 years, they are to reform the definitive YES line-up as – Anderson, Rabin and Wakeman (ARW).
 
Since they last played together in 1990 on the highly successful YES 'Union Tour', there have been various hybrid versions of the band. However, none featured the iconic voice of Jon Anderson, the outstanding guitar talent of Trevor Rabin, and the keyboard wizardry of Rick Wakeman. The aim of the band will be to restore the standard of excellence in performance that they established with their 1990 shows – which saw YES members past and present come together for the first (and only) time of the legendary band's career.
 
"To be able to sing and perform with Rick and Trevor at this time in my life is a treasure beyond words," explains Jon. "I'm so excited to create new music and revisit some of the classic work we created many years ago, it's going to be a musical adventure on so many new levels."
 
"Trevor and I have wanted to play Yes music together since the Union Tour," adds Rick. "And as for so many of us, there is no Yes music without Jon. The 'Holy Trinity of Yes' is for me, very much a dream come true."
 
"After 18 years of immersing myself in film scoring, I couldn't be happier to be going out on tour with Jon and Rick," says Trevor. "After we worked together for the first time on the Union tour in the 90's, we were determined to play together again. It's a dream to be going out with Jon and Rick after so many years. We are all completely dedicated to this project."
The most successful prog rock group of all time, YES was co-founded by Jon Anderson and the late Chris Squire in 1968 and went on to sell millions of units with releases such as Fragile, Close to The Edge, Tales From Topographic Oceans, Going For The One and 90125, as well as embarking on several record-breaking world tours.
 
While Rick is associated with the '70s "prog era" of the band (which aw YES become a worldwide stadium headliner) and Trevor associated with the '80s "pop era" of the band (which furthered the band's popularity – including the band's biggest chart success), Jon is the bridge between both factions (as he was a member of both eras).
 
Not content to rest on past glory, Jon, Trevor and Rick are working on new songs, which are currently being recorded. The band will make its live debut in North America in October/November, followed by the Rest of the World in 2017.
The Rest of the World Tour will be coming to the UK in March 2017, where ARW will be playing nine shows starting at the Cardiff Arena on the 12th and finishing at the Manchester Apollo on the 25th. Additional dates may be added.
UK TOUR DATES (March 2017)
Sun 12th – Cardiff Arena
Mon 13th – Birmingham Symphony Hall
Wed 15th  – Brighton Dome
Thu 16th – Bournemouth International Centre
Sun 19th – London Hammersmith Apollo
Tue 21st – Nottingham Royal Concert Hall
Wed 22nd – Edinburgh Usher Hall
Fri 24th – Glasgow Royal Concert Hall
Sat 25th – Manchester Apollo
 
Tickets on sale from 10am Friday June 24th available from Myticket.co.uk and seetickets.com
VIP Packages including Meet & Greet available from myticket.co.uk