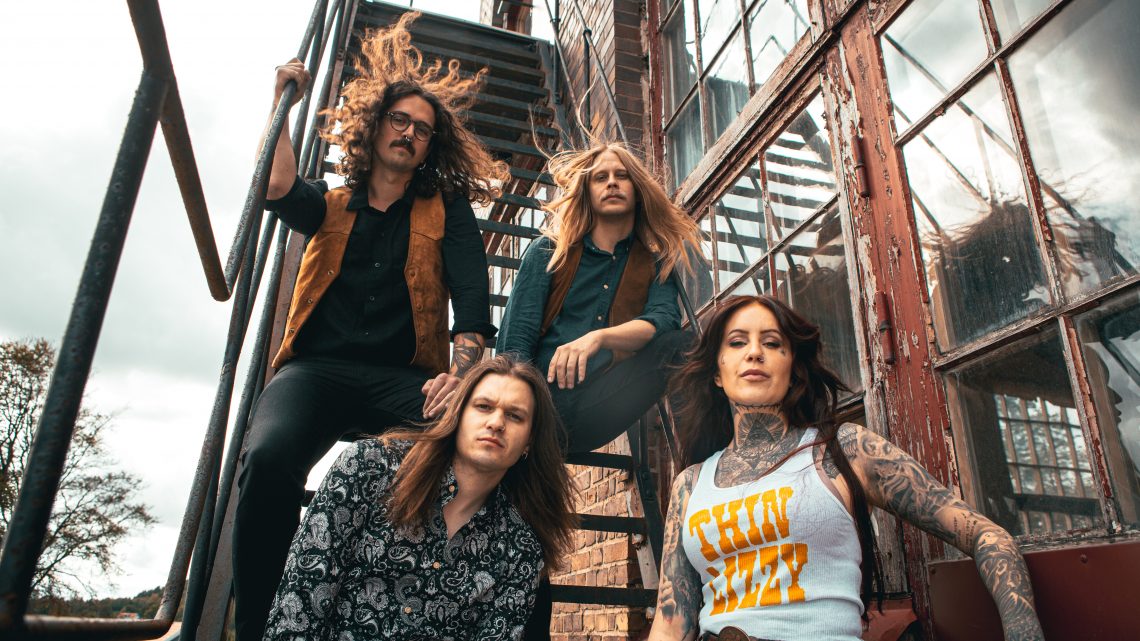 Acid's Trip – Strings Of Soul – Review
18th May 2021
0
By
George Simpson
Never judge a book by its' cover. Hearing the name Acid's Trip conjures up a preconceived idea of a psychedelic musical excursion through the weird and wonderful. However, in reality, what we get is a rip roaring, retro, rock n roll ride back in time. 
Formed in Gothenburg, Sweden in 2018, Acid's Trip are a four piece outfit, led by Acid on guitar and vocals. She is joined on vocals and guitar by Mike, Rockard on drums and bassist Lucas. Evidently, no surnames are needed around these parts! Their bio lists influences such as Kiss, Thin Lizzy and MC5 amongst many of the greats of 70s rock n roll. And boy do those shine through on this album. 
This, their debut album, String Of Soul, was recorded in the summer of 2020. It's self produced, and is an authentic, honest slice of raw rock n roll.  Opening instrumental Prelude tricks you into thinking you're in for a trippy listen, owing to its atmospheric mix of choral vocals and organ. The title track soon dispels that idea in an instant. Sounding very reminiscent of Blue Oyster Cult, it even mentions Don't Fear The Reaper in the lyrics. 
 Their influences aren't so subtly hidden on The Kiss Riff. Sounding exactly as it says on the tin, it's a memorable melodic track. Besides delivering in it's own right, you also spend most of its' duration trying to work out which Kiss song it reminds you of the most. To my ears its got more than a dash of Strutter  thrown into the pot of ingredients. Furthermore, the Kiss influence pops up again later on, with Get It Right"s riff rather similar to that of Christine Sixteen.
The real standout track here for me is Just A Man. It features a country rock, boogie riff that revels in its own retro feel. Like Blondie and Lynyrd Skynyrd having a fight in the car park.  It sounds so authentically seventies, its a credit to them that they've managed such a sound on a self produced debut album. Indeed, the parking lot scrap continues on the next track Faster, Chopper, Boogie. Only this time, Iggy Pop and the MC5 have joined in the fisticuffs! 
Undoubtedly Acid's Trip know exactly who they are musically. For this reason, they never stray from their musical blueprint throughout the album. They have their garage rock sound well and truly honed. Whether tackling spiky rockers such as No More Fucks and High Time or  less frantic, more melodic tracks like Creature Of The Lagoon, they sound very natural in both settings. 
  However, one criticism of the album for me would be that good though the album is, it lacks memorable tracks. Despite listening to it several times, there was only a few of the tracks that stood out in my memory when looking back over the track list. I had to listen to them again to remind myself of which track it was. Tracks like Just A Man, Faster, Chopper, Boogie and The Kiss Riff  are the exceptions to this, in my opinion. Of course, we must also remember that this is only their first album.  
 To sum up, this is a promising debut album. Not amazing, but showing a lot of potential for the future as their songwriting develops. Hopefully given the chance for a lengthy spell on the road playing these, and other tracks live in the hopefully not too distant future, will do them the world of good too. Something that has obviously been denied them for a large part of their existence. That will only benefit them. You get the feeling their next album or two could potentially be something very special indeed. A good start though! 
Score: 7/10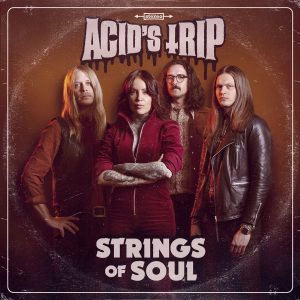 Track listing:
1 – Prelude
2 – Strings Of Souls
3 – The Kiss Riff
4 – No More Fucks
5 – High Time
6 – Just A Man
7 – Faster, Chopper, Boogie
8 – Creature Of The Lagoon
9 – Get It Right
10 – Delusions Of Grandeur
11 – If Only ( I Were The Only)
12 – Hell Or High Water
Release Date:  7th May 2021
Label:  Heavy Psych Sounds
For all things Acid's Trip, click HERE and to purchase the album, click HERE
How useful was this post?
Click on a thumb to rate it!
Average rating 4.5 / 5. Vote count: 276
No votes so far! Be the first to rate this post.
Related