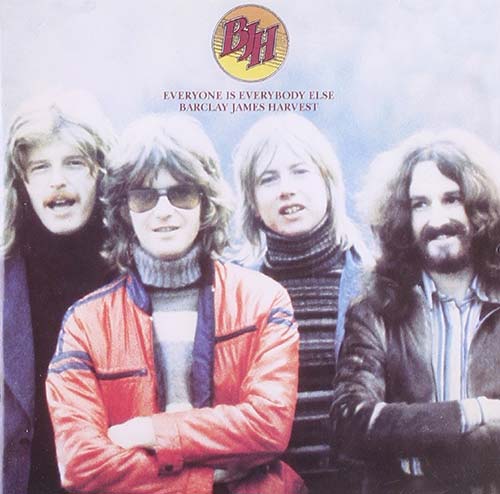 Barclay James Harvest – Everyone Is Everybody Else: 3 Disc Deluxe Remastered & Expanded Edition -CD Review
20th June 2016
Regarded as Barclay James Harvests best work to date, Everyone Is Everybody Else has finally been given the star treatment it deserves.

Completely remastered from the original analogue tapes & totally expanded. There are 3 versions of this album in this set. 
Disc 1 contains the original album in all it's glory & totally untouched.
Disc 2 is a brand new stereo mix which brings a whole new lease of life to the record.

Disc 3 is the daddy of the collection. A whole new immersive take on this classic album. A 5:1 surround sound mix. This is just mind altering.
All discs are housed in a very nice 5 panel cardboard sleeve along with an amazing booklet that features fully restored original album artwork, a new essay and also includes a reproduction poster.
Amazing value for money & the bonus tracks are a nice added extra too.
Originally released back in 1974, this album has never sounded so good.

Available now from Esoteric Records
Track Listing:
DISC ONE:
"EVERYONE IS EVERYBODY ELSE" 24-BIT RE-MASTERED ORIGINAL STEREO MIX
RELEASED IN JUNE 1974
1. CHILD OF THE UNIVERSE
2. NEGATIVE EARTH
3. PAPER WINGS
4. THE GREAT 1974 MINING DISASTER
5. CRAZY CITY
6. SEE ME, SEE YOU
7. POOR BOY BLUES
8. MILL BOYS
9. FOR NO ONE
BONUS TRACKS
10. CHILD OF THE UNIVERSE (US SINGLE VERSION)
11. THE GREAT 1974 MINING DISASTER (ORIGINAL MIX)
12. MAESTOSO (A HYMN IN THE ROOF OF THE WORLD)
DISC TWO:
"EVERYONE IS EVERYBODY ELSE" NEW STEREO MIXES & BONUS TRACKS
1. CHILD OF THE UNIVERSE
2. NEGATIVE EARTH
3. PAPER WINGS
4. THE GREAT 1974 MINING DISASTER
5. CRAZY CITY
6. SEE ME, SEE YOU
7. POOR BOY BLUES
8. MILL BOYS
BONUS TRACKS
9. CHILD OF THE UNIVERSE
(US SINGLE VERSION NEW STEREO MIX)
10. NEGATIVE EARTH (ORIGINAL MIX)
11. CHILD OF THE UNIVERSE (REMAKE OF US SINGLE)
DISC THREE:
"EVERYONE IS EVERYBODY ELSE" NEW 5.1 SURROUND MIXES & 96 KHZ / 24-BIT STEREO MIXES
1. CHILD OF THE UNIVERSE
2. NEGATIVE EARTH
3. PAPER WINGS
4. THE GREAT 1974 MINING DISASTER
5. CRAZY CITY
6. SEE ME, SEE YOU
7. POOR BOY BLUES
8. MILL BOYS
BONUS TRACK
9. CHILD OF THE UNIVERSE
(US SINGLE VERSION)
Score 9/10