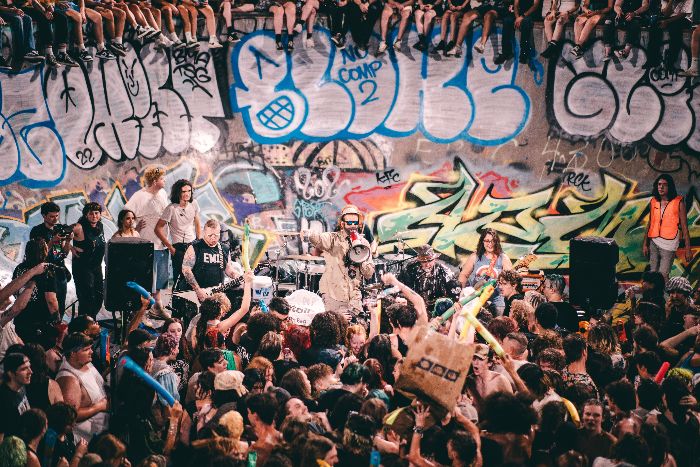 BELUSHI SPEED BALL Release Hilarious New Video For "Magic Conch"
29th July 2022
Hipster poser thrashers BELUSHI SPEED BALL have released a hilarious Spongebob Squarepants themed video for their song "Magic Conch". The song features Jamison Land (Ex GWAR) and has premiered exclusively at Metalsucks.net
Senor Diablo, Belushi Speed Ball's Manager comments:
"Now that we tricked Jamison "Beefcake" Land into the band with promises of eating gravy from Lita Ford's toe crevices, we knew we had to write something magical. Thus, what's more magical then the care-free Nick toon 90s. Full of Stop motion bumper reels, Cats connected to dog butts, ecto-coolers, and magical conches which can help you survive the woods. Director Beau Kaelin captured that feel-good dopamine nostalgia every millennial is addicted to!"
BELUSHI SPEED BALL recently released their full-length album, What, Us Worry?
The album oozes BELUSHI SPEED BALL's collective personality, from ludicrous speeding riffs and pounding percussion to a touch of groove and sprinklings of hardcore. Interspersed with narrative snippets, these elements of humour carry over the outfit's shenanigans and stage theatrics into the recorded realms. What, Us Worry? sees the band blend somewhat unexpected genre influences into the mix, notably the striking pop punk sound of "Dog Birthday". In stark contrast "Belushi Speed Grind" plunges into guttural depths of grindcore. Taking on the metal world with a nonsensical approach, BELUSHI SPEED BALL deliver the preposterous enveloped in an epic sound.
In addition, ripping guitar solos have been provided by Jamison Land (former GWAR BEEFCAKE), Tony Barhoum (CONDITION CRITICAL) and Nick Burks (SAVAGE MASTER). What, Us Worry will be available on N64, Gameboy Advanced, CD, and streaming everywhere.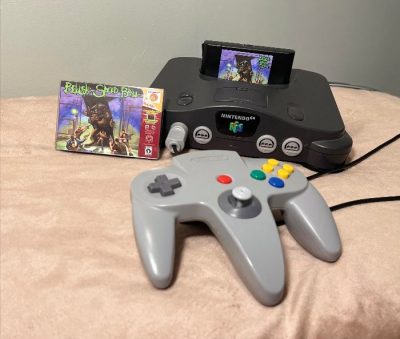 Purchase the full album on N64 or Gameboy Advanced: belushispeedball.bandcamp.com/merch
Links:
Bandcamp: https://belushispeedball.bandcamp.com/
Facebook: 
Instagram: https://www.instagram.com/belushispeedball/
YouTube: https://www.youtube.com/c/BelushiSpeedBall
BELUSHI SPEED BALL is:
Vinny – Vocals/Guitar
Chase – guitars
Jazzy – Bass Kyle – Vocals/Guitar
Senor Diablo – Skits/management
Michael – Vocals
Daniel Neel – Drums
Jamison – Guitar
Album credits: 
Mastered by Joel Grind (TOXIC HOLOCAUST)
Recorded and mixed by Chase Bensing
Spotlights artwork by Andrei Bouzikov (MUNICIPAL WASTE: Art of Partying).
Guest guitar solos from Jamison Land (Former GWAR BEEFCAKE THE MIGHTY, THE BURIAL), Tony Barhoum (CONDITION CRITICAL), and Nicholas Burks (SAVAGE MASTER, WARCLOUD)