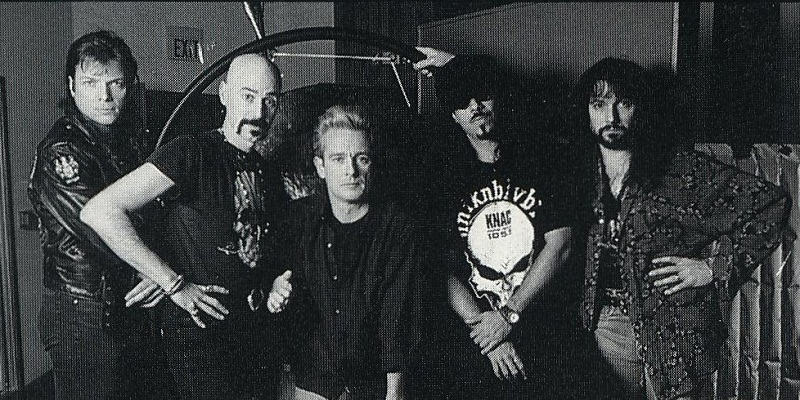 Blackthorne – Expanded re-issues
30th August 2016
short-lived 1990's project Blackthorne, featuring Graham Bonnet, Frankie Banali & Bob Kulick are finally being re-issued 2nd September via HNE Recordings. Both albums Afterlife & Don't Kill The Thrill are presented in all their glory with an impressive amount of unreleased tracks.

Don't Kill The Thrill has NEVER been released before as the album was shelved. Not only is the original album finally released but it's been expanded to 2 disc & includes a further 20 tracks which are also previously unreleased.
The 2nd disc of Don't Kill The Thrill has an abundance of live tracks, which until now, have never seen the light of day & by many were considered lost.
The live tracks are just incendiary & show the band were a live force to be reckoned with. Bonnets voice is amazing & Kulicks guitar work ridiculous. The live acoustic tracks are great. We Won't Be Forgotten is a gem.

The live versions of the Rainbow classics All Night Long & Since You've Been Gone are so much heavier. In fact I prefer these versions to what has gone before.
My only gripe with the full band live recordings is the bootleg quality, but then no soundboard recordings seem to exist. Admittedly they've been cleaned up from various sources & are as good as you're going to get. They've been included for historic purposes & to make sure they will exist for many years to come.
The studio tracks on both albums sound sublime. Bonnets vocal delivery is so much different to what he had done previous. So much more grit & gravel yet still recognisable as Graham.
Afterlife contains just 3 bonus tracks. 2 of which are acoustic with the 3rd being a rehearsal reel which does make for interesting listening as it really does show the camaraderie between all members.
The booklets for both contain new essays by Malcolm Dome. These shed a bit of light on the fleeting presence of one of the only bands that deserves the title of SUPERGROUP.
Blackthorne deserve to finally get some recognition.
Both albums score 8.5/10
Afterlife & Don't Kill The Thrill album Information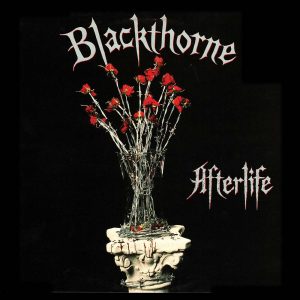 Afterlife Track List

1. CRADLE TO THE GRAVE
2. AFTERLIFE
3. WE WON'T BE FORGOTTEN
4. BREAKING THE CHAINS
5. OVER AND OVER
6. HARD FEELINGS
7. BABY YOU'RE THE BLOOD
8. SEX CRIME
9. LOVE FROM THE ASHES
10. ALL NIGHT LONG
BONUS TRACKS
11. AFTERLIFE (UNPLUGGED – SONY MUSIC TV JAPAN 1993)
12. WE WON'T BE FORGOTTEN (UNPLUGGED – SONY MUSIC TV JAPAN 1993)
13. REHEARSAL REEL ("MATES" STUDIO LA DEC 16TH 1993)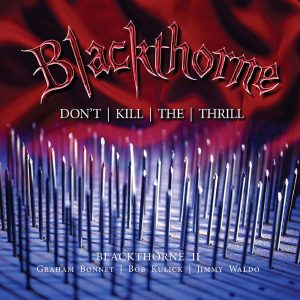 Don't Kill The Thrill Track List

1. DON'T KILL THE THRILL
2. WILD INSIDE
3. SKELETONS IN THE CLOSET
4. DREAMIN IN THE HIDEAWAY
5. MAN IN THE BLACK HAT
6. TWIST THE BLADE
7. JUDGEMENT DAY
8. INSANITY
9. SANCTUARY
10. PARALYZED
11. SAVE ME
BONUS TRACKS
12. AFTERLIFE/WE WON'T BE FORGOTTEN (LIVE FOUNDATIONS FORUM 1994)
13. HARD FEELINGS (LIVE FOUNDATIONS FORUM 1994)
14. CRADLE TO THE GRAVE (LIVE FOUNDATIONS FORUM 1994)
15. JAPAN SONY MUSIC TV INTERVIEW 1
16. JAPAN SONY MUSIC TV INTERVIEW 2
17. JAPAN SONY MUSIC TV INTERVIEW 3
18. UK TV INTERVIEW / WE WON'T BE FORGOTTEN (ACOUSTIC IN UK)
DISC TWO: LIVE RECORDINGS
1. DESERT SONG (FOUNDATIONS FORUM 1994)
2. BREAKING THE CHAINS (FOUNDATIONS FORUM 1994)
3. ALL NIGHT LONG (FOUNDATIONS FORUM 1994)
4. WILD INSIDE (FRESNO AUG 29TH 1992)
5. SINCE YOU BEEN GONE (FRESNO AUG 29TH 1992)
6. HARD FEELINGS (FRESNO AUG 29TH 1992)
7. WISHING WELL (FRESNO AUG 29TH 1992)
8. BABY YOU'RE THE BLOOD (FRESNO AUG 29TH 1992)
9. WILL YOU BE HOME TONIGHT (FRESNO AUG 29TH 1992) 10. BREAKING THE CHAINS (FRESNO AUG 29TH 1992)
11. WE WON'T BE FORGOTTEN (FRESNO AUG 29TH 1992)
12. ALL NIGHT LONG (FRESNO AUG 29TH 1992)
13. WE WON'T BE FORGOTTEN (ACOUSTIC – LIVE IN JAPAN 1993)
ALL TRACKS PREVIOUSLY UNRELEASED
Record Label
HNE Recordings
Release Date
2nd September 2016
For fans of Rainbow, WASP, Alcatrazz, Graham Bonnet

Check out Blackthorne HERE. Afterlife is available to order HERE. Don't Kill The Thrill is available to order HERE