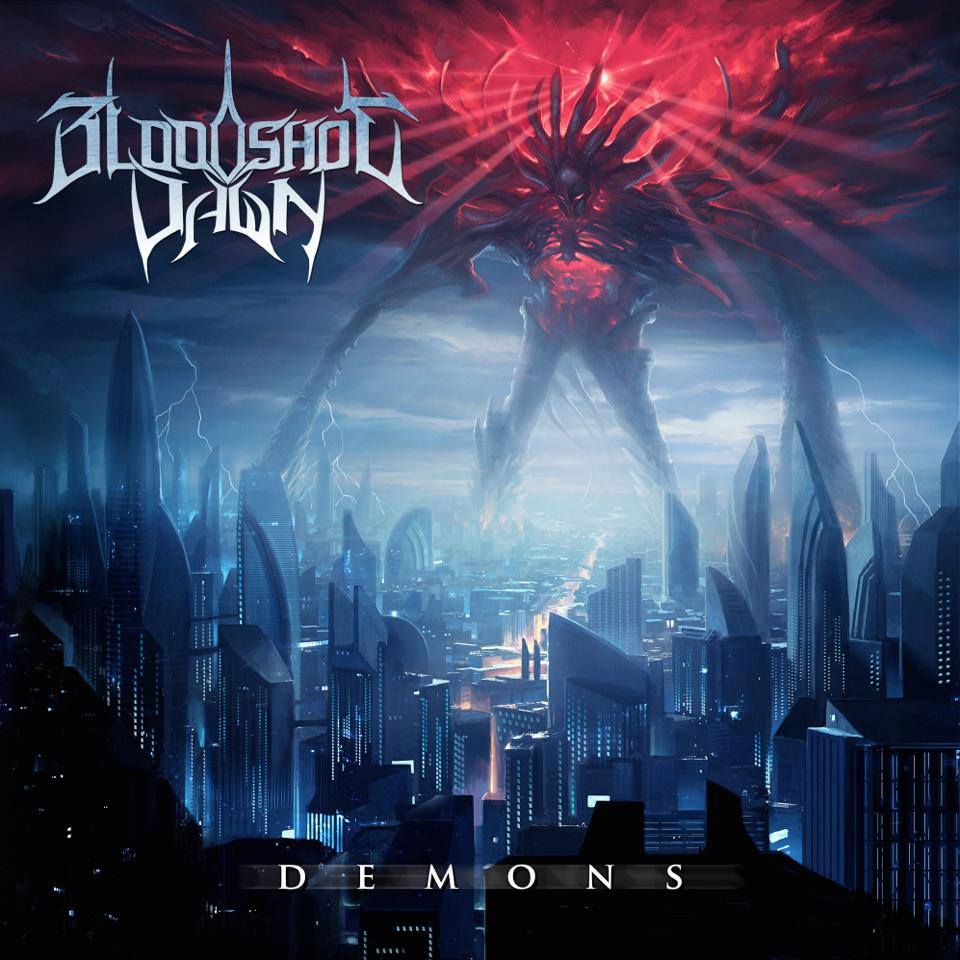 Bloodshot Dawn – Demons
13th October 2014
As a fan of Bloodshot Dawns self titled debut I was genuinely excited by this release.
This is the first recording with new drummer Janne Jaloma (also of Gothenburg death metal outfit Deals Death) who I have to say is really technically proficient, suits their style & a really good fit.
If this album doesn't have you bouncing off the walls & moshing in your living room then there something wrong with your ears. ..
Matt Denny
Talking of drums, they were recorded in Studio Disaster, Sweden by the band themselves; guitars and bass were recorded in Darkside Studio, England by guitarist Benjamin Ellis; vocals were recorded at Envy Studio, England by Richard Worrall and Jack Stephens. The album was mixed and mastered by Danish sound wizard Jacob Hansen (Aborted, Amaranthe, Volbeat, Destruction, Epica, Pestilence).  There are also guest musicians such as Sven De Caluwé (Aborted, System Divide), Per Nilsson (Scar Symmetry), Teemu Mäntysaari (Wintersun), Andy James (ex-Sacred Mother Tongue) and Chris Amott (Armageddon, ex-Arch Enemy).
Josh McMorran comments: "From a musical perspective it has been a completely natural progression. We have not become more melodic or more brutal but rather we've enhanced all aspects of the sound we had built up on the first album! This album is a huge step up in technical ability and song writing prowess without changing the music enough to alienate our current fans!" "The title 'Demons', which is also the name of one of the tracks, perfectly represents the lyrical content within the album. It also ties in with the amazing new artwork. The song's lyrical content is about demons on both a personal and a wider social scale, explaining our views on modern society and the struggles within the mind. The album is all about beating your demons and making something of the time you have on the earth whilst battling the ever lasting struggles and trials that come with being human."
This  album was completely crowdfunded via Kickstarter.. It also achieved it's target in just 4 days & judging by this killer of a track it's not really surprising.
The artwork featured above was masterminded by Swedish artist Par Olofoson who is famed for his work with bands such as Immolation, Onslaught, Exodus, Pathology, The Faceless and more as well as also having also worked on the Bloodshot Dawn self-titled debut album.
As you can see this album has all the pedigree of a Crufts dog & it shows.. This ticks all the boxes that a death metal album should.
The track Unified is a firm favorite on the album for me. As it has all the grooves & killer vocals that just makes me want to break shit & fuck on the floor. (which is how a good metal album should make you feel) & The guitar work far outshines their self titled debut.
The album clocks in at just over 43 minutes & is tremendous. If this album doesn't have you bouncing off the walls & moshing in your living room then there something wrong with your ears. ..
It's a natural progression & well worth a purchase
I'm going to score this album a solid 7/10